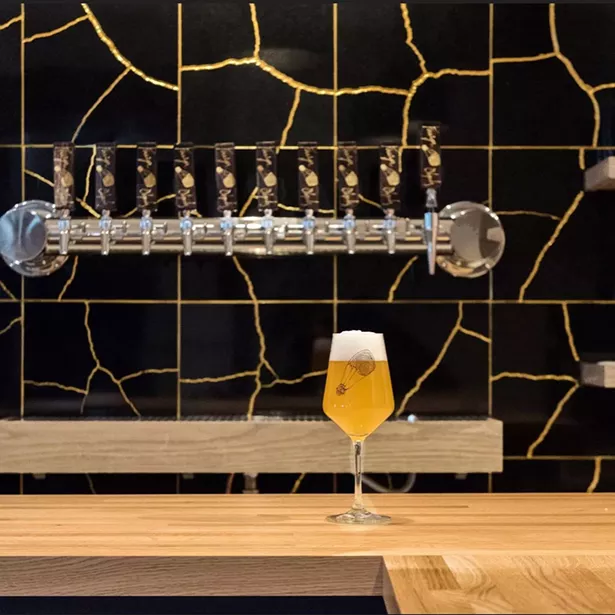 Foreign Objects Beer Company's head brewer Steve D'Eva is the prototype of a poet-brewer, if such a thing can be said to exist. By way of a mission statement, the brewery's website offers this existential morsel: "We exist in a universe of boundless capacity, yet we are bound to this brutish plane of existence; our struggle is to create and experience some modest degree of pleasure amongst our eternal suffering." And what is more pleasurable than "new-American hoppy ales," the brand's specialty?
Over the past four years, Foreign Objects has built an international fanbase for their hazy IPAs and crisp German lagers; sleek, abstract can designs; and esoteric beer descriptions with distribution in 13 states, Europe, Asia, and Australia.
The outfit, which opened a taproom in Monroe last fall, is the second iteration of a longstanding collaboration. In 2011, elementary school friends Tim Czarnetzki and Sean Bowman, who grew up in Cornwall, opened Urban Family Brewing Co. in Seattle. They recruited mutual friend Steve D'Eva to establish the brewing program. Bowman trained under him for two years before D'Eva moved on.
In 2017, when Czarnetzki and Bowman moved back East to be closer to family, the band got back together to launch Foreign Objects. The initial idea was another brick-and-mortar brewery. "I wanted to put something in Westchester since there wasn't a ton going on there," Czarnetski says. "But I just couldn't get over the rent—$50,000 a month for 20,000 square feet. I couldn't commit to that with a new brand."
So they decided to leverage their existing industry relationships to try and build a wholesale business out of the gate, while continuing to hunt for spaces on the side. "We were able to establish relationships before we made product, which is a big deal," Czarnetski says. "So we decided to dive right in with the idea that eventually we would have a place." A nomadic production operation, Foreign Objects has at various times been brewed out of Shmaltz Brewing in Clifton Park, Two Roads in Stratford, Connecticut, Octopi in Wisconsin, and Bolero Snort in New Jersey.
In 2019, they found a space at 150 W. Mombasha Road, and spent the year building it out. Then COVID hit. "The pandemic really hurt us," Czarnetski says. "We were two weeks away from opening Monroe and getting final approval from the state and the county, and then the shutdown hit and that really crushed us."
They limped along, trying delivery service and to-go orders out of the Monroe space. But the precipitous dip in their wholesale business, combined with the big investment they had made in the build-out, didn't bode well for the company's financial health. "We basically stopped production for a whole year. Distributors stopped taking beer," Czarnetski says. "So we were looking both at selling the whole thing and moving on, or selling and staying on." In the end, a group of craft beverage investors, headed by Tampa craft beer legend Joey Redner, bought the business and kept the team on. And the Monroe Foreign Objects taproom, dubbed "the Nerve Center," opened last October.
A Hazy Day Dream
"A lot of our brand is just based off of the combined efforts of Steve and Molly [Dolan]," Czarnetski says, referring to the Seattle-based artist who designs the cans. "Steve has these psychedelic day trip ideas that he talks about with Molly and then she makes watercolors off of them. Everything is done in Steve's esoteric day-dreamy vision."
That's true right down to the shou sugi ban wood accents and the kintsugi-style cracked black tiles behind the bar. Add to this colorful murals on two walls and industrial elements like the steel I-beams and exposed ducting and you get an eclectic, approachable taproom with a long bar that feels good buzzing with people.
The taproom has a whopping 20 taps; about half pour a rotating selection of Foreign Objects brews; and the other half are beers, ciders, and meads from sibling businesses in their beverage group. In mid-January there was a German amber lager, a dry-hopped pilsner, five variations on FO's signature NEIPA style, including two doubles, plus picks from 7venth Sun, Evil Twin, Cigar City Cider & Mead, Angry Chair, and My Favorite Thing.
"Back in 2011, the hazy New England style with flavor and aroma didn't exist," Czarnetzki explains. "Everything was super clear, super dry, and super bitter. People were lining up for it, but that wasn't us. But as the style changed, we changed with it." Foreign Objects' IPAs definitely lean hazy, but with their West Coast beer conditioning, they have a touch more bitterness than a straight NEIPA. A bicoastal compromise.
"As far as our lagers go, they are our reinterpretation of super soft and really drinkable Czech-style lagers," Czarnetski says. The common denominator between everything they brew? Whatever the team enjoys drinking.
"We're never going to be that regular style brewery that always has a wheat, a farmhouse, an IPA, and a black ale," Czarnetski says. "We'll definitely have a bunch of different beers with different flavor profiles, but a bunch will be hoppy, some fruity, and some stouts." While the lion's share of production will continue out of New Jersey, some brewing will be done at the Monroe facility, including limited-edition and experimental brews that will be sold onsite in crowlers and growlers.
As the website says, the Foreign Objects team is "continually inspired and moved by the philosophical importance of experiential wisdom, and expansion of the mind through the discovery and generation of new ideas." With an approach like that, there isn't likely to be a shortage of new experimental beers.
Foreign Objects taproom is open Thursday-Saturday 1-9pm and Sunday 1-6pm.
Foreign Objects
150 W Mombasha Road, Monroe, NY 10950
https://www.foreignobjectsbeer.com/