Now in its 12th year, the Woodstock Film Festival (September 21-25) is an autumn tradition in the Mid-Hudson Valley, as vital and colorful and nurturing as the local harvest. For five days, it will be omnipresent, beckoning you with premieres, concerts, seminars, and parties.
Once again this year,
Chronogram
's preview of WFF offers a road map to the festival veteran and newcomer. Capsule reviews and interviews allow you to navigate through the week's offerings more effectively. For specific show times, late-breaking information, and ticket sales, visit
www.woodstockfilmfestival.com
or call (845) 810-0131.
Each year, WFF manages to skirt the growing pains that other independent festivals suffer, and re-emerge as a no-frills gathering of the faithful. Celebrity-politicos and indie studio icons are lauded, counterculture phenomena are celebrated and cult actors walk around Woodstock and Rhinebeck to polite acclaim. Let other film festivals grow in size and self-importance, WFF clings with the stubborn pride of an ageing hippie to its slogan "fiercely independent."
The leftie values of WFF, in place from the beginning, are merely reaffirmed year after year, to the delight of unreconstructed rebels, veteran counterculturists, and musicians who seek a liberal oasis from Tea Party rhetoric and baffling stances by a president who once seemed poised to undo the nightmare of the previous eight years.
As the optimism of Election Night 2008 continues to erode, filmmakers have turned their fears, concerns and frustrations into a number of new narratives and documentaries that address our current plethora of follies: war born of religious strife, corporate corruption, middle-class poverty, the energy crisis, environmental pollution, and the multiheaded hydra known as celebrity culture. These topics and similar dilemmas will be screened at WFF, as will works that spotlight people who take a leap of faith and rush to the aid of their fellow earthlings.
Festival co-founders Meira Blaustein and Laurent Rejto continue their benevolent reign. Like any labor of love, the festival remains a grass-roots affair; eager volunteers will try once again in vain to contain the surging lines of ticketholders for a buzzworthy screening. And once again, some yearning first-time director will receive a statue at the Gala Maverick Awards Ceremony (September 24) and dare to create a more audacious film next time.
While WFF tends to emphasize substance over glitz, there is always star power in attendance, albeit of the hip, indie caliber. Ellen Barkin, fresh from a Tony win for the revival of Larry Kramer's "The Normal Heart," will appear in the family drama
Another Happy Day
and accept the WFF Excellence in Acting Award. Oscar-nominated actor Mark Ruffalo will show up to receive the first honorary Meera Gandhi Giving Back Award for his honest and egoless work to fight fracking in New York and Pennsylvania. (See the
Chronogram
interview with Ruffalo on page 50.)
The opening night film is the US premiere of
Peace, Love, & Misunderstanding
. In this film by WFF 2010 Honorary Maverick Award recipient Bruce Beresford (
Driving Miss Daisy
) Catherine Keener plays a conservative lawyer who takes her teenage children to meet their estranged, hippie grandmother (Jane Fonda) in Woodstock. Shot and produced here, the opening night film will take place Thursday, September 22, at the newly renovated Woodstock Playhouse. Beresford, along with writers, producers and select cast will attend the Q&A after the screening.
Last year, I joked that future Woodstock Film Festivals may dispense with screens and download its roster to your nearest smartphone. As multinational companies subsume a larger market share of new media, certain films that expose their environmental, fiscal, and ethical violations may find themselves without a mainstream venue, banished from megaplex screens, corporate-owned network television, certain websites and even your own iPhone. A sobering reminder that independent festivals like WFF are often the only forum for certain films that corporate America, in its infinite wisdom, prefers you not see.
While less than a quarter of the WFF 2011 films were made available to me by press time, I spent the better part of my summer watching 34 different documentary and narrative works. Some will thrive briefly on the festival circuit. Others will deservedly find mainstream distribution. Too many others, however, owing to the uncompromising honesty of their subject matter, as well as a nonexistent marketing budget, may undeservedly disappear, to our detriment as filmgoers and as citizens of the world.
Capsule Revies of Woodstock Film Fest Films
Of a Woodstock Film Festival roster of nearly 150 films this year, the following 34 were made available for
Chronogram
preview, as of a mid-August deadline. While the number of movie house screens receptive to indie films continues to shrink, small-budgeted, big-hearted projects still get their day in the sun at festivals like this one. These candid assessments, while occasionally harsh, are not meant to be deterrents. Everyone has a right to find his or her own bliss in a darkened cinema.
• = denotes a Festival must-see by your
Chronogram
film critic
Narrative Features
• An Ordinary Family, directed by Mike Akel
At last, a film about homosexuality and religion where neither party is summarily demonized nor easy answers perfunctorily reached. A Texan Episcopal family holds a weekend reunion, but the appearance of the gay prodigal son and his lover tests the family's cohesion, especially that of his older brother, a minister. Fine ensemble acting and honest situations offer insight into family dynamics, as do several musical numbers. A heartfelt plea for compassion among all members of the family of man. Troy Schremmer stands out as the conflicted brother Thomas.
Coming Up Roses,
directed by Lisa Albright
Broadway musical legend Bernadette Peters plays a delusional woman whose theatrical triumphs lay behind her. Fantasizing of a comeback, she selects unworthy men to buoy her ego and buttress her clinical depression. One daughter has already fled the house in horror, yet another stays on, while slowly realizing there must be a better life out there. This tale is tough sledding, the bleakness almost incessant, but director Albright rewards our patience with some lighthearted moments and perceptive insights into adolescence.
Downtown Express, directed by David Grubin
A tale of the transformative powers of music and romance. Sasha (Philippe Quint) is a Russian émigré, playing violin in the subway with his father and brother. But he has dreams of classical virtuosity and studies with a Julliard School instructor. All that changes when he falls for Ramona (Nellie McKay), a rock singer. Recalling the plot of
The Jazz Singer
, a clash between old- and new- world values ensues. Guess which wins out? A genial cast with a lot of heart tries intently to put over this conventional love story.
East Fifth Bliss, directed by Michael Knowles
Michael C. Hall leads a distinguished cast, including Lucy Liu, Peter Fonda, and Chris Messina in a slice of twisted life in New York's East Village. Morris Bliss (Hall) is 35, still living with his father and fighting off the passive-aggressive attentions of the daughter of a former high school friend (the engaging Brie Larson). At times wryly funny and at other times self-consciously gonzo, the film benefits from a game cast that exuberantly sells its quirky plotlines. Like the novel
A Confederacy of Dunces
, you'll either loathe this tale or deem it a work of genius and a touchstone for life. Based on the novel by Douglas Light.
•
Losers Take All
, directed by Alex Steyermark
A snarky but affectionate valentine to `80s punk-pop bands, this film tracks the rise and fall of The Fingers, a fictional band that picks up the scent of possible fame, fortune and endless groupie sex. So they take to the road and everything goes wrong. This low-budget gem faithfully recreates the `80s and catalogues the many standard characters on the rock scene: the double-crossing manager, the cheating girlfriend, the sleazy record company boss. A shaggy-dog tale buoyed by a lively cast of unknowns who deserve greater exposure.
•
The Lie
, directed by Joshua Leonard
You recycle your garbage, dabble in New Age beliefs, and toe the line as a liberal, Southern California neo-hippie. And you still can't win. Lonnie feels hemmed in by his job, wife and unfulfilled dreams. In retaliation, he concocts a terrible lie that brings a flood of support from neighbors and co-workers. But what will happen when the truth emerges? A provocative meditation on modern-day morality begins promisingly, abetted by a strong ensemble cast, but director (and lead) Leonard becomes hamstrung by the plot device, which eventually draws unwelcome laughs. Still, an interesting character study that augurs well for future projects. Adapted from a T. C. Boyle short story.
96 Minutes, directed by Aimée Lagos
A harrowing tale of a chance (or inevitable?) collision between two classes of people: college students and townies—in Atlanta. Within one evening, four lives are changed forever. The director does not soft-pedal the violence and bigotry that thrive in this area, although her observations can often smack of good `ol white liberalism. A powerful cast surmounts the recurring simplicities of the script, especially Brittany Snow as Carly, Evan Ross as Dre, David Oyelowe as Duane, and J. Michael Trautmann as Kevin.
The Off Hours, directed by Megan Griffiths
A literary-minded trucker, a divorced dad trying to make amends, a restless waitress, a Serbian expatriate who protects her heart while offering her body freely. Lost souls all, they congregate at a highway greasy spoon to stumble through their lives. Griffiths has a painter's eye for exquisitely composed scenes and stories keenly observed. While the performances are delightfully understated, the storylines begin to meander aimlessly. A
Grand Hotel
for the mumblecore generation.
• On the Ice, directed by Andrew Okpeaha MacLean
A gang of friends talks ghetto slang, smokes weed, gets drunk at parties and raps and then discovers crack. But this isn't the inner city: This is Barrow, Alaska, life among Inuit teens. When a simmering rivalry results in tragedy, two friends go to extreme lengths to conceal the truth. This film effectively weaves together ancient codes of honor with modern social problems in a tale of moral conflict. An effective cast, most of them amateurs, gives this story its substantial heft. Starring Josiah Patkotak as the compassionate Qalli and Frank Qutoq Irelan as his troubled friend Aivaaq. The most engaging of the narrative films screened for the festival.
• Paper Birds, directed by Emilio Aragón
An elaborate and sumptuous look at life among a traveling band of vaudevillians—two men and a boy—during Franco's dictatorship in 1930s Spain. Originally an actor and TV director, Aragón has a predisposition to jerking tears and tickling funny bones with plot twists you can see from miles away. But the historic details, period dress and powerful performances in this grand story are so satisfying, they will persuade you to bend happily with the elaborate manipulations.
Ponies, directed by Nick Sandow
Based on a play by Michael Batistick about the obsessive world of off-track betting, this film is a showcase for a fine ensemble of New York actors who enliven a too-familiar tale. The stand-out is  lead John Ventimigla, who throws everything into his depiction of Drazen, a man possessed by get-rich-quick schemes. Equally an indictment of America's treatment of immigrants and gambling. Tonye Patano is especially powerful as a surly window cashier.
• Sahkanaga, directed by John Henry Summerour
Based on a true-life incident in 2002, this film has the biting observations and eccentric characters of a Southern Gothic short story. The director has a keen eye for stark, unsettling imagery—and a taste for raw irony—as he unfurls a tale of funeral home corruption in Walker County, Georgia.
• Silver Tongues, directed by Simon Arthur
A sadistic couple wanders the Eastern seaboard, colliding with hapless people and subjecting them to extreme psychological hoaxes. Director Arthur seems intent on unnerving filmgoers as well, layering the story with dark and unpleasant details. Lee Tergesen ("Oz") and Enid Graham fearlessly play the twisted husband and wife, matched by a powerfully nuanced performance by Broadway musical veteran Harvey Evans. Not a likable film by any stretch, but its raw storytelling commands a begrudging respect.
• Tilt, directed by Viktor Chouchkov, Jr.
Youth gang life in Sofia, Bulgaria, 1989. Between skateboarding and dubbing black-market porn, Stash, Angel, B-Gum, and Snake are trying to stay ahead of the Communist police. But there is a traitor among them, tipping off the cops to their next scheme. Restless adolescence in the shadow of the Berlin Wall, about to topple. A sprawling, kinetic account of honor among thieves and love against all odds. Familiar themes are jacked up by arresting cinematography and a sexy and gifted ensemble cast, especially Yavor Baharoff as the idealistic Stash and Ivaylo Dragiev as the traitorous Angel.
Documentary Features
Adventures in Plymptoons, directed by Alexia Anastasio
The sly, anarchic cartoonist Bill Plympton has gotten the biography he and his artwork merit: a down-and-dirty, low-budget affair that includes merciless roastings by some very special friends: Terry Gilliam, Ed Begley Jr., Moby, Keith Carradine, Martha Plimpton, and Ron Jeremy, the latter appearing in flagrante during the interview. We learn that Plympton's quirky genius was on display from the start of his Oregon childhood, allowing his talent years to flower into the joyous nihilism we now behold.
• Bombay Beach, directed by Alma Har'el
The most compelling documentary of this year's festival, this film follows the families who inhabit a desolate area on the edges of Salton City, California, a model community that flourished briefly in the 1960s. Poverty and its attendant companions—alcoholism, violence—dog these people, some who have given in and others who hope for a better life. These poignant, compassionate, but never cloying portraits are leavened by eerily beautiful cinematography and spasms of choreography directed by Paula Present. A very special look into hurting lives.
• Cape Spin, directed by Robbie Gemmel & John Kirby
A 2008 plan to install 130 wind turbines in Cape Cod's Nantucket Sound raised NIMBY protests from the seersucker set that summers nearby, and resulted in some dubious alliances between environmental boosters and Big Energy. This film briskly and vividly documents the protests, the hearings, the propaganda, and the science behind the controversy, pointing out the downsides of each contingent's solution. The saga is laid out with an upbeat irreverence, which helps somewhat in easing the pain of viewing this depressingly honest tale of a matter still unresolved.
• Corman's World, directed by Alex Stapleton
The king of Hollywood budget pictures from the `50s through `70s, Roger Corman must be pleased with this cinematic tribute: While titans such as Scorsese, Bogdonavich, Howard, and Demme are interviewed—they all once worked for Corman—the settings are no-frills or sometimes even on the fly (Bruce Dern holds forth while having his hair cut). Despite a reputation for churning out horror and sex films, Corman has watched time burnish his legend (he finally was given a Lifetime Achievement Oscar). Now lauded as a pioneer of indie cinema, he dissects his career and its motivations with dignity and humility. A dazzling and rightfully irreverent portrait of an unlikely hero of modern cinema.
• Deaf Jam, directed by Judy Lieff
In a school for hearing-impaired teens in Queens, a new program will teach students to marry their sign language to poetry slamming. The result is a powerful means of communication that is equal parts therapy and entertainment, touching on issues of deaf identity, politics, and self-awareness. As the group hones its craft and attends poetry slams across the city, Aneta Brodski, a Russian Jew from Israel, emerges as a charismatic, beautiful, and eloquent poetess. A joyous celebration of personal expression that also takes note of the recurring challenges facing the hearing impaired.
• Dolphin Boy, directed by Dani Menkin and Yonatan Nir
An Arab teen from Eilat, Israel, beaten by neighbors into a traumatic mental retreat, is coaxed back into life by the ministrations of dolphins that repair his shattered mind and restore his faith in other living things. Profound but not didactic, moving but not mawkish, this film simply records the miracles that nature proffers.
• Fat Cows, Lean Cows, directed by Meni Elias
Yossi, an Israeli, has run a dairy farm not far from Gaza since 1958. His assistants are a Bedouin and a Thai man. They live in peace, while Hamas continues its terrorist attacks nearby. But Yossi is ailing and there are imminent changes to the farm. With a spare visual eloquence that veers easily into the poetic, the director captures moments of conflict, love, and indecision among these co-workers and friends. A powerful and profound meditation on life that will haunt you long afterward.
Fightville, directed by Petra Epperlein & Michael Tucker
This portrait of the men from Louisiana who participate in mixed martial arts benefits from staggering cinematography that fetishizes muscles, sweat, and blood. Detractors call this sport human cockfighting, and there are scenes from several bouts that justify such an appellation. But the members of Gladiators Academy defend their careers and achieve eloquent, if self-delusional, heights in doing so. For all the high-minded talk about catching dreams, attaining fame, and being noble warriors, this is ultimately just about men with a surfeit of testosterone who get paid for beating the crap out of one another. Anybody opposed to such carnage will not have their minds changed by this film.
Freaks in Love, directed by David Koslowski & Skizz Cyzyk
The `80s New York City band Alice Donut made discordant music like any self-respecting punk-art group, but they split off from the rabble by sporting a sense of humor, as witnessed by albums titled
Revenge Fantasies of the Impotent
and
The Untidy Suicides of Your Degenerate Children
. Nurtured by Dead Kennedys frontman Jello Biafra, the band called its quits years ago. But in 2009 they reunited for a tour, which propels this film, a lively and irreverently adoring tribute not only to the band but also to the East Village, a war zone that spawned similarly transgressive acts.
• Kumaré, directed by Vikram Gandhi
As audacious as Borat but ultimately more kindly, this film sprang from a battle with religious skepticism. Unable to feel at home in his Indian religion, Gandhi embarks on a quest for knowledge that also happens to be an elaborate hoax. He assumes the identity of a fake guru, Sri Kumaré and ventures forth to find the faithful. People believe his made-up yoga moves and pretzel-logic philosophy. Yet when he attempts to tell people he is a liar, they tune out the confession. How Gandhi extricates himself from a persona that people have come to love and trust suggests the dilemma facing Dustin Hoffman in
Tootsie
, and the result is equally bittersweet, revealing volumes about human nature. Alternately laugh-out-loud absurd and unexpectedly touching,
Kumaré
is—dare I say?—a revelation.
More to Live For, directed by Noah Hutton
Three men suffer from cancer and their lives depend on a bone marrow transplant. The film follows their search for the perfect match, while their efforts awaken others to the need for bone marrow donations. We meet Grammy-winning saxophonist Michael Brecker, entrepreneur James Chippendale, and Nigerian athlete Seun Adebiyi. Unflinching in its documentation of their plight and unstinting good cheer in the face of the setbacks, the film ultimately instills a sense of hope.
9 Pianos, directed by Gillian Farrell with Ana Beinhart
Practicing random acts of kindness is more than mere bumper-sticker advice. Kingston-based piano teacher and tuner Adam Markowitz lived it, donating nine instruments to New Orleans residents, schools, clubs, and churches. (See sidebar on page 48.)
The Other F Word, directed by Andrea Blaugrund Nevins
Would you take your favorite punk rocker as seriously if you saw him changing a diaper? For those musicians who didn't self-destruct, fatherhood became the second act. This film is an unexpected delight, examining the identity crisis that comes from being a veteran rebel who now must instill civility in his offspring. Wise, witty, and rueful observations on being a model daddy are offered by Jim Lindberg of Pennywise and Flea of The Red Hot Chili Peppers, as well as members of Rancid, blink-182, Bad Religion, and Total Chaos.
• Poetry of Resilience, directed by Katja Esson
Modern verse can often reflect narcissism, but the works of the poets depicted here say much more: They bear witness to political injustices as they occurred in Rhawanda, Mao's China, Japan's Hiroshima, the Holocaust, Vietnam, and 1980s Nicaragua. Thirty poets from war-torn countries gathered in Massachusetts to share their poetry, which served as catharsis, accusation, and an exhortation to never forget. This film is effortlessly moving and simply rendered, the verses emerging and fading on the screen as they are recited.
Semper Fi: Always Faithful, directed by Rachel Libert & Tony Hardmon
Yet another salient example of how the military betrays its faithful. At Camp Lejeune, North Carolina, in the 1970s, the improper disposal of solvents led to water contamination, resulting in a rash of birth defects, cancers, and infant deaths that go on for years. When USMC Master Sergeant Jerry Ensminger, who lost a daughter to this negligence, launched a private investigation in 1997, he was stonewalled by the very institution he had pledged eternal allegiance. Told methodically and sensitively but without unseemly dramatics, this powerful story will raise your blood pressure and have you screaming for justice.
• Skateistan, directed by Kai Sehr
Most of us just fret over the fiscal and diplomatic black hole known as Afghanistan, which wrenches $91 million in operating costs from America every day. Australian Oliver Percovich had another reaction, akin to lighting a single candle rather than cursing the darkness. His disarming act of genius was to introduce the country's teens to skateboards. A piece of fiberglass with two wheels became the great equalizer for young lives torn apart by poverty and religious conflict. Cinematographer Ralf K. Dobrick grabs breathtaking tracking shots, closely following the children's swift flights through traffic, across parks, and through the trash of this savaged landscape.  A life-affirming film.
Something Ventured, directed by Dan Geller & Dayna Goldfine
Geeks and financiers alike will thrill to this history of venture capitalists that bankrolled fledgling companies such as Intel, Cisco, Atari, Genentech and Apple in the '60s and '70s, resulting in our current cyber-civilization. But for the rest of us, these privileged white men in suits offer no insight as to why they dug into their deep pockets for such iffy projects. Also missing is the human drama that would enliven such a retelling. Archival footage and graphics alleviate the torpor somewhat. But the moral of the story seems to be: It takes dull people to make money.
• Taking a Chance on God, directed by Brendan Fay
Would you believe there was a time when Catholics fought for racial justice and protested the Vietnam War, marched against nuclear proliferation and delivered food and clothes to the ghettos of America? John J. McNeil did all of that, plus more: He called for church compassion towards homosexuals. How McNeil handled his subsequent expulsion, while making literary history and scaring the church elders again, is the subject of this brisk, concise, and even-handed tribute to a low-key iconoclast.
Unraveled, directed by Marc H. Simon
While Bernard Madoff earned the world's scorn for his multibillion bilking, Manhattan attorney Marc Dreier's hedge fund fraud case, unfurling at the same time, was overshadowed. In a series of merciless interviews, conducted in Dreier's Upper East Side penthouse before he was sentenced in July 2009, the Machiavellian huckster revisits his fall from grace with an unsettling intelligence, eloquence, and sangfroid, intent on obtaining the cushiest prison sentence and accommodations possible. Simon has constructed a fascinating psychological portrait of a complex but still repellent man.
The Welcome, directed by Kim Shelton & Michael Meade
On Memorial Day weekend 2008, 24 veterans from several American wars gathered in Oregon for a special weekend of healing. Drawing equally from Native American culture and psychological analysis, the moderator asked each person to share their stories, of the traumas they faced in war and the punishing reentry into civilian life. "I don't want to be defensive," veteran Eli Painted Crow yells. "I just want to be heard with your hearts." Potent psychodrama follows, but so does reconciliation through the beating down of demons in this thoughtfully composed film.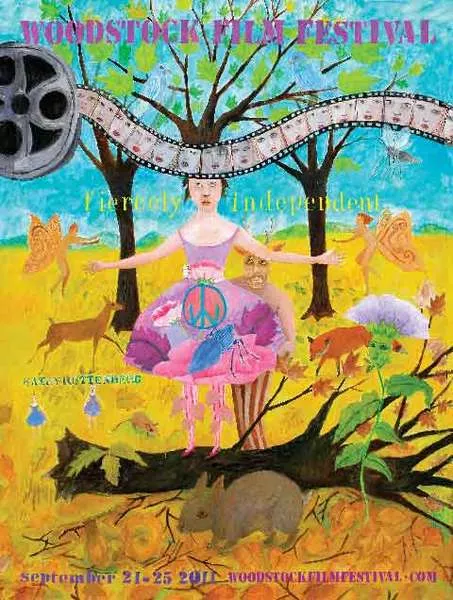 An Ordinary Family, directed by Mike Akel
Losers Take All, directed by Alex Steyermark
The Lie, directed by Joshua Leonard
On the Ice, directed by Andrew Okpeaha MacLean
Silver Tongues, directed by Simon Arthur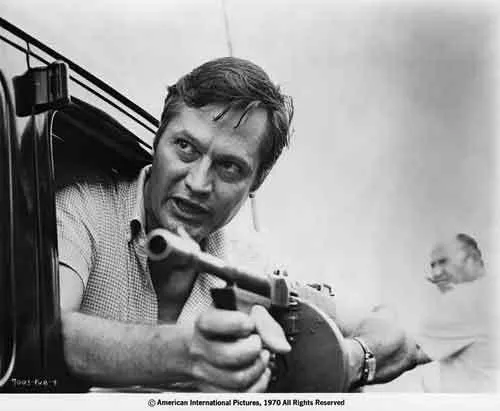 Corman's World, directed by Alex Stapleton
Deaf Jam, directed by Judy Lieff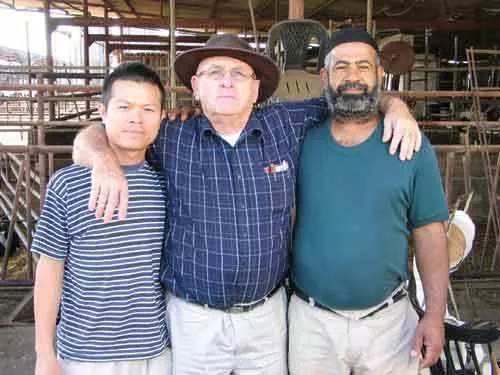 Fat Cows, Lean Cows, directed by Meni Elias
Kumaré, directed by Vikram Gandhi
More to Live For, directed by Noah Hutton
• Poetry of Resilience, directed by Katja Esson
Taking a Chance on God, directed by Brendan Fay