Tucked away in the picturesque rolling hills of Chester, New York is The Hudson Villa, a luxury estate complete with its own white sand beach, cabanas, and even a helipad to help you escape from New York City in a record 18 minutes. The one-of-a-kind property, once owned by Henry Hudson's family (hence its name), is one of the flagship listings from Alexander Maxwell Realty—a luxury real estate agency that specializes in a curated, brand-focused experience that appeals to values-driven millennials.

All images courtesy of Alexander Maxwell Realty
According to Dino Alexander, CEO and principal broker at Hudson Valley-based Alexander Maxwell Realty, thanks to the Hudson Valley's scenic and cultural allure, smart New Yorkers are increasingly investing in their dream getaways closer to home. He says, "We see luxury homebuyers are shifting their focus from the Hamptons and Long Island to the Hudson Valley and Upstate markets to get a better bang for their buck and to alleviate concerns over the rising sea levels and effects of climate change."
It's not just local New Yorkers who are attracted to the Hudson Valley, though. Maxwell Alexander, VP Global Marketing at Alexander Maxwell Realty says the agency's list also focuses on marketing Hudson Valley properties globally. Strong interest in the Hudson Valley area from the global market is trending right along with the interest New Yorkers are currently showing.
"In today's market, real estate investors as well as regular buyers are spoiled for choice," he says. "Even the best location is no longer enough when it comes to competing on a global market and this is why luxury real estate properties require a long-term branding strategy."
All images courtesy of Alexander Maxwell Realty
Originally designed by esteemed Midcentury architect Paul Rudolph, The Hudson Villa provides all the amenities of a spectacular summer paradise and private resort right in the Hudson Valley. The luxurious property features a white sand beach, inground swimming pool, three private cabanas, a spa, jacuzzi tub, helipad, and immaculately curated gardens alive with bold splashes of color. One look at the stunning estate and you'll already want to call this secluded spot home.
All images courtesy of Alexander Maxwell Realty
The home's impressive entrance is defined by a series of flowing waterfalls that cascade into the koi ponds below (be sure to spot the waterfall inside, too!). The property is private and secluded, surrounded by lush vegetation on all sides. The interior and exterior design of the house echoes the tropical ambiance of the lush grounds thanks to influences from Asia, the English countryside, and contemporary rustic cabin life—all subtly blended together throughout the living areas.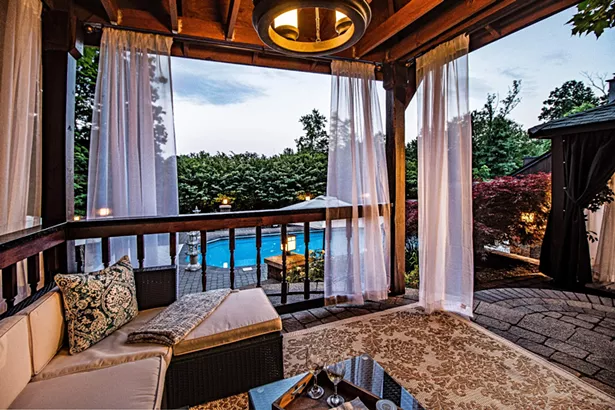 All images courtesy of Alexander Maxwell Realty
The interior of the house is defined by warm wood and rich furnishings like vintage Turkish rugs, leather couches, and soft ambient lighting, which lends the atmosphere a feeling of comfort and coziness. Open living spaces and copious natural light gives the interior a light, positive vibe. The layout is ideal for entertaining and has many charming spaces to wine, dine, and relax with visitors.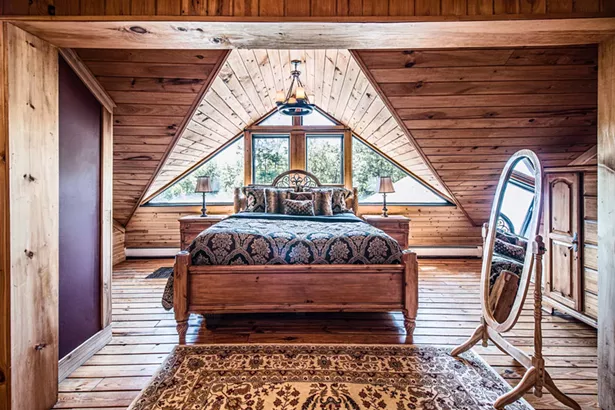 All images courtesy of Alexander Maxwell Realty
Though the villa's impressive grounds might lure you into a cozy staycation, the Hudson Valley's natural abundance is ready and waiting for you to explore. From the many parks and hiking trails of the Shawangunk and Catskill Mountains to the local vineyards, orchards, museums, historic lighthouses, and farmers markets overflowing locally grown produce in seemingly every hamlet, village, and town, the Hudson Valley has something to offer everyone.