Compassionate Cuisine
The Catskill Animal Sanctuary will offer vegan courses on weekends in May to jump-start you on the road to deliciously healthy (and cruelty-free) meals. Some highlights: May 2 explores the methods of cooking tempeh, tofu, and seitan. On May 9, delve into comfort foods like pizza, spaghetti and "meatballs," and pot pie. May 16 teaches the art of decadent vegan desserts which are sure to please vegans and nonvegans alike, with crème brulee, a chocolate torte, and brownies. Classes are $40 to $60 each and run from 10am to 4pm. They will be taught by Chef Kevin Archer at the Catskill Animal Sanctuary. 316 Old Stage Road, Saugerties; (845) 336-8447;
www.casanctuary.org
.
Iron Grad Cooking Competition
May 11. Inspired by the popular Food Network show "Iron Chef," The Rhinecliff will host the first annual "Iron Grad" cooking competition. Each month culinary graduates will battle to become the Iron Grad. The competition will be held live from "Kitchen Stadium Rhinecliff," with a cocktail reception, a parade of the chefs, and a four-course meal with wine pairings. The winner is decided by you, the audience. Hosted by chairman Tekniteesi Chapma, the May 11 competition will be round one—"The Classics," French cuisine. Tickets include wines and coffee and are $35.95 plus tax and gratuity. At the Rhinecliff Hotel and Restaurant, Rhinecliff; (845) 876-0590; www.therhinecliff.com.
CIA: A First Taste
May 15. This special event is designed for any first-time visitors to the CIA Food Enthusiast Programs and the Hyde Park campus. The programs feature the opportunity to cook with CIA chefs and learn profesional cooking techniques along the way—from BBQ to baking to wine. You will sample two dishes that are paired with sparkling wine, enjoy a presentation by Lisa Schwartz, owner of Rainbeau Ridge Farm, where you can sample her handmade goat cheese and learn about sustainable farming, plus experience a cooking demonstration by CIA chef David Kamen. You will also take a tour of several classes from the Food Enthusiast programs. The event is 9:30am to 12pm and costs $39.95—advanced reservation is required. Culinary Institute of America, Hyde Park; (800) 888-7850; www.ciachef.edu/enthusiasts.
Growing Your Own Organic Vegetable Garden
May 15. Learning the fundamentals behind creating and sustaining your own vegetable garden. This is the second class is a series that will teach you about companion and succession planting, how much water is too much water, how to go about starting your compost bins, and teach you how to control weeds and pests. Plants to include: assorted lettuce heads, Swiss chard, kale, and Early Wonder broccoli. Each session is $50 and includes handouts, vegetable seeds, and live plants. The class will be taught by master gardener Adam Weiss and will take place 1:30pm to 3:30pm. Pike Lane Bed and Breakfast, Woodstock;
(845) 679-0551; www.pikebb.com.
Taste of Greater Newburgh
May 16. Taste what Newburgh has to offer. There will be tons of local restaurants offering up samplings of their best creations. Featuring Commodore Chocolatier, Sukhothai Restaurant, Woodys All Natural Burgers and Fries, Brothers Barbecue, Avocado, and Mid Valley Wine and Liquor. Admission is $30 and advanced purchase is required. The Taste of Greater Newburgh will be held 12:30pm to 2:30pm at Mount Saint Mary College, Newburgh; (845) 561-1706; www.tasteofgreaternewburgh.com.
Robibero Family Vineyards and Winery Grand Opening
May 22 and 23. Located at the old Rivendell Winery site is the new Robibero Family Vineyard. The property was completely gutted, renovated, and transformed into a modern facility with a working vineyard, plus the addition of a new deck off the tasting room. The grand opening will offer a complimentary wine tasting of their newly released wine (featuring Lacrosse, Vidal, and cabernet franc grapes), live music, and a variety of events. (845) 255-9463; www.robiberofamilyvineyards.com.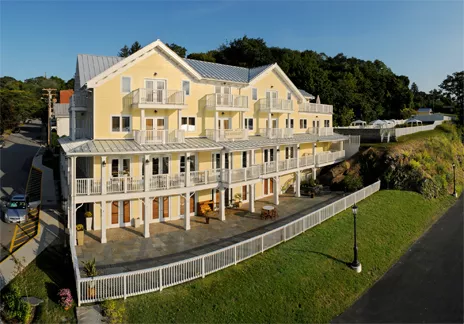 THE RHINECLIFF HOTEL WHERE THE IRON GRAD WILL BE TAKING PLACE MAY 11.