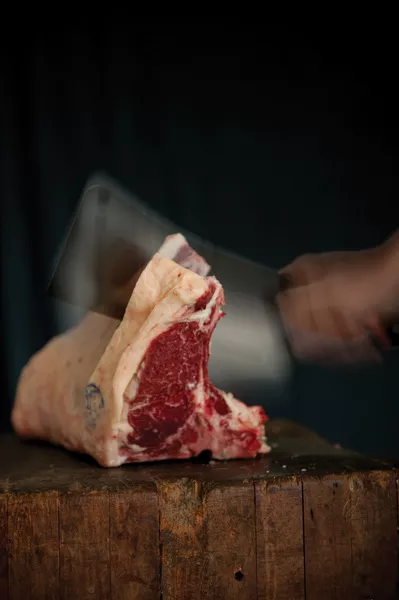 Steer to Steak Butchery Class
December 5. Learn how to bring the farm to the table in a one-day butchery course with Fleisher's owner Joshua Applestone. Observe a slaughter at a family-owned farm in New Paltz. The enjoy three locally sourced meals prepared by the Fleisher's staff at the Kingston butcher's shop. There will be a butchery demonstration and participants will take part in a hands-on workshop that includes sausage-making and curing charcuterie. $300. 8am-6pm at Fleisher's Grass Fed and Organic Meats in Kingston. (845) 338-MOOO;
www.fleishers.com
.
Cookie Swap with Molly O'Neill
December 4. Join Molly O'Neill, author of the cookbook One Big Table, for a holiday cookie swap and book discussion. O'Neill was the food columnist for the New York Times Magazine and hosted the PBS series Great Food. Her work has appeared in many national magazines and she is the author of three cookbooks, including the award-winning The New York Cookbook. 4-6pm at Oblong Books and Music in Millerton. (518) 789-3797;
www.oblongbooks.com.

The 26th Annual Champagne Party
December 4. Enjoy an evening of dancing, fine foods, and a lot of champagne. Dress in Roaring Twenties fashion and hear live music at two featured party areas; the Riverview Live Dance Party and the Restaurant DJ Dance Cavern. There will be hors d'oeuvres, a hearty buffet, late-night snacks, Stella Artois draft beer, coffee, and hot chocolate. Costume mandatory. $39/$45. 9pm-2am at the Rhinecliff Hotel. (845) 876-0590; www.therhinecliff.com.
An Evening in Piedmont
December 5. Indulge in a special dinner honoring truffle season. Begin with fonduta, a traditional Piedmontese fontina soup topped with shaved black alba truffles. Next, egg tagliolini tossed with whole butter and topped with shaved fresh white alba truffles. The main course is a Barolo braised beef served with black truffle polenta. Dessert will be a dark Perugina chocolate terrine with hazelnut anglaise. Each course is served with a different wine. $160 plus tax and gratuity. 5:30pm at Il Barilotto in Fishkill. (845) 897-4300; www.ilbarilottorestaurant.com.
Hors d'Oeuvres for the Holidays
December 11. Learn techniques and recipes for preparing a flavorful selection of bite-size treats and appetizers for holiday entertaining. There will be chef demonstrations and hands-on activities for making both informal and elegant hors d'oeuvres. The class will be followed by a group meal. Receive a CIA logo apron and a copy of the CIA cookbook Hors d'Oeuvre at Home. 9:30am-2:30pm at the Culinary Institute of America in Hyde Park. $250. Registration required. (845) 452-9600; www.ciachef.edu.