In the Hudson Valley, it seems that vegan dining is getting easier every month. In May, Diana Bezanski, founder of the hit food blog Fogwood & Fig, opened up a new vegan cafe on Front Street in Port Jervis. Serving up plant-based comfort food, ranging from Korean BBQ to lentil soup, Fogwood & Fig is a long-awaited beacon on the hill for the vegan foodies in the region, its arrival heralding a new era in conscientious dining Upstate.
Through the Fog: From City to Country
After years working as a fashion and lifestyle photographer in Manhattan, Diana, decided she was over hectic city life. She and her sweetie of 20 years, Jeff Tautrim, found a weekend home in Milford, Pennsylvania where they grew accustomed to the sleepier pace of life and cultivated a connection with nature and the seasons. In time, they made the jump to full-time country residents.
Seven years ago, Diana decided to switch to a plant-based diet. She quickly realized there weren't a lot of dining choices available to her on the New York/Pennsylvania border. To eat the way she wanted to and enjoy it, she'd have to cook for herself, three meals a day, seven days a week, snacks included. Being a creative and determined soul, she embarked on an immersive journey—diving into online research and rolling up her sleeves in the kitchen.
Poblano Chili Soup, made with red lentils
"It expanded my horizons when I switched to eating just plants," Diana says. "I'd never had faro grains before. I started adapting the dishes I liked and creating my own. I learned to make cream sauces, cheese, and dressing from nuts, and found ways to make the things I loved to eat."
Blogging in the Woods
As she gained experience, the Fogwood & Fig blog was born—a treasure trove of plant-based recipes that don't compromise on flavor or principles. Since January 2016, she has grown an impressive virtual community through her blog and drool-worthy Instagram with over 27,000 fans worldwide. On the Fogwood & Fig Instagram, one gets a sense of the possibilities: garlic and sage pasta served with buttery trumpet mushrooms, a variation on Spanish paella in which tempeh and artful seasoning take the place of seafood, navy bean farro vegetable soup, perfect on a chill day; a caramelized onion, apple and smoked Gouda tart.
Besides improving personal health (solid research says eating plant-based cuts your risk of heart trouble, stroke, diabetes and more), vegan eating is good for the planet. Greenhouse gas emissions per gram of protein from beef or lamb are 250 times that of an equal amount of protein from legumes.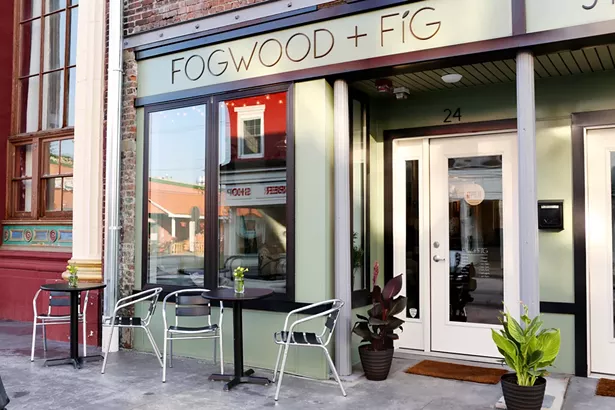 Fogwood & Fig's cute location on Main Street in Port Jervis
At the Milford Farmers' Market she developed a solid base of real-life fans and got an appetite for serving people. Then, she says, "we found a really sweet location." Jeff handcrafted the counter, benches and tables in warm, rustic wood, and in May Fogwood & Fig Cafe opened up shop. Since May, people have been coming from far and near to taste Diana's plant-based comfort food creations the bright, pretty space on Front Street in Port Jervis.
The name ties together two seminal forces in her life. "Fogwood is the piney, beautiful place we live. It's stunning in the fog," she says. "And Fig is for the first fig I ever ate, from my husband's family fig tree back in California."
Plant-Based Comfort Food
The cafe, with a solid five stars on Yelp, is putting Port Jervis on the map for lovers of good food, full stop. "I'm not trying to appeal just to vegans, although they certainly deserve great food," Diana says. "I'm appealing to everyone who loves good solid comfort food. And customers are coming from all over. People are excited about the food; it may not have meat but the tastes and textures are so awesome you'll never miss it. We serve a darn good burger."
That they do. The Whiskey Burger, for example, was last Wednesday's special, constructed of caramelized whiskey onions, avocado, house pickles, arugula, and smoky, tangy cashew aioli, served with a shepherd's lentil stew over garlic mashed potatoes with house yogurt, herbs and hot sauce.
At Fogwood & Fig, you can wash down your entree with a delicious glass of cold sweet coconut milk and top off the experience with Cashew Cheese Cake in the flavor of the day. "I could bring carnivores here and they would have no clue their grilled cheese mushroom melt was vegan," raves one Yelp reviewer. "The carnivores that do notice would probably begin to see some irrelevance in eating animal products."


In the seven years she's been on the vegan scene, Diana has watched plant-based eating gain in popularity. "Eating this way is getting easier," she says. "There's a movement in this direction, especially with the younger generation. Millennials are super conscientious and more open about trying new things, so more places are opening and succeeding."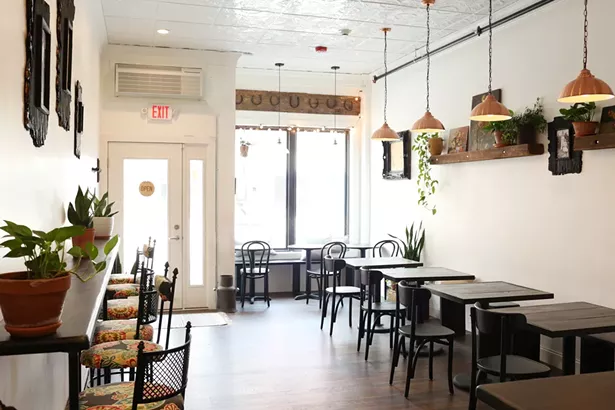 The interior of Fogwood & Fig
Whereas previously, vegan and vegetarian eating was largely centered around tofu and highly processed soy products, Diana observes that the world of animal-free cuisine has evolved. "There's very little tofu involved now. Lots of black lentils, mushrooms, rice, legumes, veggies," she says. "A lot of layering of flavors goes into our burgers and other dishes. And the spices. Such wonderful spices! Smoked paprika and cumin and fennel and chili powder. People who've never tried a meatless burger are amazed."
Amaze yourself. Visit Port Jervis and leave as a member of the Fogwood & Fig family. The cafe is open Wednesday through Friday, 11am-7pm; Saturday,11am-6pm; and Sunday, 11am-4pm. Check the Fogwood & Fig Facebook page for specials, or call (845) 672-4222.