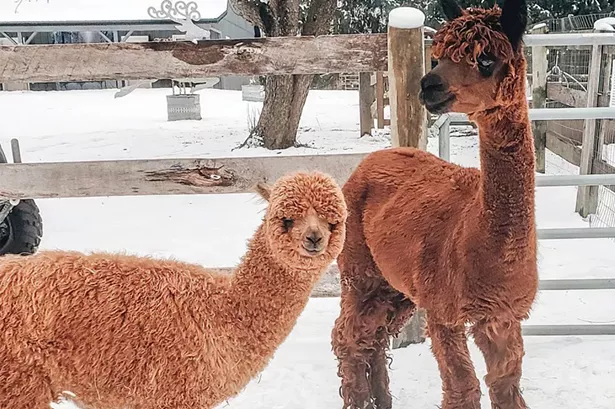 Lilymoore Alpaca Farm, Pleasant Valley
Once marketed as "the investment you can hug," alpacas are both highly lucrative fiber animals and undeniably adorable. These Andean camelids are robust and relatively low maintenance thanks to their rugged natural habitat. Their downy fleece, which is said to be softer than cashmere and warmer than sheep's wool, can be sheared and spun to make a range of sustainable clothing and textiles. Plus it contains no lanolin and, thus, is hypoallergenic. Although these fluffy four-leggeds originally hail from Peru, today they can be found all over the world, including at these farms right here in the Hudson Valley. Whether you're looking to take the kids out for a fun, farmy adventure or want to stock up on cold-weather textiles, these alpaca farms are a great choice.
Alicia Adams Alpaca, Millbrook
The 80-acre Alicia Adams farm is home to over 200 Suri alpacas. This breed is the least common of the two present in the United States (the other one being the Huacaya). With their rare alpaca fleece, the Adams family designs and produces homewares, accessories, and clothing. The Adams family sticks strictly to ethical production, meaning that the alpacas are not harmed while being shorn, and any hides are from animals that died from natural causes. Although you can't meet the alpacas behind the product, you can visit the flagship store in Millbrook to browse the latest from the Alicia Adams collection and meet the makers, or shop online.
Clover Brooke, Hyde Park
What began as a small, two-goat family farm in 2016 is now home to a fiber-diverse herd of goats, sheep, llamas, and alpaca—and a few barnyard cats for good measure. Clover Brooke homestead is a haven for animal lovers, who can embark on socially distanced llama or alpaca hikes, guiding their fuzzy buddy through pastures, paddocks, and along trails before stopping at the farm store. The llamas and alpacas also participate in on-farm yoga classes, animalgrams, weddings, birthdays, and animal assisted therapy. The farm also has beehives, a hop yard, a fruit tree orchard, and berry bushes, and hosts educational workshops on homesteading topics like beekeeping and cheesemaking.
Fluff Alpaca, Hillsdale
Home to 15 Huacaya alpacas, a llama named Trixie, a donkey named Lulu, two Icelandic horses, 20 chickens, two barn cats, and two farm dogs, Green River Hollow farm in Hillsdale is a buzzing little ecosystem that produces much of the organic fiber for Fluff Alpaca's line of handknit products. Although Fluff has welcomed visitors on open farm days in the past, they are currently closed to the public due to the pandemic. Aside from alpaca clothing items and textiles, at their brick-and-mortar in Hudson, this family-run retailer also carries home goods, bath and beauty items, and reusable face masks. Open from Wednesday through Sunday, Fluff Alpaca products can also be ordered online for curbside pickup.
Shalimar Alpacas, Warwick
The name Shalimar, taken from the beautiful Mughal gardens in Pakistan, was chosen as an homage to the beauty of the alpacas in residence at the Warwick farm. The goal at Shalimar Alpaca is to blend superior breeding with high fashion for humane, wearable textiles. At this farm, alpacas are bred to have good bones and the highest quality fiber. Their luxury fiber is then used to make clothing, blankets, yarn, home goods, and stuffed animals, all of which can be purchased online. To visit the farm and get a glimpse of Shalimar's baby alpacas schedule an tour for $5 per person.
Lilymoore Alpaca Farm, Pleasant Valley
The 25 alpacas at the Lilymoore Alpaca Farm in Pleasant Valley not only provide fiber for the apparel and home goods products that are sold at the farm store, but they also participate in group treks around the farm and through the woods. Leads also disinfected in between excursions to maintain the health and safety of guests during the pandemic. Appointments are required to visit both the farm and the store.