The courtyard at Crimson Sparrow in Hudson. Photo by Roy Gumpel
What is it about Hudson? I feel like every other article I write lately is about how much cooler Hudson is than wherever the rest of us live. Restaurateurs and proprietors along Warren Street all offer variations on the same answers: it's the architecture, the easy train ride from the city, the gorgeous Columbia County landscape dotted with posh second homes, the artists who turned a run-down county seat into "Williamsburg North," and the talented people who have steadily flowed in to continue the transformation. It's probably the most interesting place to eat in the Hudson Valley, and the most recent restaurant to open there has only further cemented that status.
The Crimson Sparrow opened on June 20 at 746 Warren Street in a lovely old building that had been an antiques store, and a bakery before that. The new owners, John McCarthy and Ben Freemole, bought it last fall and spent six months renovating it. They also bought the adjoining building, which is currently being renovated by Loaf, the bakery down the street, for use as their new location. The two met and worked together at WD-50, Wylie Dufresne's legendary outpost of cutting-edge molecular cuisine on Manhattan's Lower East Side. A chef's chef, Dufresne is cited as an influence and inspiration by many of the current generation of cooks, and his innovations often appear on menus around the world.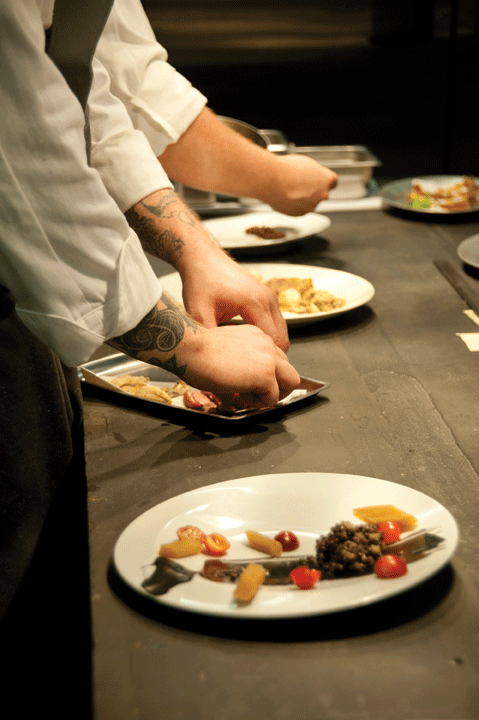 John McCarthy, Ben Freemole, and Andrew Speilberg plating a dish of steelhead trout with squid ink, yogurt, lentils, garlic scape, and sorrel. Photo by Roy Gumpel.
McCarthy left WD-50 last October, moved into his former weekend house in Claverack, and worked as the general contractor all winter with Freemole coming up on weekends to help. "The number of decisions that needed to be made every day during construction was mind-numbing. When Ben moved up full time, it was so much easier." "The nice part about the stress is that we developed some really good cocktails," Freemole adds. He now lives in an apartment above the restaurant.
The décor, though eclectic, harmonizes well and straddles the line between industrial roughness and comfortable chic that defines today's Hudson. The bar is riveted steel with a granite top, but there is plenty of warm wood as well. McCarthy explains that the furniture was sourced as diligently as the produce: "We purchased pretty much everything locally. Hudson is known for artists and talented artisans. Many of them came to us; it was a cool relationship." Woodworker David Wright made a custom table for the former oven, which is now a private dining room; the dark wood trapezoid almost looks like it grew there. Wright also put beefy legs on a huge louvered wooden door with a crackled patina–bought from the antiques store formerly housed in the building–which, topped with glass, dominates the central dining room. Ornate antique ironwork behind the bar and under the stairs also came from the previous store, and four old iron radiators have been turned into benches for the large communal table outside. At the back of the large courtyard sits the carriage house, now transformed into a big, beautiful kitchen (easily the size of many city restaurants) with a huge window allowing al fresco diners to watch the cooks at work. There is a row of counter seats in front of the glass for people who want an intimate view of the kitchen in action while they eat.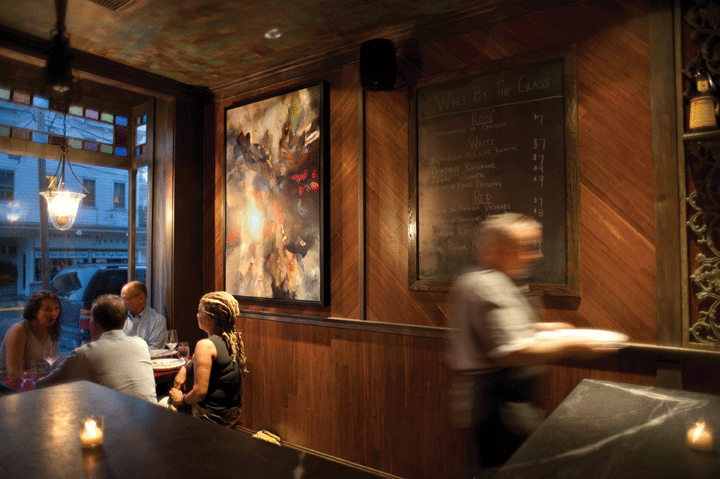 The front bar area at Crimson Sparrow. Photo by Roy Gumpel.
A salad of avocado, grapefruit, pistachio, tatsoi, and bonito.Photo by Roy Gumpel.
The menu is divided into small and large plates, with some cheese courses and desserts listed separately. All the dishes are invented. "We're not French or Italian; the dishes we come up with are things we like to eat," says Freemole. "I'd eat this for breakfast—I did, in fact." (There can be advantages to living above the store). The additives and devices that revolutionized cooking in recent years are now commonplace, and most of them are really just refinements of age-old methods, anyway: If you have ever cooked flour in chicken drippings before stirring in some stock for gravy, you have gelatinized the starch in a hydrocolloid to make an emulsion. On how the techniques they learned at their last job factor into their new venture, Freemole says, "They're all just tools. [Using the vacuum chamber] you can make a pickle in 20 minutes instead of 3 weeks." "We're not trying to be gimmicky," McCarthy continues. "It has to taste good. We can gel or stabilize or aerate something, but if it's better raw, we leave it alone." Freemole summarizes their approach: "If you start out with a good product and don't fuck it up, you're pretty well on your way to a good dish."
Freemole is younger, taller, more profane, and has heavily inked arms. McCarthy, who is married, speaks slowly, softly, and thoughtfully. The closeness of their collaboration is obvious; they answer questions in turns, riffing on a theme like jazz musicians trading fours. It's easy to imagine the same dynamic in the kitchen, where they begin with an idea or an ingredient and free-associate until they arrive at something that works. Asked how the partnership is working out, McCarthy says: "We've become friends," and Freemole interrupts him: "Very close friends." McCarthy continues: "We're together 16 hours a day" and Freemole jumps in again: "And then we come to work." They both laugh.
"We started working on a dessert with dandelions, and eight days later we had a deconstructed peach cobbler," recounts Freemole, who then describes the genesis of a trout dish on the menu. "We had a surplus of rhubarb, we had squid ink and garlic scapes, and it just kind of turned into a dish. It's fun to do." The resulting plate features cured smoked trout with squid ink yogurt, lentils and rhubarb, pickled wasabi cherries, pickled scapes, and sorrel. "We came up with that dish in fifteen minutes in my kitchen at 9:30 on a Sunday night," says McCarthy. He explains how a halibut dish began with a melon baller. "We started talking about a cold dashi broth and beets: 'If we melon ball them they'll look like fruity pebbles, which will look like the ocean, so halibut would be great in it…' and we're still working on it, so it will probably end up being a lamb dish." "Or fried chicken," Freemole adds, grinning.
Hugh Horner, chef at Club Helsinki, whom they credit with being a huge help, gave them a bunch of rattail radishes, an Asian variety that produces large, edible seedpods instead of the fat root we recognize as a radish. Tender yet crunchy, they're the brassicaceous version of a green bean, but with the peppery bite of a radish. Freemole and McCarthy pickled them and used them on several dishes as a compelling garnish. One such dish is the octopus with kimchi romesco and pea "risotto." The peas—a combination of fresh, frozen, and puréed—are cooked with coconut milk to make a thick, vivid green mixture that plays beautifully with the gently spicy sauce and the tender, oil-poached meat. Tiny cubes of lime gel add some citrusy zing and illustrate how modernist techniques are used to stealthily enhance the food.
A notable dessert consists of a freeform composition of soft-serve hibiscus ice cream piped directly from the machine onto a chilled disc of slate and studded with pickled blueberries, hunks of black sesame brittle, and shards of cookie crust. A candied hibiscus flower sits on top. Even inside the comfortably air-conditioned dining room, the humid summer air made the plate sweat and added an element of urgency; without a bowl to contain it, this dish is literally a limited time offer. The drama is heightened by the pleasure of simply dragging a spoon laterally through the mound and enjoying whatever combinations arrive at one's mouth. And while the texture is all childish comfort, the tastes are pure adult refinement with a refreshingly modest sweetness.
Morgan van Alstyne bringing food to table from the kitchen.Photo by Roy Gumpel.
Despite the fact that they haven't had a day off since they opened, they are both clearly thrilled with the endeavor. "It's the most fun I've had in my life. You can't even call it work," says McCarthy. "I can't think of a major decision that we disagreed on." They're hoping to develop some signature dishes, the kind that they'll never be able to take off the menu, but they're patient; three and a half weeks is not a long time by any measure, let alone the many years the two have spent arriving at this point. "If something doesn't quite work, we don't try to force it. We pick those notes that ring out, put them together, and hope they sing," says Freemole, leaning back in his chair. Then, in a change of tone that perfectly illustrates both the detailed refinement of their execution and the soulful, homemade vibe they strive for, he leans forward and adds: "At the end of the day, we're just cooking some food."
Crimson Sparrow
746 Warren Street, Hudson
(518) 671-6565;
Crimsonsparrow.com