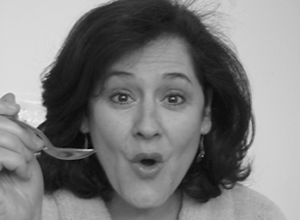 Sharon Breslau brings her one-woman show, "Naked and Flailing," to Woodstock on March 9.
Think you don't have anything in common with a five-year-old girl, a woman who has hit rock bottom, a clueless blueblood, or a bigoted tenement dweller? Think again.
"The more specific the subject matter, the more universal its content," says Bearsville-based actor Sharon Breslau of her one-woman show, "Naked & Flailing." "When you get into an individual, everybody gets it." The first-generation daughter of Russian immigrants laughs and adds, "I don't want to sound too high-falutin'—I am a girl from a chicken farm, after all."
"Naked & Flailing" is a funny and thought-provoking evening of monologues written, directed, and performed by Breslau, whose credits include roles in the movies Ghost and The Naked Gun 33 1/3, television's "Law & Order," and, more recently, Performing Arts of Woodstock's productions of the comedies "Otherwise Engaged" and "Fuddy Meers."
A one-woman show is a first for P.A.W., a semiprofessional repertory company known for tackling works by dramatic heavy hitters like Arthur Miller, Samuel Beckett, and William Shakespeare. Giving the green light to "Naked & Flailing," however, is a risk that producer Edie LeFever is willing to take. Breslau first auditioned for the ensemble in 2004 for a production of the drawing room comedy "Otherwise Engaged." She was cast in two very different roles, and many attendees did not catch on until her curtain call—when she removed the platinum-blonde wig of one of the characters. "Sharon struck us as extremely talented," LeFever says.
Through monologues delivered by widely divergent characters facing some kind of crisis in which they must navigate unexpected terrain, "Naked & Flailing" illustrates how compelling and beautiful frailty can be; how all people, regardless of background, are linked by their surfeits of limitations. While the recognition of that unifying weakness can make an observer laugh, the piece is leavened by plenty of bittersweet insights as well, with deep portrayals of women facing sickness, death, and abandonment.
With minimal props and set pieces, Breslau, a brazenly physical performer, uses the entire theater space, sometimes running through the audience, writhing on the floor in the aisles, and slamming into the walls. The mother of two is also a yoga instructor, and it shows in her every move as she dances, contorts, stands on furniture, and draws the observer's eye to very small, detailed points of quiet focus.
Inspired by Lily Tomlin and Whoopi Goldberg, Breslau conceived of "Naked & Flailing" in 1999. Soon thereafter, she mothballed her successful 18-year acting career in New York City to focus on family concerns, landing in the Hudson Valley five years ago. She returned to the boards in 2004.
Ironically, Breslau says, the richness of her post-Manhattan life has made her feel "more connected, more on top of my game as an actor than I've ever been." Seizing the opportunity to revamp, update, and expand her show with two new monologues, she offers, "I've wrapped up this big box called 'Naked & Flailing'—it's a gift. Here ya go!"
"Naked & Flailing" runs Fridays and Saturdays at 8pm beginning on March 9 at Woodstock Town Hall, 76 Tinker St., Woodstock. Tickets are $15, $12 for students and seniors. (845) 679-7900; www.performingartsofwoodstock.org.