Page 4 of 4
John Faso has reason to be worried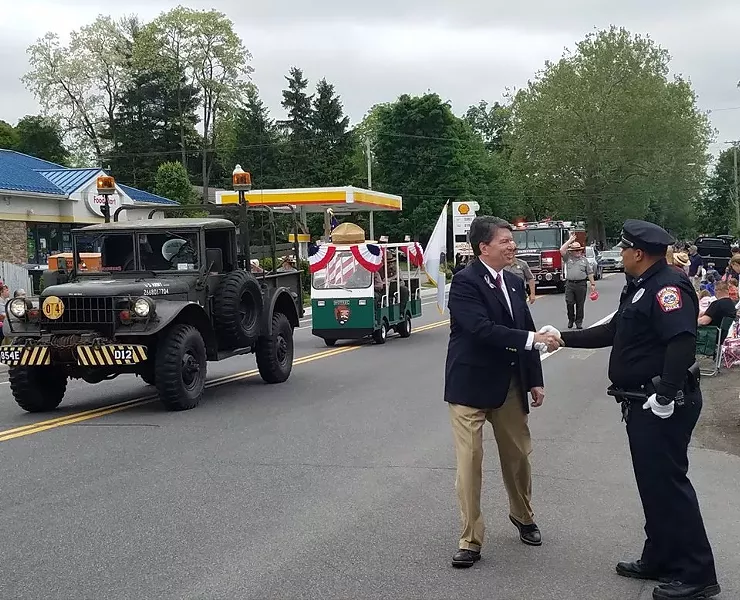 John Faso for Congress
Delgado will face off against incumbent John Faso. Faso is vulnerable. But how vulnerable?
Faso is in trouble. He has amassed a reputation as a reclusive lawmaker—an "absent congressman," as Delgado called him—which was crystallized when Democratic Representative Sean Patrick Maloney "adopted" NY19 for a day, showing up in Faso's place at a town hall when Faso failed to appear. A common and compelling line of attack against Faso is that he is in the pocket of big business and moneyed interests, and that his votes have been largely at the expense of the little guy. Roll Call rated him the 5th most vulnerable incumbent in the country in March, though that's down from 3rd last November.
Not helping the matter are the sources of his campaign funds, which consist, in large part, of various party leadership and corporate PACs. This includes one PAC associated with disgraced former Pennsylvania Representative Pat Meehan of Pennsylvania who resigned earlier this year after sexual misconduct allegations arose. By law, these PACs may spend unlimited money in political campaigns and they've taken the liberty of exercising that right with Faso's reelection campaign to the tune of $725,000, more than a third of his $2 million raised.
Delgado is also a strong candidate to take on Faso. Besides his personal charisma and speaking ability, Delgado has proven himself a fundraising prodigy, outraising every one of his Democratic opponents and Faso. His campaign cash currently sits at a cool $2.25 million, and with DCCC and other Democrat-aligned PACs expected to weigh in, Delgado's fortunes will only increase. Faso has hit Delgado with the expected carpetbagger attack, but Delgado, having grown up in Schenectady and been educated at Colgate, has more substantial ties to the district than those of past nominees Teachout and Eldridge for whom those attacks proved effective.
NY19 is shaping up to be anybody's race. The Cook Political Report rates it a "tossup," as does Larry Sabato, while Inside Elections says it tilts Republican. Election forecaster J Elliot Morris' model gives Delgado a 66% chance of beating Faso—which, keep in mind, means Faso still has a one in three chance of holding onto his seat—and predicts a four-point margin of victory. But Faso, like all incumbents, has something of an ingrained advantage due to superior name recognition, a clear voting record to point to and, of course, access to more party campaign resources. He's also helped by a natural demographic advantage in the district which—being heavily rural, white, and working class—swung from voting for Obama to voting for Trump by a substantial margin.
Some highly predictive factors should give Faso pause. On Tuesday, about 35,000 voters, a quarter of registered Democrats in the district, turned out to vote. Thats up from 19,300 in 2016. So, despite the fact that 2016 was a Presidential year with a particularly contentious Democratic primary,* there was an 80% increase in turnout between then and now. That suggests a massive surge of enthusiasm on the Democratic side. While there is no indication of Republican enthusiasm due to Faso having had no primary challengers, turnout around the country has increased significantly more on the Democratic side than on the Republican side this cycle. Moreover, Democrat Aidan O'Connor Jr's near win in a heavily conservative New York State Assembly District, located mostly in NY19, might foreshadow a tough environment for Faso.
A poll by the Pat Ryan campaign showed Faso running pretty much even with Delgado, and while that poll was meant to demonstrate Ryan's relative strength against Faso vs. Delgado's, it still showed even Ryan running within just a couple points of him. But the Ryan campaign also shared that Faso's approval rating in that poll was shown to be in the 30s, against a roughly 50 percent approval for President Trump. With those kinds of numbers, Faso's going to need more than money to prevail.
*It was initially suggested that the 2016 New York congressional primaries coincided with the Presidential primary. In fact, they occurred in different months.