Page 2 of 4
Erin Collier's loss was not a substantial setback for the women's movement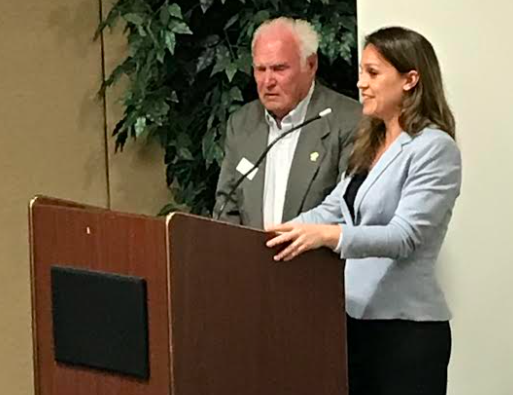 Andrew Solender
Of the seven NY19 candidates, Erin Collier was the only woman.
Erin Collier had a dismal performance in the primary. There's really no other way to look at it just based on her vote share; she was the only candidate of the night who failed to break double digits, garnering just 4.9% of the vote. That's less than half of what Clegg, the next lowest vote-getter, received. Towards the tail end of the campaign it seemed like she may have been building momentum, but it appears that very few undecideds or voters beyond her base broke for her on election day. And although she was generally seen as being at the back of the pack, she probably still underperformed even the modest expectations set for her.
The Trump era has been defined in part by the emerging political power of women, who have been running for office in record numbers Being the only woman in the race, Collier's success would inevitably be tied to the the writ-large success of the women's movement by observers. But how much of her substandard electoral performance was due to her merits as a candidate versus the relative strength of the women's movement? There's a pretty strong argument to be made that the latter played an outsized role in the outcome of the race compared to the former.
Firstly, consider the fact that not only did Collier have less campaign cash than her opponents, she had significantly less. Collier had just $160,000, barely over half of what the next highest fundraiser, Jeff Beals, raised. To her credit, Collier came into the race with some of the lowest personal wealth and fewest wealthy connections, and had by far the most small-dollar donations of any NY19 candidate with about 3 quarters of her campaign cash coming from donations under $1,000 and over 40 percent coming from donations under $200. However, whether one likes it or not, money is crucial for running a campaign. It pays for office space, staff payroll, lawn signs, ads, polls, mailers, buttons and transport among other things.
A poll commissioned by the Collier campaign showed that while she was down in an initial headcount, she moved into the front heat of candidates when additional information about her was given. The only issue was that she lacked the financial resources to actually disseminate this vote-changing information to a substantial number of voters. Instead, in the run-up to election day, strong fundraisers like Delgado and Ryan, both of whom got much of their funds from high-dollar donors, were able to get their messages out to large swaths of voters.
Another issue with Collier's candidacy was her late entry into the race, which was often cited by voters as a key reason for skepticism towards her. Indeed, this late entry made Collier the only candidate for whom I heard undecided voters explicitly rule out voting. That, combined with her inability to get her message out to enough voters, made her a pretty non-viable candidate. That non-viability probably also compounded itself, causing voters to believe she would be a weak general election candidate and spurring them to go for a candidate like Delgado or Ryan, both seen as more traditionally viable. These factors probably overrode any strength afforded to her by the powerful women's movement.
One must also consider Collier's candidacy and the NY19 race in proper context. While she was the only woman in the race, it's not like her loss was a loss for feminist ideology; the six other candidates all espoused progressive rhetoric on women's rights and #MeToo. Moreover, women had wins in several other New York districts on election day including Liuba Shirley in the 2nd district, Tedra Cobb in the 21st district, and, most notably, Andrea Ocasio-Cortez in the 14th district. All of these women were non-incumbents who beat out at least one man, with Cobb beating three men and two women, with a sizeable majority for such a crowded field. This shows that, elsewhere in the state, the women's movement was still running strong on election day. If anything, NY19 was an anomaly.
Don't believe everything you read
Jeff Beals for Congress
Jeff Beals was the subject of several pieces in high profile outlets.