Andrew Solender
NY19 was one of the most competitive primaries in New York last Tuesday.
Electoral contests can serve as unparalleled litmus tests for political trends, the relative strength of political or social movements, the preferences of voters, effective campaign strategies and many other crucial factors that determine elections and policy. The Democratic primary in New York's 19th Congressional District can provide insights about Democratic enthusiasm, the viability of progressive ideology, the strength of the 2018 surge in female candidates, and other such crucial aspects of modern politics. Here is an analysis in some of those trends through the lens of last week's contest.
The results brought with them some surprises and some expected outcomes. Rhinebeck attorney Antonio Delgado, as predicted, prevailed with a pretty slim plurality: 22%. Unexpectedly, Gareth Rhodes, a former press aide to Governor Andrew Cuomo, nabbed second place with 17.9%, beating out veteran and businessman Pat Ryan who was widely seen as Delgado's main rival but only managed to garner 17.7%. Ryan and business executive Brian Flynn both underwhelmed expectations, with Flynn coming in a distant fourth and perfectly tying with former diplomat and teacher Jeff Beals at 13.2%. Beals was cast by himself and the media as a sleeper insurgent who cast off the status quo and would come from behind just as Trump did. While he did exceed expectations, it was not nearly enough to prevail. Attorney Dave Clegg, who garnered 11.1% of the vote, pretty much performed as expected. Finally, agricultural economist Erin Collier won just 4.9%, underperformed expectations to some extent.
So what do these results tell us about today's politics?
Millennial candidates, take note of Gareth Rhodes' surge.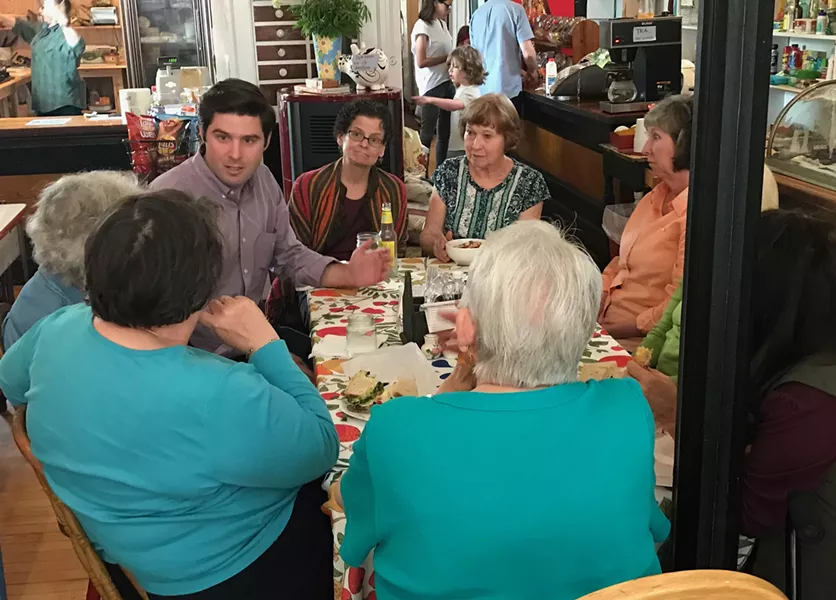 Andrew Solender
Gareth Rhodes campaigned heavily in rural communities like Bovina in Delaware County.
New generations of political strategists will inevitably try to "do things differently." Usually, that entails innovating a new strategy to play to the sentiments of voters of a given political moment. Sometimes that strategy is ideological, such as in the '90s, when Bill Clinton and Tony Blair moved their respective parties to the political center in order to win the votes of white middle and working class voters who, in that moment, overwhelmingly supported unfettered capitalism, trade and free market economics. Other times, it's about communicating with voters, such as in 2008 when Barack Obama took advantage of the emerging presence of social media to reach out to young people. But Gareth Rhodes's strategy was much more simple than that. He just listened.
Despite placing in the middle of the pack with fundraising and lagging in the polls, Rhodes came from behind for a commanding second place finish, surpassing Pat Ryan—widely considered Delgado's main competitor—and garnering 17.9% of the vote. He racked up wins in three counties, putting him just behind Delgado with four but ahead of Ryan and Flynn with two each. He won in Delaware County, the most geographically vast, sparsely populated, and rural county in the district. He also racked up sizeable wins in rural Sullivan County and Columbia County, the third largest vote share in the district and home to both current NY19 representative John Faso and former representative Chris Gibson.
Nothing on paper can explain Rhodes' stellar performance. He's a neophyte, professionally and electorally, with a less polished stump speech delivery or debate performance than those of his opponents. And yet, there he was on election night edging past Ryan to take the number two spot—something very few people expected. The only logical explanation is that while his opponents were raising massive sums, focusing more on media buys and mailers, traditional campaign strategies, Rhodes was out canvassing, picking off votes in rural counties one by one.
It may seem so rudimentary and obvious on its surface, but one of the underpinnings of politics in the Trump era is a universal and visceral frustration with "business-as-usual" politics. Most candidates in the race campaigned heavily in Ulster, Dutchess, and a few other liberal strongholds, where the Democratic primary base lies. Rhodes made by far the most extensive push into the rural, conservative areas in the northern part of the district where, as he put it, "the smaller the town, the more excited people are when you show up." This strategy earned him acclaim with unions, as well as the New York Times editorial board, both of which likely contributed to his momentum in the final days of the campaign.
In fact, the massive explosion in turnout on Tuesday could perhaps be attributed to Rhodes more than any other candidate. It was he who went campaigned in communities with what I call 'legacy Democrats,' blue-collar or rural folks who retain the party membership but rarely vote in Democratic primaries due to ideological separation from or general dissatisfaction with both the Democratic Party and its candidates. It could be argued that a lopsided amount of the previously dormant Democratic voters who turned out in Tuesday's contest were legacy Democrats turning out for Rhodes.
Erin Collier's loss was not a substantial setback for the women's movement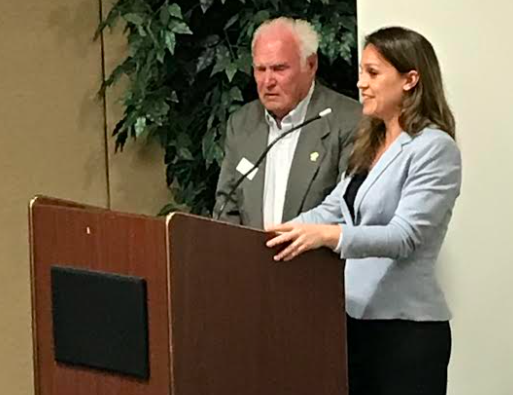 Andrew Solender
Of the seven NY19 candidates, Erin Collier was the only woman.
Erin Collier had a dismal performance in the primary. There's really no other way to look at it just based on her vote share; she was the only candidate of the night who failed to break double digits, garnering just 4.9% of the vote. That's less than half of what Clegg, the next lowest vote-getter, received. Towards the tail end of the campaign it seemed like she may have been building momentum, but it appears that very few undecideds or voters beyond her base broke for her on election day. And although she was generally seen as being at the back of the pack, she probably still underperformed even the modest expectations set for her.
The Trump era has been defined in part by the emerging political power of women, who have been running for office in record numbers Being the only woman in the race, Collier's success would inevitably be tied to the the writ-large success of the women's movement by observers. But how much of her substandard electoral performance was due to her merits as a candidate versus the relative strength of the women's movement? There's a pretty strong argument to be made that the latter played an outsized role in the outcome of the race compared to the former.
Firstly, consider the fact that not only did Collier have less campaign cash than her opponents, she had significantly less. Collier had just $160,000, barely over half of what the next highest fundraiser, Jeff Beals, raised. To her credit, Collier came into the race with some of the lowest personal wealth and fewest wealthy connections, and had by far the most small-dollar donations of any NY19 candidate with about 3 quarters of her campaign cash coming from donations under $1,000 and over 40 percent coming from donations under $200. However, whether one likes it or not, money is crucial for running a campaign. It pays for office space, staff payroll, lawn signs, ads, polls, mailers, buttons and transport among other things.
A poll commissioned by the Collier campaign showed that while she was down in an initial headcount, she moved into the front heat of candidates when additional information about her was given. The only issue was that she lacked the financial resources to actually disseminate this vote-changing information to a substantial number of voters. Instead, in the run-up to election day, strong fundraisers like Delgado and Ryan, both of whom got much of their funds from high-dollar donors, were able to get their messages out to large swaths of voters.
Another issue with Collier's candidacy was her late entry into the race, which was often cited by voters as a key reason for skepticism towards her. Indeed, this late entry made Collier the only candidate for whom I heard undecided voters explicitly rule out voting. That, combined with her inability to get her message out to enough voters, made her a pretty non-viable candidate. That non-viability probably also compounded itself, causing voters to believe she would be a weak general election candidate and spurring them to go for a candidate like Delgado or Ryan, both seen as more traditionally viable. These factors probably overrode any strength afforded to her by the powerful women's movement.
One must also consider Collier's candidacy and the NY19 race in proper context. While she was the only woman in the race, it's not like her loss was a loss for feminist ideology; the six other candidates all espoused progressive rhetoric on women's rights and #MeToo. Moreover, women had wins in several other New York districts on election day including Liuba Shirley in the 2nd district, Tedra Cobb in the 21st district, and, most notably, Andrea Ocasio-Cortez in the 14th district. All of these women were non-incumbents who beat out at least one man, with Cobb beating three men and two women, with a sizeable majority for such a crowded field. This shows that, elsewhere in the state, the women's movement was still running strong on election day. If anything, NY19 was an anomaly.
Don't believe everything you read
Jeff Beals for Congress
Jeff Beals was the subject of several pieces in high profile outlets.
If you read Rolling Stone or listen to This American Life, but not Chronogram, the Daily Freeman or The Other Hudson Valley, you probably viewed the NY19 race very differently from someone who got most of their information about it from regional news outlets. That's because, whereas the local outlets approached the race with detail-oriented coverage, the former, as would be reasonably expected, approached the race thematically. The only problem is that their narrative threads were pretty far off the mark, as was apparent in Tuesday's results.
Jeff Beals was never a leading contender in this race, and the fact that he came in fourth (tied with Flynn) would've come as no shock to anybody closely following the race. Polls I was privy to didn't even show him running competitive and his funds were too meager to supplement his admittedly robust canvassing effort. One Beals campaign operative insisted that they had 8,000 committed votes which, based off the results, would've put him over the top. But when asked for evidence of that figure, none was offered. He was always considered a long shot.
To paint Jeff Beals as the standard bearer of the progressive movement in NY19, as Rolling Stone and This American Life essentially did, was to fundamentally misunderstand the nature of the race. Nearly every candidate in the race espoused a progressive ideology equal to Beals. In fact, some even saw Flynn, not Beals, as the furthest left in the field. But whatever ideological differences may have existed between the seven candidates, they were negligible at best.
Some also pegged Delgado and Ryan as "moderate Democrats," who were in with the establishment. But Ryan and Delgado, neither of whom were endorsed or supported in any way by the national party, believe in an assault weapons ban, stricter environmental regulation and many more policies in the progressive mould. The only policy on which they truly differed from the rest of the field was healthcare; they support universal coverage through fixes to existing law while the rest support Medicare-for-all. But anyone who thinks that makes them moderates should consider Joe Manchin or Heidi Heitkamp, who vote with Trump 61% and 55% of the time respectively, and then try to claim that these two are even close to the center wing of the party.
While Rolling Stone's Matt Taibbi, in his "Battle of Woodstock" series, touched on several other candidates besides Beals, he always seemed to gravitate back to Beals as the progressive champion of the district. Moreover, he failed to examine or interview Delgado or Ryan, the two frontrunners, opting instead to keep them at arms length as the hopelessly "establishment" candidates. The series was a compelling read, but one that ultimately failed to analyze the race in proper context. As for This American Life, the NPR show dedicated an hour just to Beals, failing to interview any other candidate. Again, it was an intriguing interview, but an improper way to frame the race.
The fundamentals prevailed.
Andrew Solender
Considering all predictive factors, Delgado was expected to win.
In 2016, Donald Trump, outraised by Hillary Clinton and lagging behind in most polls, nevertheless prevailed, defeating Clinton in three crucial swing states and winning the presidency. Many in the pundit class pointed to that as an example of the ineptitude of pollsters, the fading influence of money in politics, and the failure of data scientists to properly forecast elections. However, they were sorely mistaken. 2016 polls actually predicted the popular vote much more accurately than the 2012 polls, and numerous studies and analyses have shown that polls are as accurate as ever despite some high profile misses.
Fundraising also remains an important factor in determining down-ballot elections like House races. The reason fundraising didn't determine the victor in 2016 is because of its purpose. Fundraising is primarily meant to increase name recognition and relay messages, positive or negative, to voters. Since Donald Trump and Hillary Clinton had near universal name recognition among US voters, and most had already made up their minds about the two candidates or would do so based on media coverage, fundraising was much less meaningful. However, in smaller contests like, say, the NY19 Democratic primary, it can make all the difference. In fact, according to a 2014 analysis, the candidate who raises more money almost always wins when it comes to smaller races like this.
Delgado was the favorite coming into election day. This is in part because he was winning in every poll I'd seen, including those taken by other campaigns. He had also raised by far the most money of any NY19 candidate. Based on the reliability of those factors in predicting election winners, it was a pretty safe bet to predict he would win. Could someone have come from behind for an upset? Sure. The Collier poll, for instance, showed Rhodes in dead last, yet he came in second. This indicates that it probably over-surveyed liberal activists in Ulster and Dutchess, failing to take into account Rhodes' strength in Delaware, Sullivan and Columbia. That kind of inaccuracy certainly left room for doubt. But the fact that several polls had shown Delgado up, combined with his superior fundraising, simply gave too many compelling data points to ignore. The fundamentals were consistently in his favor and they proved predictive.
John Faso has reason to be worried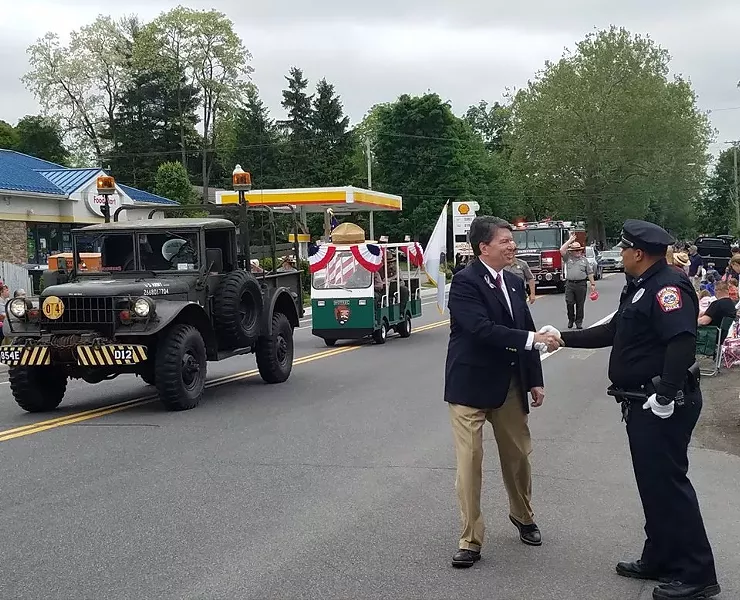 John Faso for Congress
Delgado will face off against incumbent John Faso. Faso is vulnerable. But how vulnerable?
Faso is in trouble. He has amassed a reputation as a reclusive lawmaker—an "absent congressman," as Delgado called him—which was crystallized when Democratic Representative Sean Patrick Maloney "adopted" NY19 for a day, showing up in Faso's place at a town hall when Faso failed to appear. A common and compelling line of attack against Faso is that he is in the pocket of big business and moneyed interests, and that his votes have been largely at the expense of the little guy. Roll Call rated him the 5th most vulnerable incumbent in the country in March, though that's down from 3rd last November.
Not helping the matter are the sources of his campaign funds, which consist, in large part, of various party leadership and corporate PACs. This includes one PAC associated with disgraced former Pennsylvania Representative Pat Meehan of Pennsylvania who resigned earlier this year after sexual misconduct allegations arose. By law, these PACs may spend unlimited money in political campaigns and they've taken the liberty of exercising that right with Faso's reelection campaign to the tune of $725,000, more than a third of his $2 million raised.
Delgado is also a strong candidate to take on Faso. Besides his personal charisma and speaking ability, Delgado has proven himself a fundraising prodigy, outraising every one of his Democratic opponents and Faso. His campaign cash currently sits at a cool $2.25 million, and with DCCC and other Democrat-aligned PACs expected to weigh in, Delgado's fortunes will only increase. Faso has hit Delgado with the expected carpetbagger attack, but Delgado, having grown up in Schenectady and been educated at Colgate, has more substantial ties to the district than those of past nominees Teachout and Eldridge for whom those attacks proved effective.
NY19 is shaping up to be anybody's race. The Cook Political Report rates it a "tossup," as does Larry Sabato, while Inside Elections says it tilts Republican. Election forecaster J Elliot Morris' model gives Delgado a 66% chance of beating Faso—which, keep in mind, means Faso still has a one in three chance of holding onto his seat—and predicts a four-point margin of victory. But Faso, like all incumbents, has something of an ingrained advantage due to superior name recognition, a clear voting record to point to and, of course, access to more party campaign resources. He's also helped by a natural demographic advantage in the district which—being heavily rural, white, and working class—swung from voting for Obama to voting for Trump by a substantial margin.
Some highly predictive factors should give Faso pause. On Tuesday, about 35,000 voters, a quarter of registered Democrats in the district, turned out to vote. Thats up from 19,300 in 2016. So, despite the fact that 2016 was a Presidential year with a particularly contentious Democratic primary,* there was an 80% increase in turnout between then and now. That suggests a massive surge of enthusiasm on the Democratic side. While there is no indication of Republican enthusiasm due to Faso having had no primary challengers, turnout around the country has increased significantly more on the Democratic side than on the Republican side this cycle. Moreover, Democrat Aidan O'Connor Jr's near win in a heavily conservative New York State Assembly District, located mostly in NY19, might foreshadow a tough environment for Faso.
A poll by the Pat Ryan campaign showed Faso running pretty much even with Delgado, and while that poll was meant to demonstrate Ryan's relative strength against Faso vs. Delgado's, it still showed even Ryan running within just a couple points of him. But the Ryan campaign also shared that Faso's approval rating in that poll was shown to be in the 30s, against a roughly 50 percent approval for President Trump. With those kinds of numbers, Faso's going to need more than money to prevail.
*It was initially suggested that the 2016 New York congressional primaries coincided with the Presidential primary. In fact, they occurred in different months.