An indie rock icon, some innovative abstract sculpture, a 1920s silent horror film, and chances to dig some blues while cruising the Hudson and sample some craft beer at the 1969 Woodstock Festival site. See all of these event picks below—and see our event listings for more fun fall fare.
MUSIC
Liz Phair in Woodstock Chicago singer-songwriter Liz Phair's 1993 debut, Exile in Guyville, was ranked as one of the 500 Greatest Albums of All Time by Rolling Stone. This month sees the publication of a memoir by Phair, Horror Stories, which she'll autograph at a concert and book signing at Utopia Soundstage in Woodstock at 8pm. One hundred percent of the all-ages event's proceeds will go to the Radio Woodstock Cares Foundation Pink October to benefit breast cancer research. Meet-and-greet packages are available. Tickets are $45-$99. http://www.radiowoodstock.com/
MUSIC
Slam Allen on the Hudson River
Fionn Reilly
Slam Allen
When local bluesman Slam Allen was profiled in the February 2019 issue of Chronogram, we got to know his fascinating stories about playing the Chitlin' Circuit as a child and going to Chicago to learn the blues from James Cotton and other masters. On October 11, Allen will bring his own mastery of the music to the currents of the Hudson River, when he and his band perform aboard the Rip Van Winkle for one of the vessel's magical Blues Cruise events. Boarding at the Hudson River Cruises dock in Kingston begins at 6:30pm, and the boat departs at 7pm and returns at 9:30pm. Tickets are $22.
https://www.hudsonrivercruises.com/
ART
Fall Opening at Art Omi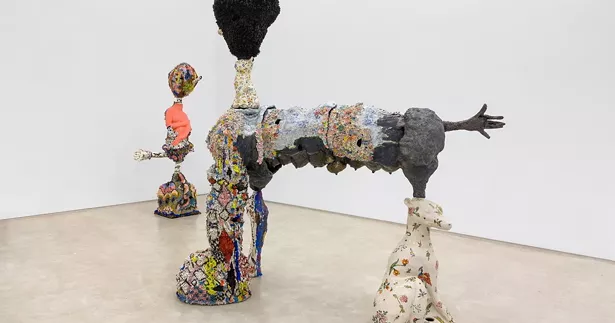 From Francesca DiMattio's "Statues."
On October 12 from 4 to 6pm, Art Omi arts center in Ghent will host an opening reception in its Newmark Gallery for "Statues," a solo exhibition by sculptor Francesca DiMattio. The exhibition presents selections from bodies of work ranging from 2015 through 2019. That, according the center, "probe perceptions of domesticity, presenting traditionally domestic forms and materials in novel and occasionally uncomfortable ways." Also opening that day in the outdoor Fields at Omi park are InConstruction by Mexican sculptor Pedro y Juana and RRRoling Stones by the collective HANNAH.
https://www.artomi.org/
FOOD & DRINK
Beer and Food Festival at Bethel Woods
On October 12, the Bethel Woods Center for the Arts—the site of the 1969 Woodstock Music Festival—will hold its seventh annual Craft: Beer, Spirits & Food Festival. Tipplers can quench their thirsts with a variety of beers, spirits, ciders, and meads created by craft beverage makers from around the region while enjoying live music, food, and goods from artisan vendors. The event opens at 1pm. Tickets are $37-$38.
https://www.bethelwoodscenter.org/
FILM
Häxan Screens with Live Score in Beacon Director Benjamin Christensen's Häxan (retitled in English as Witchcraft Through the Ages or The Witches) is a 1922 Scandinavian silent film considered to be one of the very first horror movies. A dramatized examination of how superstition led to the misunderstanding of disease and mental illness that fueled medieval witch hunts, the rarely screened film is filled with surreal imagery and scenes of nudity, torture, and sexuality that were controversial in their day. On October 18 at 8:30pm, the Beacon Theater's Story Screen film series in Beacon will show Häxan with a live score provided by local jazz keyboardist Jamie Saft. Tickets are $10. https://www.storyscreenbeacon.com/?fbclid=IwAR0hzm42BQ-sKAww-dbHcrHzdDIOIfzmL4JQHeXd5fe-3wN-FYaXddpyBDg
To find out about more upcoming events in the Hudson Valley, subscribe to our weekly newsletter Eat. Play. Stay.