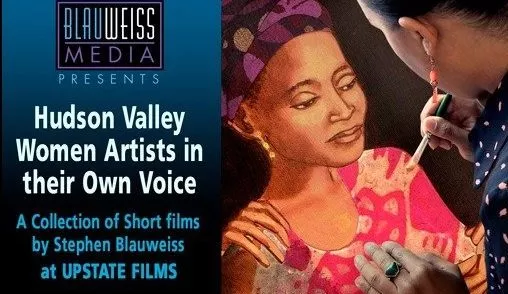 Spring is on the horizon once again. To help you get in the spirit, here are some rejuvenating events involving art, film, theater, poetry, and live music.
FILM
"Hudson Valley Women Artists in Their Own Voice" in Rhinebeck Well known for his historically oriented projects, local filmmaker Stephen Blauweiss is a tireless champion of the places and people of our region. The latter group is the focus of the collection of short films he's produced and gathered for "Hudson Valley Women Artists in Their Own Voice," a screening at Upstate Films in Rhinebeck on March 21 at 1pm. The showcase covers several local female artists working in a wide variety of styles, disciplines, and mediums, including metalsmithing, indoor and outdoor installations, children's book illustration, painting, photography, glass work, and silkscreening. Each short film will include a brief introduction and there will be a Q&A session with the director following the showing.
THEATER
FlipSide 2020 Series in Gardiner
Last month, the
Philipstown Depot Theater
in Gardiner launched FlipSide 2020, a series that presents new works from across the performing sphere. For March, the run continues with a reading; "My Story, My Voice," a one-woman play by former English Shakespeare Company member Ivy Omere; a film about bees; an evening of storytelling featuring Adam Wade from NPR's "The Moth"; and an interactive photo exhibit/performance centered around a group of visually impaired artists and accompanied by the music of the Daniel Kelly Trio. Tickets are available for individual events or as a series package.
MUSIC
Archers of Loaf in Woodstock – POSTPONED With their lo-fi, melodic sound, North Carolina band Archers of Loaf won critical praise and a fierce fanbase in the 1990s. The quartet's 1994 debut Icky Mettle and followup EP The Greatest of All Time were staples of college radio and underground zine review sections before the band went on an extended hiatus. In 2011, the Archers reunited and have since been warmly received by older fans and those who missed them the first time around. On March 13 at 7pm, their target is Colony in Woodstock, for a very rare local show.
READINGS
Poets Guy Reed and Victoria Sullivan in Woodstock
On March 14 at 2pm, as part of the Woodstock "Second Saturdays" series art events
Woodstock Poetry Society
will present poets Guy Reed and Victoria Sullivan at beloved bookstore the Golden Notebook. Reed is author of
Second Innocence
(Luchador Press, 2020) and the chapbooks,
The Effort To Hold Light
(Finishing Line Press),
Still Life With Acorn
(Fool Head Press), and
Until The Words Came
(Post Traumatic Press). Sullivan is "Poet Laureate of the Woodstock Roundtable" on WDST. 100.1 FM and regularly performs improv poetry/spoken word with guitarist Peter Einhorn's jazz band. An open mic will follow the readings.
ART
Artist/Teacher Exhibit in Peekskill
Amber Sun by Josette Urson, 2019
Opening on March 14 and on view at
HVMOCA
in Peekskill through April 30 is ".edu: Art Faculty of the Hudson Valley," a display comprised of art made by 14 artist/teachers from eight of the region's institutions of higher education. Described as "a critical perspective on the current state of affairs in contemporary art," the works on view were chosen by art critic and writer Susan Hodora, independent curator Amy Lipton, and contemporary art collector Sue Stoffel and include examples from the mediums of video, installation, sculpture, assemblage, painting, and installation.
To find out about more upcoming events in the Hudson Valley, subscribe to our weekly newsletter Eat. Play. Stay.