Submitted for your approval: this diverse list of cool local things to do as May turns into June. Please enjoy.
FILM
Brainiac Documentary Screens at Basilica Hudson
In 1997, Dayton, Ohio, band Brainiac had just signed a major label deal and was poised on the brink of alt-rock stardom when their lead singer and musical conceptualist, Tim Taylor, was tragically killed. In the new documentary Brainiac: Transmissions from Zero, filmmaker Eric Mahoney chronicles the cult group's rocket-like rise, heartbreaking crash, and influential legacy via electrifying live footage and revealing testimonies. Featured in the film are Fred Armisen, Steve Albini, Matt Berninger, Buzz Osbourne, Cedric Bixler-Zavala, and Melissa Auf der Maur, the co-owner of Hudson arts venue Basilica Hudson, which will host a free screening on May 30 at 7pm followed by a discussion with the filmmaker. (Full disclosure: You may spot your arts editor in the doc.) https://basilicahudson.org/
FESTIVALS
Newburgh Illuminated Festival Shines Again
Colorfest at Newburgh Illuminated
Now in its seventh year and firmly atop the list of favorite Hudson Valley summer events, the vibrant Newburgh Illuminated returns to the Orange County city on June 1 for a full day of culturally rich family fun. Packed with street performers, live music, dance, kids' activities, food, vendors, a fashion show, crafts, and much more, the festival brings the community together with a flair that's colorfully inspiring. Newburgh Illuminated takes place on Broadway near Liberty and Grand streets from noon until 10pm. http://www.newburghilluminatedfestival.com/
PERFORMANCES
Miss CoCo Peru Dazzles in New Paltz
For over 25 years, Miss CoCo Peru (the drag persona of actor Clinton Leupp) has been an icon of both the performance world and the LGBTQ community. Miss Coco has appeared coast to coast in a succession of uproarious one-woman shows; starred in such films as 1995's
To Wong Foo: Thanks for Everything! Julie Newmar
, 1999's
Trick
, and 2003's
Girls Will Be Girls
and on TV's "Will and Grace," "Arrested Development," and "How I Met Your Mother"; and hosts the stage series "Conversations with CoCo." On June 1 at 8:30pm, she'll bring some 'zazz to SUNY New Paltz's Studley Theater with her new show, "The Taming of the Tension." The evening is being presented by Big Gay Hudson Valley, and 10 percent of the proceeds collected will benefit the Hudson Valley LGBTQ Center.
https://www.facebook.com/events/803717676654069/
MUSIC
Mountain Man Sing in Woodstock It's a safe bet that the late Levon Helm would have adored the Vermont-formed vocal group Mountain Man. Steeped in Appalachian folk, the trio's timeless, heart-stoppingly haunting sound aligns with so much of the traditional music he grew up with and drew from for the music he made with the Band and on his solo albums. It's fitting, then, that the threesome should be performing at Levon Helm Studios in Woodstock on June 1 at 7pm. Born at Bennington College in 2009, the largely a cappella union of Molly Erin Sarle, Alexandra Sauser-Monnig, and Amelia Randall Meath grew out of front-porch singing sessions. Their latest outing, for 2019, is a single of John Denver covers. Doug Paisley opens the show. https://levonhelm.com/
PERFORMANCES/MARKETS
WOMXFEST in Kingston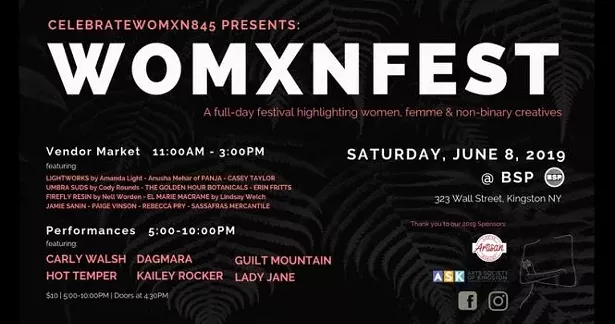 Set to happen at BSP in Kingston on June 8 is WOMXFEST, an all-day pop-up event highlighting women, femme, and non-binary voices and creators. From 11am to 3pm at the venue will be a market with vendors offering artwork, body care, clothing, ceramics, jewelry, home goods, tarot readings, live drawings, and more. From 5-10pm, a performance segment takes over with appearances by Carla Walsh, Dagmara, Guilt Mountain, Hot Temper, Kailey Rocker, and Lady Jane. Sponsored by organization CelebrateWomxn845, the festival will also include a raffle for a grand prize drawing.
http://bspkingston.com/
To find out about more upcoming events in the Hudson Valley, subscribe to our weekly newsletter Eat. Play. Stay.