Film, cabaret, art, and music—all alive and well in the Hudson Valley. Check out this week's list of recommended area arts events.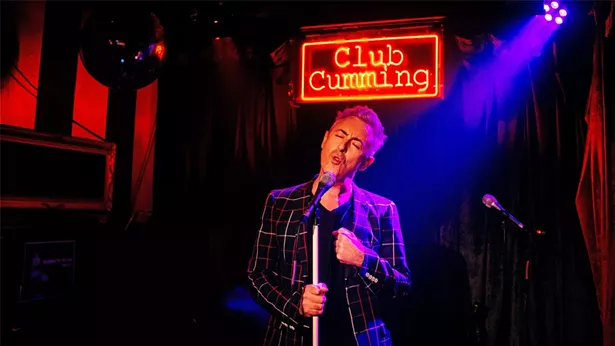 CABARET
Alan Cumming at Bard College
On July 13 at Bard College's Spiegeltent, decorated Scottish-American actor, singer, writer, producer, and activist Alan Cumming—currently the star of CBS's "Instinct"—will emcee an upstate edition of his popular New York cabaret event, Club Cumming. The special evening is being presented as the gala after party of the 2019 Bard SummerScape festival and will be cohosted by performer and choreographer Tyler Ashley, beloved DJ Sammy Jo, the Club Cumming Dancers, and lots of surprises. https://fishercenter.bard.edu/
FILM
Toni Morrison Documentary in Rhinebeck
One of America's most celebrated living writers, Toni Morrison won the Pulitzer Prize and American Book Award for her 1987 novel Beloved (later a film starring Oprah Winfrey and Danny Glover) and was awarded the Presidential Award of Freedom by President Obama in 2012. On July 13 at 1pm, Upstate Films in Rhinebeck will screen Toni Morrison The Pieces I Am, a new documentary about the author, which will be followed by a Q&A with Tommy Walker, one of the film's producers. After the talk, viewers can take their ticket stubs to a backyard reception at neighboring bar the Amsterdam for a free glass of wine and snacks. https://upstatefilms.org/
MUSIC
The Messthetics in Woodstock
Washington, DC, instrumental post-hardcore trio the Messthetics include two veterans of one of the most iconic bands in the history of American punk rock: bassist Joe Ally and drummer Brendan McCanty, formerly of Fugazi. (Rounding out the band is guitarist Anthony Pirog, known of his work in the experimental jazz scene.) On July 20, the group returns to our region for a performance at Colony in Woodstock in support of their self-titled debut album on the hallowed Dischord record label. Cochemea opens. https://www.colonywoodstock.com/
ART
Dusklit Festival in Sugarloaf
Held on the glorious grounds of the Seligmann Homestead in Sugarloaf, Dusklit is an annual multimedia summer arts festival that this year features 21 immersive works by 40 contemporary artists from all over the US. Genres presented simultaneously at the July 20 event run from 5 to 9pm and include performance art, cooking, dance, music, virtual reality, interactive theater, sculpture, and visual art. Among the intriguing exhibitions for 2019 are a synthesizer petting zoo, an open-air performance in a U-Haul truck, an inflatable room. https://www.dusklit.com/
MUSIC
Teddy Thompson in Clermont Acclaimed singer-songwriter Teddy Thompson (the son of folk rock legends Richard and Linda Thompson) is no stranger to our area, performing at local venues and working with the locally raised Rufus and Martha Wainwright and regional residents Rosanne Cash and Garth Hudson. On July 27 at the Clermont Estate, he'll headline "In the Key of C: a Concert for Clermont," the historic site's first annual summer benefit to raise funds for the educational and community programs it provides at low or zero cost to the community. https://www.friendsofclermont.org/
To find out about more upcoming events in the Hudson Valley, subscribe to our weekly newsletter Eat. Play. Stay.