Page 6 of 6
A collaborative effort is underway to take a regional approach on the sea to maritime security and numerous partnerships have been created to promote the rule of law at sea. How is this collaboration playing out?
It's actually playing out reasonably effectively. There are four different naval operations. It started with combined Task Force 150, which is a counterterrorism task force focused on the Persian Gulf. It got dragged into the piracy problem since it was there. The US then created Combined Task Force 151 to deal with piracy. It rotates commanders. Right now a Turkish admiral is the commander. Several months ago it only had four ships assigned to it—two American, one Turkish, and one Danish. You have to wonder how much can four ships really do. Then you have the EU's operation called ATALANTA. It is involved primarily in trying to assure the safe arrival of food shipments into Somalia. There is NATO's Operation Allied Protector, which in theory has some 50 ships throughout the entire region. I am not sure to what degree it is involved in countering piracy. There are also independents that collaborate with these groups but are not part of it—the Chinese, Indians, South Koreans, Japanese, etc. All of these different operations communicate and operate pretty effectively. I think it is safe to say they have decreased the number of successful hijackings. They have not reduced the number of attacks. There are different things you can do to prevent boarding. You can unload an ARP or an AK47, turn fire hoses on the attackers, place barbed wire around the side of a ship, place tires around the low parts of the vessel making it harder to get grappling hooks to work. The percentage of successful attacks has gone down but the number of attempts has risen in 2009. A combination of the ships taking better measures onboard, a more effective naval presence, and perhaps some harsher action by some of the naval vessels have helped reduce the percentage of successful attacks.

Perhaps three shots in a moving ocean in the dark of night killing three pirates sends a certain signal?
The Somalis know that no other vessel out there has that kind of capacity. It's only the US naval vessels that have that level of expertise.
One last question: In a recent article co-written by David Smock, a vice president at the US Institute of Peace, and John Prendergast, co-founder of the Enough Project, they state that the two basic challenges regarding Somali piracy are security and governance. Most Somalis are looking for security and services—primarily education. What do you suggest should be done to provide security to the Somalis and to get a true government up and running?
This has been the challenge since 1991. There have been 15 efforts to create a national government and all of them have failed so far. The new Transitional Federal Government is trying to establish itself but has no effective control of the country. There is no likelihood that a national government can be established quickly. What has to be done before you can end piracy is to put in place a national government in Somalia that has control of the country, wide support from the people, an effective coast guard, and is committed to ending piracy. There is no prospect that that is going to happen anytime soon. Once you have security, then you can deal with the other issues such as provision of services. It's not just education, but health services, rebuilding roads creating a viable economy, and doing all those things that governments do. Security is effectively nonexistent and you won't have an effective government until you have security.
There are lots of challenges. Everyone agrees there must be a national government. All of us who follow Somalia agree this is where the priority should be. The answer is not sending more ships to the Indian Ocean and the Gulf of Aden to stop piracy. The focus should be on trying to help stand up a national government that's widely accepted by the Somali people. Saying that is very easy. Doing it is very hard.
Fishing boats float on a harbor in front of Mogadishu's Hamarweyne district, July 28, 2007.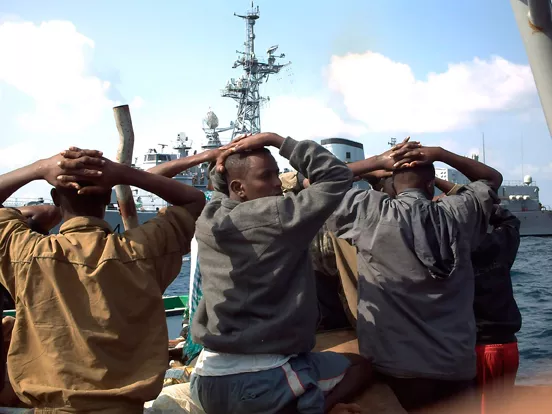 Several of the 19 captured Somali pirates, captured by the french navy on January 4, 2009. the French naval vessel Jean de Vienne, patrolling in the seas off Somalia as part of a European Union anti-piracy force, came to the rescue of two cargo ships in the Gulf of Aden.