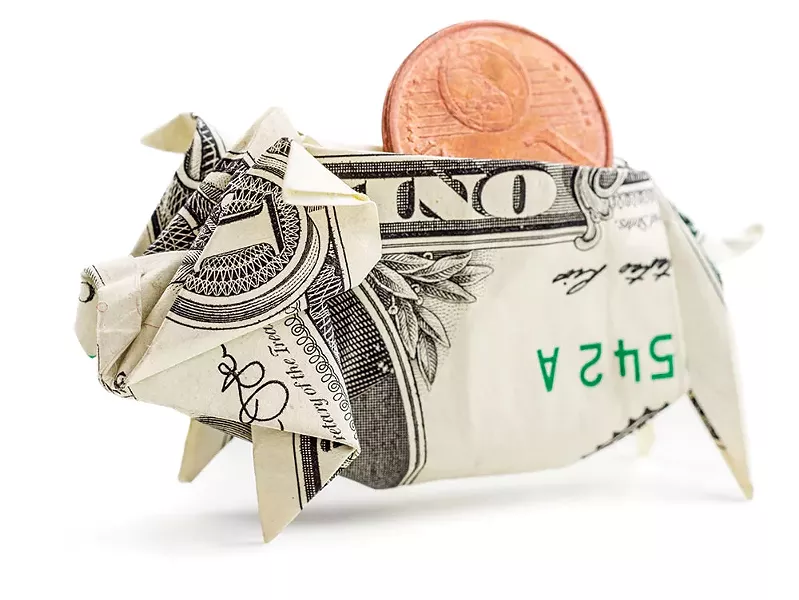 The last thing you might expect a financial mentor to do is begin a meeting with meditation. Money doesn't exactly feel like Zen territory. Or does it? My recent introductory session with financial wellness coach Joanne Leffeld starts with eyes closed, sitting tall in my chair, hands light on my lap. "Take a couple of deep, cleansing breaths and make sure both feet are grounded on the earth," she says. "If there's any tension, release it now." The peaceful entrée seems antithetical to what is to come: a journey with money and finances, which can make any heart beat faster and more anxiously.
Yet it's the perfect place to begin. Leffeld, a self-titled "moola doula" who helps people give birth to a better relationship with money, is a former certified financial planner and erstwhile yoga teacher, and she draws from both backgrounds to help people create a new comfort level with finances. It is a terrain that often frightens people: Money almost always ranks as the top stressor for Americans in opinion polls—the number one thing that strains marriages and keeps people up at night. "Money is one of those subjects that gets people so agitated, so overwhelmed, so full of shame, fear—you name it," says Leffeld, who is based in Rhinebeck and also offers sessions across the river at Woodstock Healing Arts. "It has such negative associations, yet it's only an energy. It's like the monster under the bed, but when you shine a flashlight on it you realize it's just a tiny bug."
Rather than panic and flick the bug away, there are things you can do to create a relationship with money that is healthy and grounded instead of fear-based. Experts like Leffeld—as well as Beth Jones and Susan Simon of Third Eye Associates in Red Hook—offer a holistic level of finance coaching that takes into account the whole person. Because they do not sell financial products and don't earn money on commissions, they can give unbiased guidance that includes a fair amount of right-brain soul-searching—something you're not likely to find with your number-crunching stockbroker or financial planner. It's a mix of deep life exploration and practical financial advice, with the aim of educating, empowering, and taking the mystery out of money.
Money and the Inner Child
For Leffeld, the journey into money and finances must begin in a judgment-free zone—a place that is free of the self-blame that many people feel regarding mistakes they've made with their wallets. "We can let go of the judgment. Because really, when in life does anyone sit us down to talk about money? We don't learn it in school, and our parents are often dealing with their own issues about it," she says. Yet a lot of the behaviors we have about money start in early childhood. We can sense when money is given instead of love, and we absorb any tension that's in the air about money in our households. Early experiences create a template for the kinds of decisions we make about money when we get older. We might have formed a fearful template, becoming what Leffeld calls a Restrictor (someone who holds onto every penny and is righteous about not spending) or a Permitter (someone who needs that $2,000 pocketbook or a meal at that fancy new restaurant, yet panics when the credit card bill arrives). While the Restrictor ignores their inner child and cuts off possibilities, the Permitter gives their inner child free rein and lets it wreak havoc on their adult lives.
These are the extremes, but a sweet spot lies in the middle. "Once you realize that your inner child is alive and inside you, then you can bring a sense of conscious awareness to every financial decision that you make," says Leffeld. "You can say, 'Who's calling the shots here? Is it my child because they're not getting a more primal need met, or is it the adult saying, This is a good choice for me?'" To help clients gain awareness, Leffeld gives them a questionnaire about money and their inner child. "What makes you happy, what makes you giddy? What makes you want to crawl under the covers and not come out? These are the triggers that make people spend money in an unconscious way. A lot of people find, 'Whoa, this is why I eat out so much or spend money that I don't have.' We need to get in touch with a deeper understanding of why we do the things we do, so that we don't sabotage ourselves."
By the second or third meeting with a financial mentor, most people are clamoring for a budget, which gives them an idea of how much discretionary money is at their disposal. "It's about being aware of the inflow and outflow. You see just how easy it is to spend money quickly. When you bring in that awareness, it's no longer that monster in the corner." Leffeld might ask clients or couples to create a circle of values, like a wreath, that enumerates five life values such as Health, Independence, Adventure, etc. "If you make purchases through the filter of your life values, then a budget doesn't have to feel restrictive," she suggests. Say that Adventure is one of your values; then instead of going out for a $70 meal, you can set that money aside for a trip. This is where the alchemy comes in: With so much awareness around spending, money becomes a mindfulness practice in itself.
Planning for Now, Rather Than Someday
Designing a life around your passions is the goal when you work with Beth Jones and Susan Simon of Third Eye Associates. "We're different from a traditional financial firm in that we do a very deep dive into people's worlds: what they're committed to, what their values are, and what they want to be doing in their world," says Jones. "That gives us a baseline from which to look at their financial circumstances, and to get their finances to line up with what they want to be doing and what they're passionate about." Most clients contract with them for a year, which includes about seven life-planning sessions. After several in-depth conversations and take-home exercises, Jones and Simon design a formal, written financial plan based on what is most important to the individual client.
"We're not just taking your technical data and finances and throwing it into some software and then telling you, 'Here's your plan,' which is how financial firms do it," says Jones. "Life is about more than just numbers." Instead they use a concrete process—borne out of their certifications in life planning and financial transition planning—to get to the heart of what motivates their clients. Third Eye Associates is also a registered investment advisory firm, so they offer wealth-planning and investment management services too. But it's the client's goals and dreams that drive the decision-making. "We look at how they can have [their dreams] happen sooner. People often think that when they retire, they'll do this thing they love. We're really passionate about people doing what they love now, rather than waiting."
Jones and Simon have many stories about people whom they've helped to do just that. One client made a very good living but was in debt and always felt behind the eight ball. Meanwhile, he had a dream of moving from New Jersey back to rural Vermont, where he had grown up, and starting a community garden. During his sessions with Jones and Simon, he realized that he was overspending on expensive groceries at Whole Foods (much of which he ended up throwing out because he had purchased too much) as a way of compensating for growing up poor without enough food to eat. He was also overspending on books, hundreds of which he had never read, as another way of compensating for childhood scarcity. "In the end, he changed his entire spending habits. He brought a lot of consciousness to it and totally tracks his spending," says Jones. About 13 years later, he's put away close to $1 million in savings and lives full-time in Vermont, keeping his job but working remotely. "Now he's building a community garden, restoring his 1800s house, and doing exactly what he always wanted to do," says Jones. "It's very satisfying to see people take the reins and completely turn that freight train around. It was going the wrong way."
Creating an Abundance Mindset
You don't have to be rich or have a top-paying job to successfully heal your relationship with money. Leffeld talks of one client who came to her in a state of extreme fear around finances. She loved her work but felt that she wasn't contributing to her household. Leffeld asked her if she was getting her true worth. "Sometimes when I ask you to put on this jacket of 'I am worth this,' it's going to feel like you're wearing an overcoat that's three sizes too large. But you have to put it on because in three or four weeks' time, it's going to fit you," says Leffeld. The client decided to see what else was on the market; soon after, she not only found another job, but her current employer offered to match whatever she got. "She was ecstatic. She got this huge raise just because she put herself into this position psychologically of 'I want and need more.'"
Meeting clients where they are is a particular focus for Jones and Simon. As certified financial transitionists, one of their specialties is working with people who are going through major life transitions such as divorce, the death of a loved one, loss of a job, or inheriting money. The aim is to create a safe space where people can find guidance with finances while dealing with intense emotions. When someone is experiencing trauma, "we create a decision-free zone where they don't make any decisions they don't absolutely need to make," says Jones. "We slow down the process and help them prioritize what needs to get handled, working toward the goal of helping them make only really good decisions."
Wherever you start on the path to financial wellness, it's possible to shift your thinking away from scarcity or a sense of lacking and toward an abundance mindset. "I've seen clients that make $18,000 or $20,000 a year have very abundant lives and travel the globe. And I've had clients that make $250,000 who can't balance a checkbook," says Jones. "When you live authentically, are aligned, and have integrity, then you'll have what you need from life."
"It's the soul's journey," adds Leffeld. "We're all here to try to reach our highest potential. If I can remove some of the fear and mystery that the Wall Streeters and newspapers have imposed on us, and at the same time encourage people to let their inner child say, 'This is the way I want to be,' then nothing is out of the realm of possibility."
Joanne Leffeld is giving a presentation at the Olive Free Library on Saturday, February 10, 11am–12pm and a workshop at Iris Retreat Center in Accord on Saturday, February 17, 3–5pm.
RESOURCES
Read more about
wellness in the Hudson Valley.