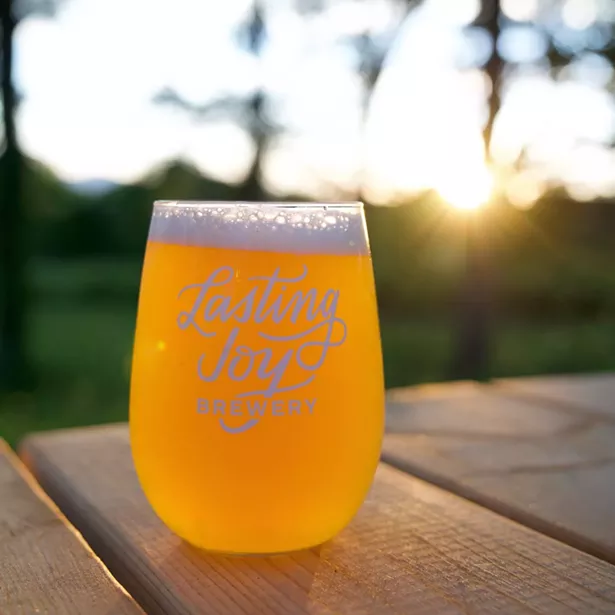 In early June, just in time for its 150th anniversary, the laid-back, enchanted riverside village of Tivoli got a brewery. Lasting Joy Brewery opened for Father's Day weekend and has been ramping up since. "It's been such a blur," says co-owner Emily Wenner, who founded the brewery with her husband, high school sweetheart Alex Wenner, who acts as CEO and head brewer. "We feel really lucky to have gotten here; it's just great to meet people and see them enjoy the space and the beer."
The brewery, six miles outside the village center, is a stunning metal and glass building housing the tasting room and brewery, adjacent to the vintage barn they reclaimed for production space. The Wenners worked with Aron Himmelfarb of Manhattan-based Auver Architecture to create a building infused with natural light, centered around a hexagonal floating 12-tap bar that seats 60.
The rest of the space features wooden tables from local carpenter Mark Bennett flanked by comfy conversation pits with couches and lounge chairs. The Wenners, when they have the chance to catch a breath between opening the business and raising four kids between 5 and 12, are ecstatic to see the space finally filled with happy people. Outside, Hay Design bistro sets, picnic tables, and Adirondack chairs allow people to soak up the sun and the bucolic scenery while sipping on a cold pint.
"We met as seniors at the Berkshire School in Sheffield, Mass," says Wenner of her husband. "Alex and I got to know each other working on a project; we built an Inuit umiak boat together, with a very passionate teacher." The two got married after college and lived in Brooklyn; Alex tried his hand at video game work but brewing, which had been a passion since his first beer batches in college, soon had his full attention.
In 2018, the Wenners transplanted their growing family upstate. "We just thought, if we're starting a family business, what are we trying to bring into the world? What's the goal? And well, that's it," says Wenner of the name Lasting Joy.
They could hardly have found a more serendipitous spot than 32 acres in what Wenner calls "the Tivoli-Clermont borderlands," adding, "I love this corner of Western Dutchess. It's so beautiful and so smart, and we have been getting to partner with amazing locals in the crafts and construction and trades." The brewery is in a nexus of craft beverage operations from Rose Hill Farm and Abandoned Cider in Red Hook to the county's wineries. "It's great to be coming into a vibrant ecosystem like this," Wenner says. "Migliorelli Farm grows barley and sells it to Hudson Valley Malt, where they do old-school floor malting, and we buy from them, so all told, it's a journey of about 10 miles from the field to the glass." Yet another locally raised ingredient: Chief Operating Officer Katherine Telesca, a Red Hook native who worked with Alex at Coney Island Brewery and now runs the front of the house at Lasting Joy.
Lasting Joy, which opened its doors on Thursday, June 9, offers a core lineup of four year-round beers plus seasonal and experimental releases; wine, cider, spirits; and food from neighboring producers. The core brews at the center of Lasting Joy's selection are an English beet stout, a hazy IPA, a Czech pilsner and a Belgian wheat, all crafted with New York ingredients. There are more on the way, alongside the special batches like ILOVIT, a Vienna-style lager with a malty backbone produced for TIVOLI's 150th anniversary (get it?).

"Look for our tap list to be expanding," says Wenner. "We did have some COVID delays, but my husband has been brewing like crazy. We're open seven days a week now, and we're looking at what kind of programming and events we can bring in." So far on the food front, Lasting Joy offers cheese and charcuterie boards from Baldwin Farm, while most weekends feature a visiting food truck, like Oyster Party and Oh My Gyro. Or opt to bring a BYO picnic, takeout, or have a local pizza delivered.
A goal that's already unfolding is the vision of a family-friendly, dog friendly, and fully accessible place for all to enjoy. "A big part of our identity, we hope, is a really inclusive, hospitable space," says Wenner. "When I think about craft beer, I think of someone like Alex, who started out on a one-burner stove when his life was going in a completely different direction, and how much joy it's brought him. There are a lot more talents out there, a lot more people who love good beer, and a lot of people who'd love it if they gave it a try—we hope to expand the whole idea of who enjoys craft beer and who can work in the industry."
Lasting Joy is open daily through summer with 16-ounce cans and merch available for sale online and at the taproom.