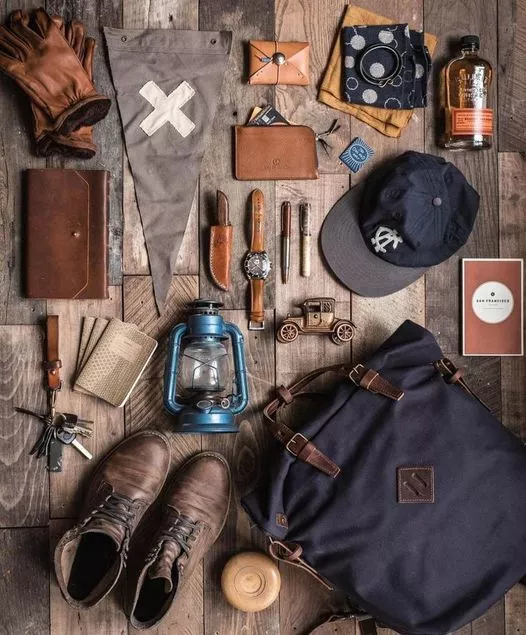 Images courtesy of Woodsman Shoppe
Open the door to
Woodsman
in Cornwall and the first thing to catch your eye will likely be the hand-painted tile underfoot: a rustic scene of a bear, pine trees, and a cozy cabin. The scene, embedded in the reclaimed barn plank flooring, is a fitting entree for a shop that celebrates rugged luxury for the modern man.
Inside, the decor harks back to hunting cabins of yore. Antique lumber has been repurposed as wall paneling, and iron pipes support live-edge black walnut shelves. Some of the shelving, as well as some of the wood paneling, still sports a heavy layer of bark. "I was told to plane these boards down and sand them well," says owner Oscar Dotter. "But I like the look of this, and no one's gotten a splinter yet." Boots, handsome leather luggage, and other merchandise are piled on the edges of Persian rugs that scatter on the floor.
Images courtesy of Woodsman Shoppe
A stack of "Peaky Blinders"-style newsboy caps fills an old wooden crate near the door. The black walnut ledges on an opposite wall display
Bridge & Boro
jeans, as well as
Pendleton
sweaters,
Wolverine
boots, and hand-stitched, recycled-denim Levi's. A center table holds
Shinola
watches, wallets, and other leather goods. If it's well-made, handcrafted, and classic, chances are it can be found at Woodsman.
For Dotter, an artist and entrepreneur, the path to Woodsman was as unexpected as it has been delightful. "I was never a clothing guy—I'm a coffee dude," he says. Raised in Oregon, Dotter was an entrepreneur in the coffee business in New York City as well as a painter and sculptor. Like many other Brooklynites, he was attracted to the Hudson Valley and its outdoorsy ethos.
Images courtesy of Woodsman Shoppe
So, he started out doing what he knows best. In July 2020, Dotter opened
Cornwall Coffee Company & Mercantile
in a pocket-sized, 280-square-foot storefront in Cornwall. Soon, customers were crowding the bar each day for espresso made in century-old
Victoria Arduino
coffee machines, and shopping for home goods, apothecary items, and other cool, general-store merchandise.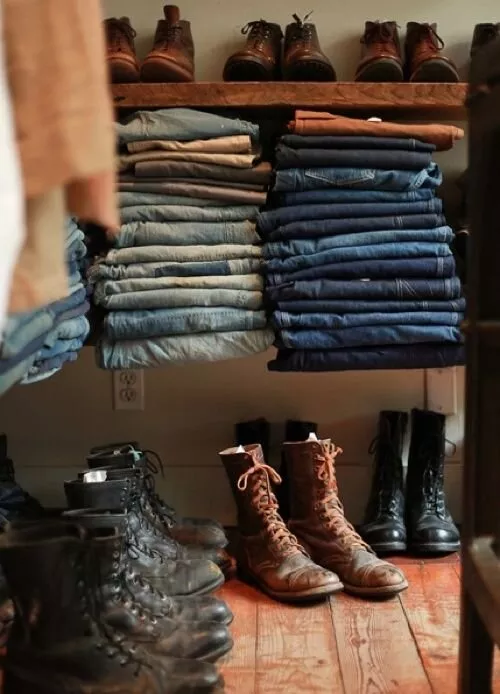 Images courtesy of Woodsman Shoppe
In the late spring of 2021, Dotter decided to move the business into a bigger storefront a few doors down (326 Main). While he and his staff were moving, Dotter was soaked by a leaking pipe, and needed a change of T-shirt, socks, and underwear. Not wanting to go all the way home to his farmhouse near Blooming Grove, Dotter asked some locals where he could find clothing. Their answer astounded him. "They told me I could try CVS or Tractor Supply—not that I have anything against those stores—and if I couldn't find what I needed there, that I'd have to go to Woodbury [Common Premium Outlets], a good 25-minute drive from here."
Hailing from Brooklyn, where nearly every necessity is just a short walk away, Dotter was taken aback. "I thought, 'This is odd. Why wouldn't there be a footprint on Main Street where someone could just buy socks?'" Dotter says. "That's when I began thinking I could take the masculine elements of the Mercantile and expand it."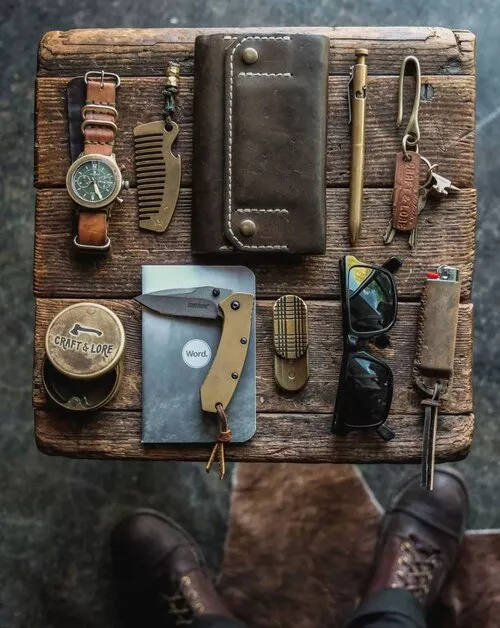 Images courtesy of Woodsman Shoppe
In October 2021, Woodsman opened in the former coffee shop location at 310 Main Street carrying a curated selection of artisanal apparel, accessories, and grooming products for men. Customers can find products that were once sold at the Mercantile, including apothecary items from C.O. Bigelow—a Greenwich Village-based brand founded in 1838—and Italian shave company Proraso. Vintage Stanley thermoses and Barebones camping lanterns evoke Teddy Roosevelt's Rough Rider era. Stetsons—vintage and new—continue that theme. Racks hold shirts, flannels, and jackets. "We were trying to leverage brands that people couldn't find anywhere else," Dotter says. "We worked with Shinola of Detroit, and they came up with a separate collection exclusively for this shop. This is their only store-in-store, brick-and-mortar exposure."
Dotter is the only authorized Northeast retailer of Ochsenkopf axes. The handmade German axes are beautiful objects and sturdy enough to last a lifetime of chopping. "We carried them in the Mercantile, and in one year we sold 384," Dotter says.
Images courtesy of Woodsman Shoppe
Just about everything in Woodsman has a story that Dotter is happy to share; he takes the time to undo the buttons of a Harding coat to show a leather patch that describes the history of the jacket's bold pattern. "Not to sound bougie, but these are things people aren't going to find 'at Woodbury,'" he says.
The items in the store are carefully curated, and Dotter encourages touching and examining them before purchasing. "If you're going online to get these things, then shame on you," he says, adding that nothing compares to the sensory experience of shopping in-person as well as supporting a local merchant.
At the same time, he points out that not everything is precious in the shop. True to Dotter's original mission, he sells T-shirts, socks, and underwear. A bulky Pendleton sweater on one of the walnut slabs looks familiar: It's the same brand worn by Jeff Bridges in "The Big Lebowski."
Customers are devouring the selection, Dotter says as he walks into an alcove piled with boxes. "These are all getting shipped to customers," he explains. "I don't have a 'back room' with extra inventory. If someone can't find their size or style, we'll order it and ship it to them." A bonus for locals: Woodsman offers gift wrapping and delivery services within a five-mile radius of the shop.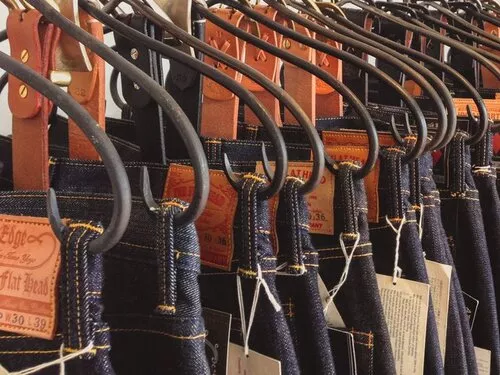 Images courtesy of Woodsman Shoppe
Woodsman attracts female shoppers, too. "People ask, 'When are you going to open Woodswoman?'" Dotter says. He's considering a third outpost on Main Street that would focus on womenswear and home products "and would be a store that men would want to visit as much as women would," he adds.
With his shop, Dotter aims to honor local stories as much as he celebrates the lineage of his products. A weathered board hangs from the ceiling at the front of the shop. Amid the peeling gray paint, you can just make out the words "General Insurance," "Winifred Swenson," and "R.E. Broker." Winifred Swenson ran a successful brokerage out of that location for more than 50 years. Dotter happened upon the sign while fixing up the shop, and now proudly displays it. "I'm not here to change history," he says. "There's something about this place that's very special."
Woodsman Shoppe is open Wednesday-Friday, 11am-5pm; Saturday, 11am-7pm; Sunday, 11am-4pm.
Woodsman Shoppe Men's Provisions
326 Main Street, Cornwall
(845) 480-3545
Woodsmanshoppe.com
info@woodsmanshoppe.com