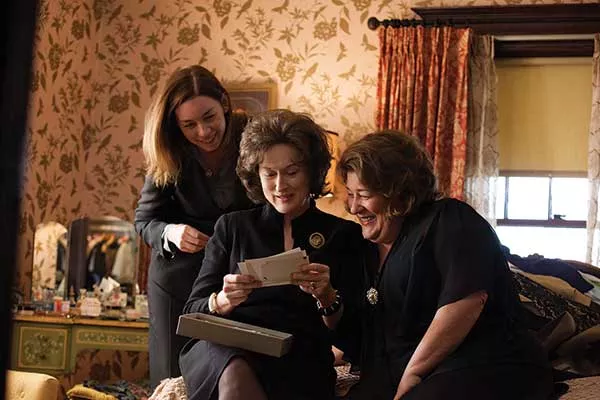 Film Columbia, held in the cozy Columbia County village of Chatham, opens October 22 and runs through October 27, screening more than 25 top flight independent and foreign films, with plenty of star power from major studio releases, too. Over the course of its 14-year history, industry insiders say that Film Columbia has become the best small film festival on the East Coast. "I can truly say this is going to be the best festival we've ever had," says Peter Biskind, executive director of Film Columbia and one of its co-programmers. "The festival keeps getting bigger and bigger and better and better."
Opening night features a screening of Philomena, a new film by Stephen Frears (The Queen, High Fidelity), starring Judi Dench.
Foreign, independent, and major studio releases—dramas, documentaries, and even action/thrillers—will be screened over the course of the six-day event at the 800-seat, single-screen,1920s-era Crandell Theatre on Main Street, and at the Morris Memorial building around the corner, where the gymnasium transforms nicely to seat 150.
14 slides
"Tiny Chatham has a population of approximately 2,000, yet the festival sells nearly 7,000 tickets, making it the second most popular event in the county after the Columbia County Fair," says Robyn Coe, spokesperson for the festival. Because the festival is concentrated, there's no need to drive from one film to the next like other festivals. "People know each other here and there is a family atmosphere," says Biskind.
Nabbing great films doesn't happen by itself. "Partly it's relationships [which Biskind and Laurence Kardish, former senior curator of films at MoMA, have in abundance] and partly it's persistence," Biskind says of the festival's ability to attract top-flight releases. "Any festival is dependent on whatever films are coming out that year. We have a surfeit of good movies this year."
"All the films we show are not yet released, and all evening films are big studio releases, many of them Oscar contenders," Biskind says. (Last year featured screenings of The Sessions and Rust and Bone.) "We have Academy members in our region, too, so producers want to get their movies to them. It helps that we're shouting distance from New York City and half the cost of other festivals." Tickets to films are $10 to $15.
The festival will screen multiple films from both Sony Pictures and the Weinstein brothers this year, including the latest Coen brothers film, Inside Llewyn Davis, about a down-and-out folksinger, set in Greenwich Village circa 1961. Lauded by critics, and winner of the Grand Prix at Cannes, this sweet, sad, and funny movie has excellent music by T. Bone Burnett and Marcus Mumford, as well as a cast of household names.
Like Father, Like Son, a film from Japanese director Hirokazu Kore-eda, so impressed Cannes Jury President Steven Spielberg that he awarded it a special jury prize and already has an American version in the works. Mandela, a drama from the Weinstein Company about the great leader's early days as a fiery revolutionary, stars Idris Elba of "The Wire" and "Luther" fame. The Book Thief, a movie version of the best-seller by Markus Zusak, stars Geoffrey Rush and Emily Watson. Its director, Brian Percival, well known for his TV work in Britain, including episodes of "Downton Abbey," will be on hand after the screening for a Q&A.
The festival closes with a screening of August: Osage County, an adaptation of Tracy Letts's Pulitzer Prize-winning dark comic play, starring Meryl Streep, Julia Roberts, and Ewan McGregor. "The film got a standing ovation at the Toronto Festival," says Biskind. "We purposely close with it so that people will stay through the weekend."
The organizers hope Film Columbia will not to grow too much and lose the camaraderie in the audience that pervades the festival now, but they plan to expand to Hudson, which, as Biskind says, "Is a great festival town waiting to happen, and it's walkable like Chatham." Coe recalls the screening of last year's hit, Silver Linings Playbook. She was sitting in the balcony at the Crandell, and of course the house was packed. "It was just a blast to be in the audience," she says. "There was wall-to-wall excitement and we were all cheering."
Film Columbia takes over multiple venues in Chatham October 22 to 27. Filmcolumbia.org.