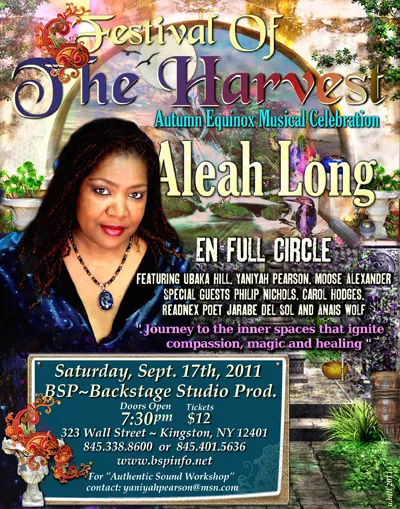 September 17, 2011 at 8 PM
at Backstage Studio Productions 323 Wall Street, Kingston

Aleah Long, a vibrant and visionary singer-songwriter and recording artist, presents the fourth performance in the "Earth Changes" series: The Autumn Equinox Festival of the Harvest. Aleah's music, described as transformational new-age Soul, is an uplifting transmission of sound vibration inviting us to align our energies and intentions to the frequencies of the Earth cycles. This is the time, the Fall Equinox when we reap the benefits of our labor. We harvest and feast, not recklessly, but in a way where we can experience fully the joy of life and store the energy we need to get through the winter.
Let's not waste time trying to figure out if 2012 is going to shake us up so much that most of us won't survive. Let's bring on the shake-up ourselves. Are you ready to free yourself of old conditioning that holds you in a disempowered place of fear and despair? Are you a peaceful warrior that has taken on the challenge of saving our planet? Are you a firm believer that the evolutionary process of human consciousness is underway and if we claim it and welcome it, it may be a beautiful endeavor for generations to come? You are not alone. Come meet your kindred spirits at the Festival of the Harvest.
Her music and lyrics flow from her own transformational journeys, and takes the listener to inner spaces that ignite joy, compassion, magic, and healing. Long's music is a unique blend of world beat, trance-dance and spoken word, with musical influences from R&B, jazz fusion, African and American Indian (Afro-Amerindian) chanting  and drumming. Her latest CD, "En Full Circle: A Shamanic Journey" has been #1-most played in the alternative/progressive on-line radio music category. She has performed internationally and was the featured vocalist on Ghanaian highlife singer, C.K. Mann's three albums.  En Full Circle is a multi-cultural ensemble of talented musicians from the Hudson Valley, including Ubaka Hill, , Yaniyah Pearson, Moose Alexander; joined by special guests, the ReadNex's Jarabe Del Sol, Anais Wolf, and  NYC"s Philip Nichols and Carol Hodge.
BSP Backstage Studio Productions is co-sponsoring the event. Over the last 11 years, BSP has become known as a venue for top quality entertainment - art, music, theater, dance and much more - boasting a 3000 capacity theater with an original stage, a 200 capacity lounge with bar and stage, a new dance studio, and soon-to-be completed recording/production/rehearsal studios.
Tickets can be purchased at the door for $12.00. For more information, call 337-8700 or (845) 401-5636. Bring your percussion instruments to jam.
Visit
http://www.bspinfo.net/
for more information for BSP.
Visit
www.facebook.com/aleahlongenfullcircle
for more information on the event.