Untitled (Horses with Parasol), Caroline Clowes, oil on canvas, 14" x 20". Collection of Elise Shartsis.
Art historians are rediscovering female artists who've been forgotten for generations. The once-prominent genre painter Caroline Clowes (1838-1904) is featured in an exhibition at Locust Grove, Samuel F. B. Morse's estate in Poughkeepsie. "Fertile Ground: The Hudson Valley Animal Paintings of Caroline Clowes" opens November 4.
As the show's title suggests, Clowes's specialty was four-footed creatures. Her horses are noble and resplendent, her cows warmhearted, but her sheep are particularly mesmerizing, their coats arrayed in natural spiral patterns. "People say they want to touch them," curator Bill Jeffway reports. Sheep and Chickens looks very much like a creche, with sheep replacing Mary and Joseph: two sheep and two lambs in a manger. One sheep stands, eyeing the viewer. The sitting adult closes her eyes blissfully. Was this tableau meant as a parody of the Holy Family?
"I think she was very conscious of eye contact with the animal," Jeffway suggests. The way a photographer chooses the right moment to take a photograph, Clowes would wait for a telling glance to record in a sketch.
Buckskin was a horse her cousin Ambrose brought back from the Civil War, which became the subject of one of her canvases. This painting particularly resembles a portrait, focusing on the equine head and neck. Buckskin's long white mane gives him an androgynous elegance, a bit like an English rock star of the 1970s.
The Challenge, Dick and Bingo, Caroline Clowes, oil on canvas, 16 1/2" by 20 3/4", c.1859. Hart Hubbard Collection of the Dutchess County Historical Society.
Several of the paintings were made in Florida, near the St. Johns River. These pictures are less domestic than their northern equivalents; the creatures in Florida Cow Painting 1 look like they're about to melt into the forest. (Some of the canvases were titled for this exhibition.)
Evensong, one of Clowes's final paintings, which shows an Impressionist influence, depicts a mighty uprooted oak tree with a sheep nuzzling its exposed roots. Atop the trunk, a thrush is singing. Am I imagining the artist preparing for death?
Clowes's life was a rags-to-riches story, like the ones written by her contemporary, Horatio Alger. Clowes's mother died when she was two; her infant sister perished soon after. Clowes and her sister Lydia were raised by their eccentric father, who had inherited a woodland in Sullivan County and attempted to devise new commercial uses for lumber, such as a folding bed and a wooden railroad. His schemes were unsuccessful, and eventually his two daughters were sent to live with relatives. Caroline went to Heartsease, the stately house in Lagrange where her uncle Benjamin Hall Hart managed his extensive apple orchards. Nowadays we think of farmers as struggling, but back then, apples were big business. Heartsease, which is also a type of violet, was well-named. Is it possible that the contentment that exudes from Clowes's beasts was shared by the artist as well?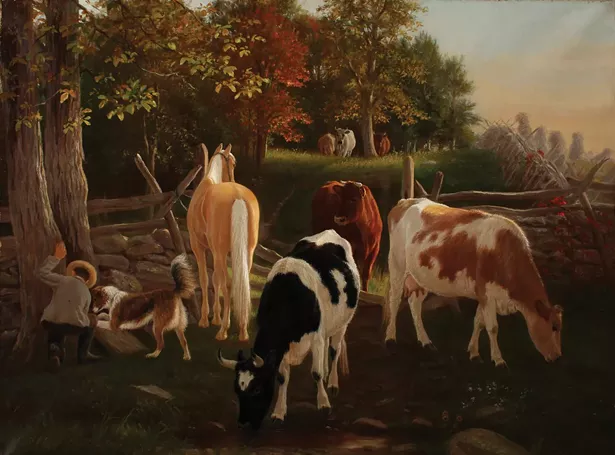 Autumn Cows, Caroline Clowes, oil on canvas
Clowes attended the Poughkeepsie Female Collegiate Institute, then studied with Hudson River School painter Frederick Rondel. Back then, as is still the case, being a successful artist required good business sense—including, in her case, hiding her gender. (She sold her paintings under the name C. M. Clowes.) Her representative, J. H. Wright, wrote to her: "They suppose you are a gentleman and I did not correct them." Like many successful 19th-century women, Clowes never married. Eventually, she had an international reputation, exhibiting three works at the Royal Albert Hall of Arts and Sciences.
"I think that's a powerful aspect of the show: That we have paintings, we have preparatory drawings, and then we have all these letters, so you can understand how Clowes came to have those skills, how she worked to overcome prejudice against women," Jeffway observes. The exhibition is coordinated with the Frances Lehman Loeb Art Center at Vassar College.