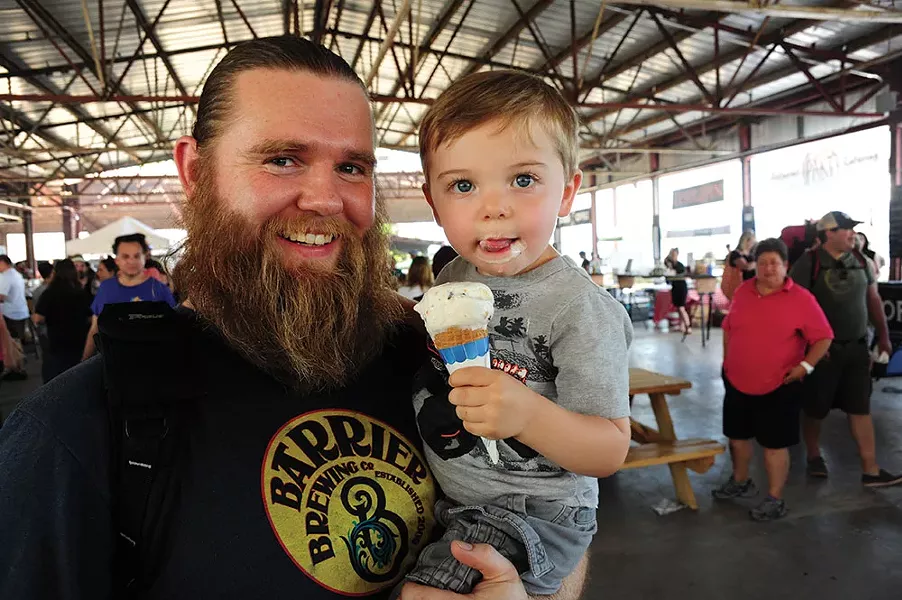 Roy Gumpel
Kevin Lyan and his son Hayden.
Although it's a not a restaurant per se, the downtown Kingston debut of Smorgasburg on August 6 left little doubt that it was a culinary game changer for the region. It was so successful that the thousands-strong crowd left little room to move, vendors ran out of food, and several parking lots filled up and closed—proving once again why the famous Brooklyn food-and-flea-market extravaganza, begun in 2011, was dubbed "the Woodstock of eating" by the New York Times.
But by the end of August, Smorgasburg Upstate, as it's known, had found an even keel, in part, thanks to a shuttle bus from uptown Kingston. Held at the historic Hutton Brickyards, the venue has the same buzz that's made Smorgasburg a sensation at several New York City locations and most recently, in Los Angeles. But Smorgasburg Upstate is different. Its energy is both urban and rural, hectic and laidback—an appealing hybrid that attracts attendees from both upstate and downstate to eat, drink, shop, and wander the 12-acre property, which overlooks the Hudson River, with children and leashed dogs in tow.
Roy Gumpel
Smorgasburg Upstate at the Hutton Brickyards in Kingston.
Smorgasburg Upstate offers innovative, farm-to-table food from Brooklyn (including the ever-popular Ramen Burger) and the Hudson Valley (from newer ventures like Itsa Pizza Truck, Borland House, Pakt, and Daughters Fare & Ale to old favorites like Sante Fe, Bread Alone, and Terrapin); along with craft-brewed beer, cider, and wine. An array of stalls sell handmade and vintage fashion, home goods, and collectibles, anchored by Brooklyn favorites like the toys-and-kitsch purveyor Dan's Parents' House and used-record shop Vinyl Rescue.
Roy Gumpel
Dan's Parent's House, a vendor at Smorgasburg.
Smorgasburg Upstate is held on Saturdays at 200 North Street, Kingston, from 11am to 6pm, through October 29.