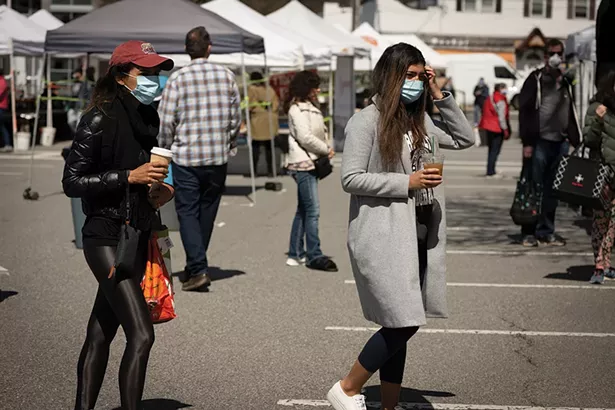 With area outdoor farmers' markets set to open for the season this month, area residents are excited to see their favorite farmers and purveyors in person and connect directly to local food sources. But "in person" has taken on a different meaning in 2020 as the worlds adapts to COVID-19. The pandemic has forced Hudson Valley markets to adopt new guidelines like creating distance between stands, increasing sanitary measures, and encouraging pre-orders. Some markets, like the one in Beacon, have gone so far as to make their market pre-order only.
Multiple locations in the Hudson Valley have introduced new rules for people to follow. The Goshen Farmers' Market, run by the Goshen Chamber of Commerce, would typically push for guests to stay awhile during their season, but now they have to do the opposite. "We are still going ahead with our market, but we won't be able to have live music, children's activities, or anything that would encourage anyone to mill around. We've had to make it into an environment where you come in, grab, and go," said Barbara Martinez, executive director of the Goshen Chamber of Commerce.
Their market will open on May 22, but like most markets across the Hudson Valley, it will create distance between stands and the guests, provide signs to encourage social distancing, practice meticulous sanitary measures, offer more pre-packaged meals rather than cooking on site, and encouraging a grab-and-go type of experience.
The Kingston Farmers' Market, normally held on Wall Street in front of the county courthouse, has moved off the street and into the county courthouse parking lot to encourage social distancing. Like markets across the region, Kingston is following strict health guidelines, and shoppers will be required to wear masks. Further, they are offering sign-ups for a 20-minute shopping trip to decrease the density of guests at one time. Kingston's first outdoor market is on May 9.
Kingston also has a monthly indoor winter market which is held in the Old Dutch Church. Market Manager Laura Wilson Crimmins says the indoor market didn't get its usual turnout. "Our usual winter market sees about 400 people in traffic per day, and lately we've been seeing about 250 people coming through each day," Crimmins says.
However, she mentions that mostly everyone is registering in advance for 20-minute slots and vendors are seeing the same or even greater sales since people fear the human density of grocery stores. "We hope this trend will continue and that the boost farmers are able to get during the spring will help them get through the year," Crimmins says.
There is a fear for farmers financial well-being now that COVID-19 is drastically changing some rules for farmers' markets. Andrea Bartolomeo, Rhinebeck Farmers' Market manager says that farmers are looking for creative ways to stay afloat instead; like selling directly to consumers and offering farm pickups. "Farmers are trying to be as flexible and accommodating as possible, especially as many of their wholesale accounts are closed or limited now with restaurants not being open," Bartolomeo says.
Bartolomeo says as much as they help the farmers, the farmers help them. "We work cohesively with them and their traffic helps us and our traffic helps them too."
Though COVID-19 has kept most of us staying at home, there is still a need to grocery shop, and for many, the local market is perfect spot for finding fresh, local provisions. Even if starting turnouts for these farmers' markets aren't as large as usual, Kingston's Crimmins predicts that in the long run they'll be okay. "Sometime in May, or possibly June, the restrictions are going to ease up and there will be a desire for people to come together locally and support local businesses. This might peter out when we start going back to more normal life," she says.

2020 Hudson Valley Farmers Markets Schedules
Ulster County
Kingston Farmers' Market
Saturdays, 9am–2pm
May 9–November 21
County courthouse parking lot

Kingston Waterfront Farmer's Market
Sundays, 10am-3pm
May 17-TBD
TR Gallo Waterfront Park
New Paltz Open Air Market
Sundays, 10am–3pm
May 31–November 1
Church Street
Saugerties Farmers' Market
Saturdays, 10am–2pm
May 25–October 31
115 Main Street
Woodstock Farm Festival
Wednesdays, 3:30pm to dusk
May 27–October 7
6 Maple Lane
Rosendale Farmers' Market
Sundays, 10am–2pm
June 7–October 25
Rosendale Theatre Parking Lot
Dutchess County
Rhinebeck Farmers' Market
Sundays, 10am–2pm
May 3–December 27
Rhinebeck Municipal Parking Lot
Beacon Farmers' Market
Sundays, 10am–12pm
May to November
Veterans Place

Amenia Farmers' Market
Fridays, 3pm–7:30pm
May to October
Amenia Town Hall
Dover Farmers' Market
Sundays, 10am–2pm
June 23–Mid October
9 School Street
Millerton Farmers' Market
Saturdays, 10am–2pm
May 19–October 27
6 Dutchess Avenue
Poughkeepsie Waterfront Market
Mondays, 3pm–6:30pm
May 4–September 28
Mid-Hudson Children's Museum
Orange County
Goshen Farmers' Market
Fridays, 10am–5pm
May 22–October 30
Goshen Village Square
Middletown Farmers' Market
Saturdays, 8am–1pm
June 6–October 24
Cottage Street and Railroad Avenue
Warwick Valley Farmers' Market
Sundays, 9am–2pm
May 10–November 22
South Street and Railroad Avenue
Columbia County
Hudson Farmers' Market
Saturdays, 9am–1pm
April 25–November 21
Two locations: Columbia between Fifth and Sixth Street and Sixth Street and Columbia
Copake Hillsdale Farmers' Market
Saturdays, 9am–1pm
May 23–October 31
Roeliff Jansen Park
Putnam County
Hudson Valley Regional Farmers Market
Sundays, 10am–2pm
Year-round
15 Mount Ebo Road
Cold Spring Farmers' Market
Saturdays, 9:30am–1:30pm
Year Round
St. Mary's Parish Hall
Putnam Valley Farmers' Market
Fridays, 3pm–6:30pm
June 26–August 28
Tompkins Corners Cultural Center
Westchester
Peekskill Farmers' Market
Opens June 6, 8am–2pm
Bank Street

Pleasantville Farmers' Market
Saturdays, 8:30am–1pm
40 Romer Avenue