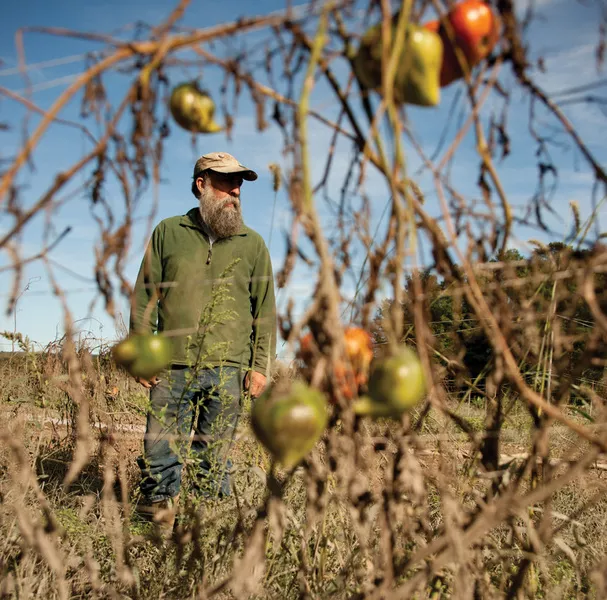 Roy Gumpel
Ray Bradley surveying the damage at his flood-ravaged farm in New Paltz.
Farms across the region that were flooded in the wake of Hurricane Irene and Tropical Storm Lee. Ulster County was declared an agricultural disaster zone. The devastation was on par with a one-hundred-year meteorological event: Estimates for the total damage range from $73 million to $1 billion across New York State. Three thousand acres of vegetables were ruined in Ulster County alone. Taliaferro Farms in New Paltz  lost 80 percent of its crop. On the prime agricultural land in the floodplains by the Esopus and Rondout creeks, farmers lost 15 to 50 percent of their crops, and tons of topsoil were washed away by the water.
The best way to support local agriculture is to continue to support agricultural businesses; patronize local farmstands, purchase meat from local producers, apples from our apple growers, flowers and plants from local nurseries. Also, if you belong to a CSA, or would like to, buy your 2012 share now, which will help farmers prepare for next year's season ahead of time.
BENEFIT EVENTS
October 8: Heather Ridge Farm Pig Roast
A pig roast to raise funds for the small farms stricken by Hurricane Irene will be held Saturday, Oct. 8 serving from 12 noon to 3pm at the Bees Knees Café at Heather Ridge Farm. This event will replace the regular menu at the Bees Knees Café for the day. Clint Layne, a private butcher who works with Heather Ridge Farm, will operate a giant roaster with pasture raised, heritage breed pork and pastured chicken.
The event is sponsored by Pure Catskills, which will accept the tax-deductible contributions. Pure Catskills plans to have panel of farmers decide where the money from this event will go, and see that 100% of the money gets to the flood damaged farms. Reservations are required. Please call 518-239-6234 or e-mail Carol at  heatherridgefarm@aol.com.  The cost of $20 covers the pig roast with side dishes, and includes a $5 donation.  Additional tax-deductible contributions can be made at the time.  Take-out will also be available. Desserts and beverages will be separate.
October 8: Food & Wine in the Orchard, Stone Ridge Orchard
The Rondout Valley Growers Association's annual harvest fundraiser is a wine and hors d'oevres event this year. Gather by the big oak tree in Stone Ridge Orchard and enjoy a selection of fabulous NY State wines, delicious nibbles prepared by our region's finest chefs from locally grown food, specialty cocktails, and dessert treats. The event runs from 5:30-8:30 and will feature a live and silent auction, live music, and the kick-off for RVGA's Paper Pumpkin Project, a fundraiser created to establish a disaster relief fund for Rondout Valley farmers. Tickets are $50 in advance, $35 to RVGA members, $10 for grower members and $60 for all the week before event and at the door. Tickets available at Davenport Farms, Stone Ridge, Saunderskill Farms, Accord, Kelder's Farm, Kerhonkson, Barthel's Farm, Ellenville, Stone Ridge Orchard, Stone Ridge Wine and Spirits.
October 16: Flood Aid Concert at Water Street Market in New Paltz
This all day (12-6pm) benefit concert will raise money for the people in New Paltz hit hardest by Hurricane Irene. This big musical event will include both local bands and musicians from afar. There will be 3 tiers of ticket sales: Lawn, VIP, & VIP+. All proceeds will go to the farmers, families, and first responders in New Paltz who were most impacted by the floods.
November 6: Benefit Dinner for RSK Farm at Global Palate in West Park
Mike Bernardo of Cafe Mio & Jessica Winchell are teaming up to cook a fabulous multiple course meal with all profits going to RSK Farms. Purveyors and farmers include: Gadeleto's, North Wind Farms, Whitecliff Vineyards, Maynard Farms, HV Cattle Company, and Constellation Wines Group. Cost is $100 per person. Call for reservations. 845-384-6590
RELIEF SITES
Many sites have been started by farmers or organizations seeking to aid farmers. We've brought together a list of the most useful in the region.
RSK Farm Fund
At RSK Farm in Prattsville—the true ground zero of the flooding damage from the recent storms—not only was there total crop loss, but "Potato Bob" Kiley lost all his topsoil as well. The Schoharie Creek rose and swept it all away, leaving only the bedrock underneath. Potato Bob is seeking to raise $150,000 to rebuild his farm.
Rondout Valley Growers Paper Pumpkin Project
The sight of pumpkins tossing in the frothing waters of the Rondout and Esopus Creeks was widely witnessed after Tropical Storms Irene and Lee swept through the Rondout Valley in late August. Paper pumpkins are available through Thanksgiving at retail outlets throughout the Rondout Valley. Proceeds go to the affected farmers.
Bradley Farm Fund
Hudson Valley Food Network Relief Links
Rondout Valley Growers Association
Warwick Valley Farm Aid
Watershed Post
Pure Catskills
Greenmarket Hurricane Relief Fund
Just Food Relief Fund
Dyson Foundation Emergency Funding
New York Times article on DIY relief efforts for farms affected by Irene