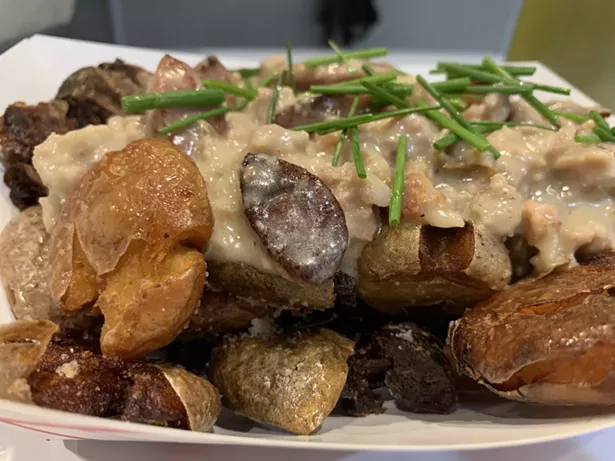 It's All Gravy, Baby: Smashed baby potatoes tossed with smoked kielbasa slices, smothered in sausage gravy, and sprinkled with chives.
Is there anything better on a chill fall day than a big pile of fries? How about a big pile of fries tossed in whipped butter, parmesan cheese and truffle salt and topped with still more shaved parmesan? Or a pile of curly shoestring fries topped with six ounces of boneless, pan-seared ribeye, with au jus? Oh, and even the cheesy choices are gluten-free.
These are just some of the delights awaiting visitors to the Hudson Valley Food Hall in Beacon with the opening of
Barb's Fryworks
, the brainchild of expert meat fabricator Barbara Fisher, a woman on a mission to bring us the comfort food we need, perfectly seasoned and sustaining, and the proprietor of
Barb's Butchery
, also in Beacon.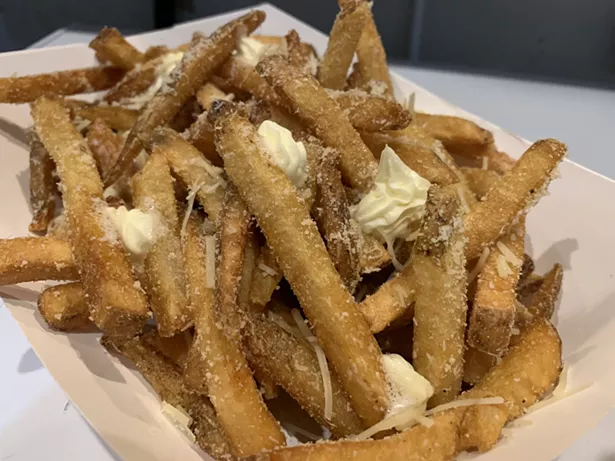 Butter Truffle Parmesan: House cut fries tossed in whipped butter, parmesan cheese, and truffle salt and topped with shaved parmesan.
"We hand cut the potatoes, and make all varieties of our fries from scratch," Fisher explains. "Then we add toppings that are made with local ingredients and meats from the Butchery. The menu is our take on an amalgamation of classic American comfort food. Sausage gravy, smooth velvety orange cheese sauce, a deconstructed baked potato, a classic 'steak and potatoes' dish. The portions are generous and the menu is entirely gluten free. We're using potato starch for the roux we need in the cheese sauce and gravy in order to make our menu accessible to as many people's dietary needs as possible."
A native of Ann Arbor, Michigan, and onetime college math teacher, Fisher spent about a decade as a vegetarian, and when she chose to let meat back into her diet, she was choosy about sources, sourcing beef direct from the farm. Relocated to the Hudson Valley, expecting a second daughter, she decided that the lack of a local whole-animal butchery was an opportunity to bring Beacon something fabulous that she'd grown up with and now could not find.
"I had a vague idea of what 'whole animal butcher shop' meant, so I began asking questions and found Mark Elia, who now has the Hudson Valley Sausage Company in Highland," Fisher says. "At the time, he was a meat fabrication instructor at the CIA [he has recently retired], and he taught me everything I needed to know, from cutting meat to using and learning equipment and helping me architect the space I am in. His expertise was absolutely invaluable. I went to his shop a few days a week for 16 months and practiced."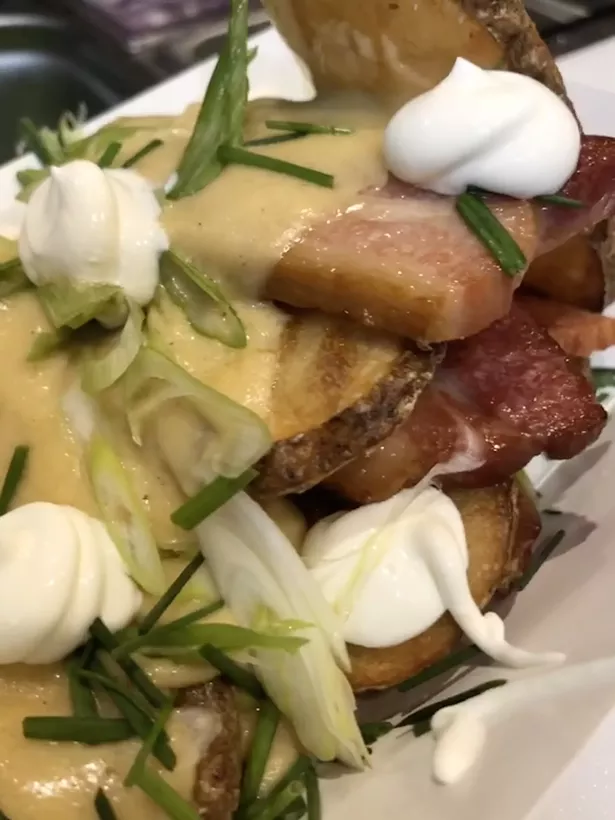 Potato planks topped with thick cut bacon drizzled with cheddar sauce, with sour cream, scallions, red onions, and chives.
Whole-animal or whole-meat butchery is just what it sounds like: the butcher starts with an entire carcass rather than purchasing quarters or smaller cuts; it's considered preferable from an ecological perspective; both in terms of initial sourcing and waste reduction. But Fisher says the huge advantage, for Butchery and Fryworks patrons, is freshness.
"I do think that the freshness of the products I carry dramatically affects the experience," Fisher says. "A pot roast in my case has never been frozen, and is most likely aged between 10-14 days, so the collagen sheathing of the muscle strands have not been broken. When the pot roast cooks, those sheaths hydrolyze. It gives your roast that glisten-y, scrumptious visual appeal and flavor."
Savor the flavors for yourself. Barb's Fryworks is open Friday, Saturday and Sunday from 12 PM till 11 PM and Mondays and Tuesdays from 5 PM till 11 PM. (10 pm as required in the time of Covid.)