Page 2 of 2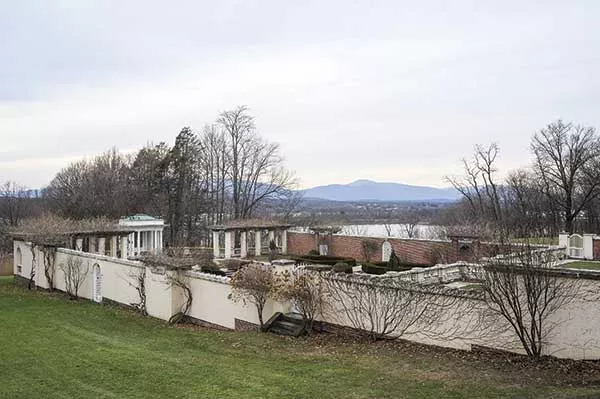 Arielle is a Mediterranean restaurant from its meals to its motifs, with decor circa the late 1800s. Champagne cocktails, Moroccan dishes, Greek flavors, and nods to Italian cuisine round out the menu. The Art Bar, a makeover of the former Zen Dog space, offers a first for Rhinebeck patrons: light and healthy Black Sea cuisine served in zakuski, which is Russian for "small bites," similar to Spanish tapas. Tastes are taken from various cultures, including the Ancient Greeks, Slavs, Romans, Germanic Saxons, and Magyars. Staying true to its locality, though, most of the kitchen's veggies hail from Hudson Valley farms. The bar reportedly boasts the largest selection of in-house infused vodkas outside of New York City. The Art Bar's live music offerings are eclectic, and a substantial display of original art works are for sale.
Pizzeria Posto has approached pizza in a truly Italian way. Why buy a run-of-the-mill wood-fired brick oven when you can import one from Modena, Italy? Salads, antipasti, and a smattering of pies make up the compact menu. There's also an affordable wine list. Simple food prepared deliciously—buon appetito! Two Boots in Red Hook is on the opposite end of the scale when it comes to atmosphere, but their food is on the exact same level. Upbeat, funky, and colorful, Two Boots has just as much zest (and the same cornmeal crust!) as it did when it opened in New York City in the late 80s.
Celebrate the visionary Fisher Center's tenth birthday in April, as Bard College plays host to a month-long assortment of dance, music and theater performances. On April 12, attend the Percussion and Students Concert, followed a few days later by the American Symphony Orchestra. More events include "An Evening with Neil Gaiman and Amanda Palmer," a production of Euripedes' "The Bacchae", and a faculty dance concert.
Over the summer, the owners of Flatiron Restaurant in Red Hook opened a less-formal eatery where Merritt Bookstore once was. Bread & Bottle is a retail bakery/wine bar that also sells cheese and house-made charcuterie, serves beer and is open from lunch through dinner. I know—it's my version of heaven too. "I think what sets us apart is we make almost everything in-house," Owner Jessica Stingo says. Bread & Bottle is a real family affair, with Stingo, her husband, and her brother-in-law running the show.
Barbecue is hard to come by in New York, but Max's Memphis BBQ hits the nail on the head every single time. Everyone who goes there goes back for their fall-off-the-bone barbecue wings, spicy crab cakes, and portions that will feed you for two more meals. Detox from your finger-licking meal by stopping into Rusty's Farm Fresh Eatery, which has fresh squeezed, organic juice from purple carrots, Thai basil, elephant garlic, and Migliorelli Farm apples.
Mac's Farm and Garden World sells items like bird feeders, seasonal nursery items, and clothing that's perfect for working outside. Mac's is more than a lawn, garden, and pet supplier, though. Proving they're part of the heart of Red Hook, the shop also supports fishing teams, soccer and softball teams, little leagues, and 4-H clubs.
Sizing Up a Sleepy Town
Tivoli slows down for most of January and wakes back up when February rolls in. First constructed as a hotel and eventually turned into a bar, the Madalin Hotel was rebuilt after burning down in 1909 and restored to resemble its glory days. Now, except for the flat-screen TVs, the bar portion of the hotel looks like it did in the early 1900s. Larger than a bed and breakfast but smaller than a high-rise, the Madalin is perfectly quaint and cozy. Foodies chat about dinner on the wraparound porch during the spring and summer, weekenders stay up late at the tavern, and vintage circus posters on the walls reflect the Madalin's fun and lighthearted vibe.
Professional dancers can be thanked for founding the international Kaatsbaan International Dance Center, which provides choreographers with a space to experiment and train. Visitors are welcome to wander through the exhibition galleries and peruse the retail shops.
After a two-and-a-half-week break in January, Panzur Restaurant and Wine Bar stretches its arms, yawns, and comes alive just in time for the most romantic day of the year. Special events are already planned for the rest of the wintertime, with the "A Tale of Two Hearts" tasting menu for Valentine's Day and the "Havana Nights" family-style feast, which pays homage to owner and chef Rei Peraza's Cuban grandmother. Peraza would like everyone to know that they're welcome to enjoy a cigar on the front porch after indulging in his favorite dishes from childhood and classic Hemingway cocktails.
Resources
Affordable Self Storage
Aroi Thai
Beekman Arms Antiques
Bread & Bottle
Bumble & Hive
DC Studios
Dean Vallas—Studio 303
Fitness Fusion
Flatiron
Foam and Wash Carwash
Gaby's Cafe
The Gardens at Rhinebeck
George Cole Auctioneers
Just Lean Back
Kumon
Law Offices of Michel Haggerty
Oblong Books
Osaka
Paula Redmond
Pizzeria Posto
Rhinebeck Antique Emporium
Rhinebeck Artist's Shop
Ruge's Subaru
Satya
Terrapin