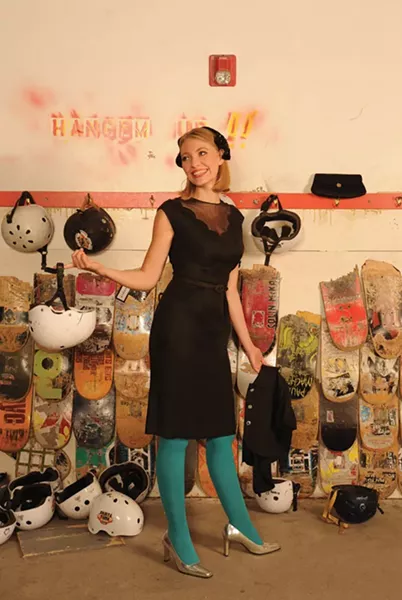 The Belle of the Skate Park: Cassandra Hansen wearing a Herbert Sondheim 1950s black dress with a sheer scalloped yoke and a Gilbert Orcel 1950s velvet band hat trimmed with black sequins. She is holding a matching short jacket with rhinestone buttons. 1950s/1960s black satin clutch. Make up by Saadah Garbey. From Vintage Studio.
Skee Ball Business: Saadah Garbey wearing Franka, London 1970s mod pantsuit. Makeup by Saadah Garbey. From Joanne Klein Vintage.
Joanne Klein's shop
is located in her Clinton Corners home, a converted Quaker meeting house. An unassuming yellow sign sits at the edge of her lawn: "Vintage Clothes 4 Sale." The pink and orange chairs at the center of the main room and Klein's own Rothko-esque color-block paintings that line the walls reflect her taste for the eye-catching and bright. While the range of clothing, from Moroccan gowns to Parisian scarves, might slow the pace of a visitor trying to take it all in, Klein buzzes among the racks and hangers. "Isn't this wonderful?" she comments while pulling certain pieces out. "This is just incredible."
Even though she's been collecting vintage clothing for 30 years, Klein's wonder is sincere. You can tell by the way she lovingly touches the fabric as she talks about individual pieces, equally amazed by the industrial snaps on the inner lining of a Bonnie Cashin leopard coat as she is the unworn soles of a pair of 1950s black velvet slip-on dress sandals. Klein's is one of many vintage shops in the Hudson Valley filled with things to admire. At first glance, Lisa Durfee's Hudson shop,
Five and Diamond Vintage
, seems an overwhelming experience: From woven dresses to high-waisted bathing suits to yellow leather boots, you don't know where to look first. Upon closer inspection, though, individual items come into focus. Durfee weaves around displays straightening shirt sleeves and correcting collars, making sure all her pieces look just right for the perfect buyer.
"I'm constantly on the hunt," she says. "Secret places, thrift stores."
Unlike thrift stores and consignment shops, where anyone can bring in old clothes to sell at a discount, everything at a vintage shop is filtered through the owner. Gabriel Constantine and Tarah Gay of
outdated café
in Kingston once bought 36 boxes of clothing from a sale, but only a small percentage of that would make it into their store. "We sorted it down to four or five [boxes]," Constantine says. Such selectivity is a defining quality of the Hudson Valley's vintage shops.
But why vintage? The word itself, originally used as a synonym for wine, refers to the ever-elusive idea of the past (it gets better with age, as the saying goes). What, then, is so special about old things?
Giddy in Gingham: Samuela Rae wearing handmade gingham dress and red belt. Evan Clayton wearing workwear denim pants, red gingham buttercup shirt, and Kingston drum and bugle corps jacket. Makeup by Samuela Rae. From outdated café.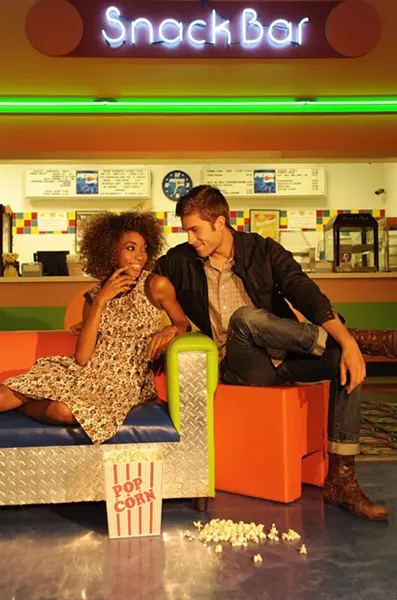 Popcorn Players: Saadah Garbey wearing a 1960s/1970s Siam Boutique brown bird-pattern dress. Benjamin Fiege wearing a 1970s brown plaid shirt and 1980s Christian Dior black jacket. Make up by Saadah Garbey. From Blackbird Attic.
Slit and Relax: Dawn Iler wearing Kenny Classics 1960s brown and white tabard maxi dress. Makeup by Saadah Garbey. From Mystery Spot.
Durfee notes how vintage items were made with greater care, hand- rather than factory-made. "Women used to sew a lot," she says. "Now, homemade clothing is much more expensive, but in the vintage market, it's standard." Laura Levine, owner of
Mystery Spot
in Phoenicia, credits the track record of vintage clothing as telling of its quality: "Why wear a cheap chain store schmatte that everyone else is wearing and falls apart after five washings when you can find a killer outfit for less, one that's lasted for 50 years and no doubt has another 50 left in it?"
Vintage also allows people to cultivate singular styles through out-of-date pieces, like the 1930s red velvet opera coat that Samuela Rae wears left, or the 1960s hip-high-slit maxi dress that Dawn Iler wears above left. Photographer Kelly Merchant says the vintage pieces inspired the models to get into character. "They were really trying to channel the era that the clothing was from."
Constantine first fell in love with the irreproducibility of vintage items: "When I was a kid, I had this vintage Hawaiian shirt. I loved it, and I knew no one else would have it." Even though current fashion trends sometimes mimic vintage styles, he notes how an original piece is different: "The new one is just another thing in the world. Old things can tell a story." Like the clothes that Durfee recently acquired from the estate of an original Rockette. "Being able to look her up, look through photo albums at pictures of her—there's a history that goes with it," she says. Vintage items take on value beyond money: They enter into the realm of nostalgia.
Appropriately, our photo shoot was set in the nostalgic setting of
Skate Time 209
in Accord, both a roller rink and skate park. "The space was ideal for this photo shoot in particular," says Merchant. "It has a vintage feel, is colorful, and has a lot of different areas to shoot in." Skate Time 209, open year round, hosts birthday parties, skateboard summer camp, lessons, and a battle of the bands. Make it a night with $3 rental skates, a bag of popcorn, and your favorite old pair of jeans.
Resources
Blackbird Attic, Beacon
Five and Diamond Vintage, Hudson
Joanne Klein Vintage, Clinton Corners
Judy Go Vintage, Tillson
Mystery Spot, Phoenicia
outdated café, Kingston
Vintage Studio, New Paltz
Va-Va-Velvet: Samuela Rae wearing a red velvet opera coat from the 1930s, an off-white lace dress top from the 1950s/1960s, and a bowling apron, fabric from the 1950s and hand sewn by Lisa Durfee. Makeup by Samuela Rae. From Five & Diamond Vintage.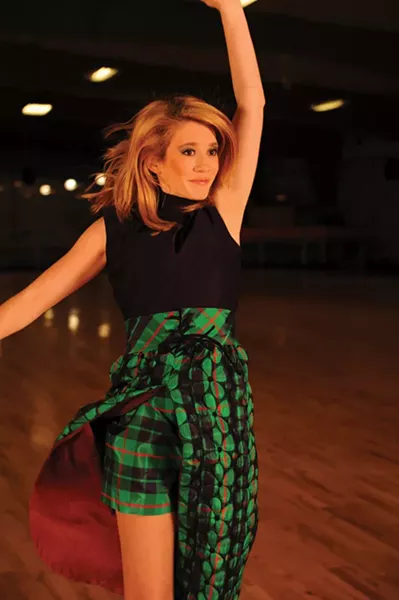 Quilted Queen of the Rink: Isabelle Leggat wearing a late 1960s / early 1970s blue and green quilted open skirt with matching shorts in taffeta and matching belt. Sleeveless turtleneck bodice with keyhole front. Makeup by Saadah Garbey. From Judy Go Vintage.