Boston Typewriter Orchestra | October 1
Boston Typewriter Orchestra takes over TurnPark on October 1
"The band started after we heard a friend of ours had unsuccessfully tried to pick up a lady at a bar with the dubious line 'I play in the Boston Typewriter Orchestra,'" Brendan Quigley, the group's cofounder, explained to Chronogram in 2020. "When we heard that story, we took it as a challenge to make that happen." And so they did, assembling an ensemble that, yes, uses typewriters to make music. The BTO plays TurnPark in West Stockbridge, Massachusetts, on October 1 at 2pm. $20.
Rufus Wainwright | October 2
Unfollow the Rules is Hudson Valley native son Rufus Wainwright's first album in seven years. Although his family roots are in folk music, the Grammy-nominated, Juno Award-winning singer-songwriter draws more from Great American Songbook composers, opera music, and Broadway and cabaret performers. His previous studio album, 2016's Take All My Loves, is comprised of nine adaptations of Shakespeare's sonnets. This concert by the singer, pianist, and guitarist finds him in the lavish environment of Tarrytown Music Hall on October 2 at 7pm. $44-$79.
Minibeast | October 8
Based in New England, the rocking, experimental Minibeast is led by Peter Prescott, a founding member of the influential Boston postpunk bands Mission of Burma, the Volcano Suns, and Kustomized. "We greatly accept influences from Fela Kuti, Can, and the Stooges," reads the trio's Bandcamp bio, while NPR's #NowPlaying described the group's 2022 debut album, On Ice, as "an unpredictable sonic swirl that evokes peak-level krautrock like Amon Düül II more than any algorithmic post-rock." Minibeast mauls Tubby's in Kingston with Telescoping opening at 7pm. $10.

Kingston O+ Festival | October 7-9
Among this year's bands and solo acts at Kingston's returning O+ Festival are Mercury Rev, Kimbra, Louis Prima, Jr. and the Witnesses, Mirah, Bitch, Tsunami Bomb, Morgan O'Kane, Chinua Hawk Music, Adult Mom, Joey Eppard, Miles Francis, Roxiny, Sam Kogon, Denitia, and many more. In sum, over 40 bands will perform at various spaces around the Ulster County seat during the festival this year. A full schedule of musical performers, comedians, artists, literary salon participants, and wellness practitioners is viewable online. $30-$60.
Opositivefestival.org

Al Bilali Soudan | October 15
Al Bilali Soudan's moniker is an ancient name for the group's home city of Timbuktu, Mali. Their traditional repertoire is played on the Tuareg stringed instrument known as the tehardent (AKA ngoni) and the calabash, a percussion instrument. In his review of the band's 2020 album, Tombouctou, Robert Christgau writes, "should you instead suspect that this noisy, indelicate stuff is the roughest African music ever recorded, that's because you haven't heard their [self-titled] 2012 debut. A-." They play the Half Moon in Hudson on October 15 at 8:30pm. $10.

Trombone Shorty | November 1

Trombone Shorty rocks out at the Egg November 1
Festival favorite Trombone Shorty stands tall among New Orleans's greatest musical ambassadors, taking the hot, deep jazz of his and the music's birthplace around the world to fresh, young audiences and keeping the jubilee going. An actor, producer, and philanthropist as well as an incredible musician, the trombonist, who was born Troy Andrews in 1986, has worked with some of the biggest names in jazz, rock, funk, hip hop, and pop. He cracks the Egg in Albany on November 1 at 8pm. $49.50-$79.50.
Ani DiFranco | November 11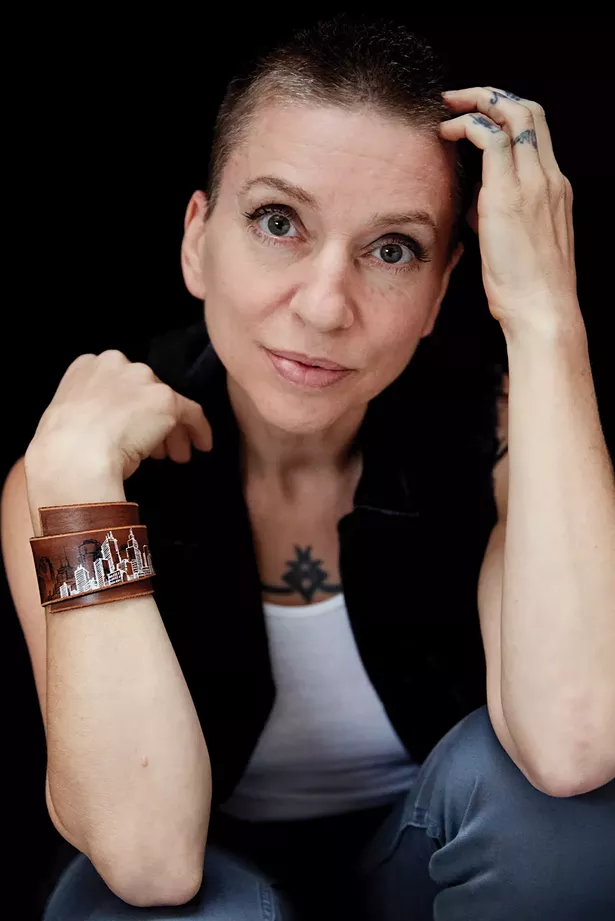 Ani DiFranco plays Troy Music Hall on November 11
The musical conscience of a generation, singer-songwriter Ani DiFranco will make her much-awaited return to our region with this upstate evening. Her most recent studio album is 2021's Revolutionary Love, but she's currently touring on this year's 25th anniversary edition reissue of her beloved live album Living in Clip (both sets were released on her own Righteous Babe Records label). DiFranco's 2019 memoir, No Walls and the Recurring Dream (Viking Books), made the New York Times Top 10 best-seller list. She comes to Troy Savings Bank Hall on November 11 at 7:30pm. $39.50-$54.50.
!!! | November 18

This one's for the dancers. Brooklyn disco-rock band !!! (pronounced "Chk Chk Chk"; the name was inspired by the clicking sounds made in the Jul'hoan language spoken by the San people of South Africa, in which an exclamation point refers to a "chk" sound) was formed in Sacramento, California, in 1996 by hardcore vocalist Nic Offer. The group's booty-bustin' sound fuses funky bass and house beats with synth-y soul, electronica, '80s new wave pop, and indie rock. The unit shakes up the Bearsville Theater on November 18 at 7:30pm. $25, $30.


Darlene Love |
December 11
Darlene Love plays Bethel Woods December 11
It's the holiday season for real when 2011 Rock and Roll Hall of Fame inductee Darlene Love is making the rounds. Love first hit the pop world as the lead singer of the Phil Spector-produced trio the Blossoms, who were credited as the Crystals on 1962's history-making hit "He's a Rebel"; her solo recording of the same year's "He's Sure the Boy I Love," also credited to the Crystals, was another smash. She found a whole new generation of fans in the 1990s via her annual Christmas appearances on "The Late Show with David Letterman." Love brings the yuletide cheer to the Bethel Woods Center for the Arts in Bethel on December 11 at 7pm. $74-$144.