In a nondescript building across from the intersection of Main and Cooke streets in Catskill, NY, a hub of outsider art and literature hides in plain sight. A sort of gathering place for the upstate intelligentsia,
Fahrenheit 451 House
is a beacon on the hill for radical intellectuals and avant-garde artists.
As the Bradbury reference suggests, these are hardcore bibliophiles. Executive director Inju Kaboom and structure manager Stephen Schmitz originally bought the building at 451 Main Street, Catskill, NY because they needed a home for their small publishing house
Kaboom! Press
and "more closet space."
"It had been vacant for 20 years, and before that it had been a whorehouse, a crackhouse. Lots of people lived there as a tenement," Kaboom says. "It had been horribly neglected, but it had great bones. The foundational 1840 building had been added onto in the '80s. It wasn't a house; we think it might have been a frame shop, some sort of workshop that needed large spaces." Perfect to serve as a living room for the region's thinkers.
Library/Book Gallery/Performance Space/Living Room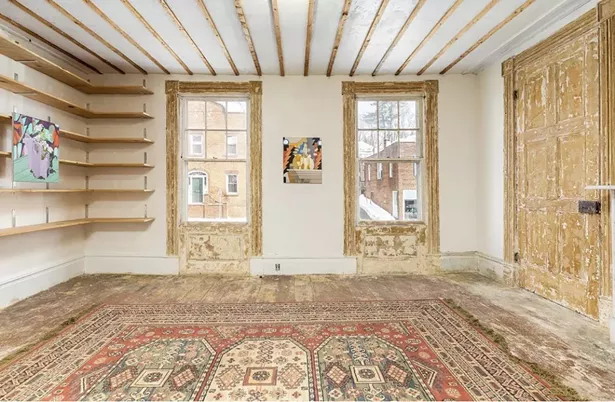 In various mentions online, you will see Fahrenheit 451 House described as both a bookstore and a library, but Kaboom says it's not quite either. "It's more of a private library than a bookstore, and more of a book gallery than a library," says Kaboom. "I wouldn't call it a huge crowd, but certain people who know seek us out, in some cases from some distance away."
Fahrenheit 451 House hosts curations, events, and experiences of various flavors. "We have punk shows, we have weird goofy standup with PowerPoint accompaniment," says Kaboom. In 2019, for example, F-451 hosted
Wicked Technology/Wild Fermentation
, a project from Brussels-based choreographer and performance artist Sara Manente, and an Alex Morrison experience entitled "
The Poisonous Charm of Vernacular.
" "The richly ornamented wallpaper tells you it may be the '60s, but it could be the XIXth Century. It may as well be a contemporary reenactment by a meticulous antique collector. But you're most probably in a fiction," warns the exhibit description.
Currently on deck as co-curators: Alexis Bhagat and Christophe Albertijn, who are creating
Audiomail 1
, a project that invites the public to submit cassettes, CDs, and other audio files to form an entirely original, never-before-heard composition. The inspiration came from Baghat's work as an archivist, tasked with organizing the 250,000 assorted pieces of audio collected by artist, author, and critic
Richard Kostelanetz.
The project forced Bhagat, she says, to take a deep dive into consideration of what we humans choose to keep and what we choose to discard.
Other events held at Fahrenheit 451 House have included a House Wide Open. "In the back of the basement, we once had the most rotted, dank, moist gloomy place in all of Catskill. Four feet high of ancient diapers filled like water balloons from the rain. It was the abscess tooth that had to come out. We decided to let sun shine in," reads the description for that one. They've also had a Barn Raiser Upper, a Secret Meeting, and a One Year Anniversary that promised "weird beer," along with "readings and performances."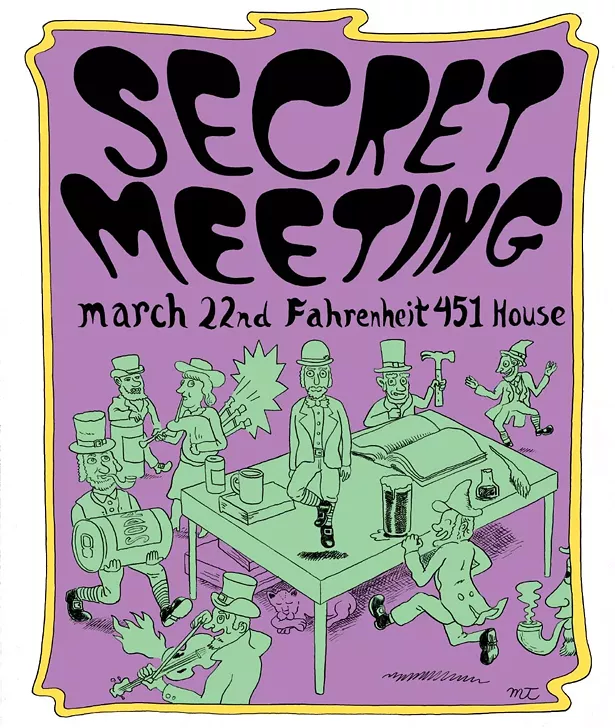 Areas of expertise one can be exposed to at F-451 range from "bespoke handmade books as collectable objects of desire" to "notorious flirts and nasty women."
Are you meant to join the party? Can't hurt to find out. Call (518) 596-9697 or pay them a visit on
Facebook
to learn more.