Minisceongo Creek Waterfall
So what are you doing the weekend of May 18-19? Want to come explore a restored 19th-century factory complex in Rockland County with 14 acres of twists, turns, nooks and crannies? Yes? How about if you knew that you'd be encountering immersive projections, live music, interactive and performance art, and samplings of the most delicious beer in the country all along the way?
Just ahead of Memorial Day Weekend, GARNER Arts Center and Industrial Arts Brewing present the Live Art Beer (LAB) Fest, two days of collaborative art making and beer brewing, in a surreal setting unlike any other festival. Down brick alleyways, around corners, in the vast factory showrooms of the GARNER Historic District, you will find the exquisitely realized images, sounds, and performances devised by the cutting-edge contemporary artists of the GARNER Arts Center.
Johannah Goodman from The Catalogue of Imaginary Beings, Plate No.59, video installation
The Garnerville complex is also home to Industrial Arts Brewing, the first of what the center hopes will be many and varied tenants offering food, drink and boutique shopping now that the permitting is squared away. For LAB Fest, 39 additional fine craft breweries will be setting up for the weekend paired with eight locally grown gourmet food trucks.
"We envision our Makers Community becoming a walkable hub of art, business and entertainment in the Hudson Valley," says Robin E. Rosenberg, president of the Garner Arts Center and Historic District. "IAB's expanded tasting room, Hudson's Mill Tavern, GARNER Arts Center's programming, and soon-to-open Stack Street Coffee Roasters and Kojiya Juice Company will propel the GARNER Historic District towards this ultimate vision."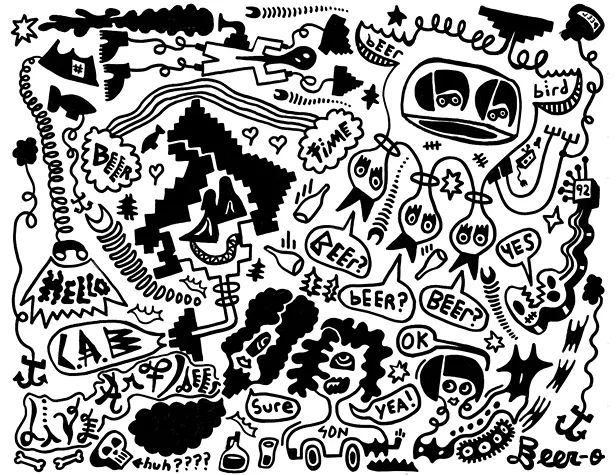 Site-specific collage by Pablo Galesi, GARNER resident artist
Free shuttles will convey festivalgoers from Metro-North and Suffern/New Jersey Transit train stations, as well as from free dedicated parking areas around town. And despite the craft brew focus (the festival is limited to those 21 and over), those who want to skip the suds and soak up the arts can take advantage of a half-price sober admission option. (Stack Street Coffee offers locally roasted coffee for that pick-me-up before your drive home.)

Site-specific collage by Jamie Kimak, GARNER resident artist
LAB Fest is happening Saturday, May 18 from 2 to 6 and Sunday, May 19 from 12pm to 4pm, rain or shine.
Industrial Arts Brewery at dusk