Roy Gumpel
A technician at MPI Systems in Poughkeepsie prepares the painting room for the next batch of equipment.
On a quiet, dead-end road in Kingston sits a nondescript, near-windowless commercial building. Its demure exterior belies the developments within its beige, industrial aluminum walls. The building is the home of Fala Technologies, sought out internationally for its expertise and capability in high-tech manufacturing and machining. Designing and building custom parts for aerospace and automotive applications, their handiwork shows up in everything from Sikorsky's next-generation helicopters to Tesla's electric cars. Fala is one of over a thousand other manufacturers in the Hudson Valley who comprise a network of innovative operations fabricating cutting-edge technology for a global market. Though the days of massive, monolithic operations are long gone, manufacturing is still an important part of the Hudson Valley's economy.
For the last several decades, the story of manufacturing in the Hudson Valley has been one of decline. Many communities are still recovering from the loss of IBM, GE, and other large-scale, traditional manufacturers, but there remains a vibrant, innovative ecosystem unfamiliar to many of the region's residents. Small operations of 25 to 150 employees are making everything from pharmaceuticals to packaging to machined parts, for a diverse range of industry sectors including aerospace, automotive, medical, and even nanotechnology. Manufacturing currently constitutes 10 percent of the Hudson Valley's economy, or approximately $10 billion annually. It employs over 40,000 people, with half of them in high-tech manufacturing. Regeneron, a pharmaceutical company headquartered in Westchester, employs more than 5,000 people globally and is worth over $40 billion alone.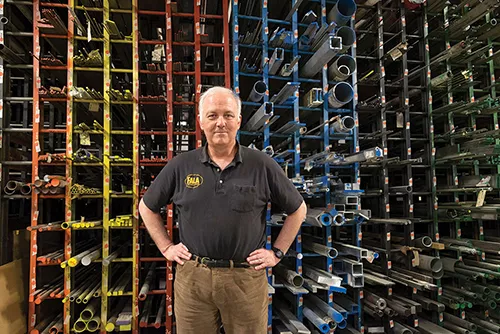 Roy Gumpel
Frank Fatalyn is the second-generation owner of FALA Technologies in Kingston, developing and making high-precision components for clients like Tesla and Sikorsky.
Ten percent may not seem significant at first, but there's a multiplier effect unique to the industry, because of its complexity and the intricacy of its supply chains. For every manufacturing job, 2.5 support jobs are created, either in transportation, repair, installation, or a wide swath of other fields. Manufacturing jobs also offer a higher standard of living than many other industries, especially in the Hudson Valley. The national average salary is about $44,000 (compared to $47,294 in the Hudson Valley). For manufacturers across the country, it's $55,000. For manufacturers in the Hudson Valley, the average salary is $68,000.
The New Manufacturing Industry
While the Hudson River continues its recovery from PCB contamination and Superfund and brownfield sites are slowly revitalized, many critics aren't shedding any tears over the decline of large-scale manufacturing in the region. Today's manufacturers, however, are a far cry from the dirty, dark, and dangerous manufacturers of the past. "One of the bigger shifts in manufacturing is that as time has gone by, we're not dealing with the old smokestack industries. Manufacturing has become much cleaner and very, very high tech," explains Christy Caridi, associate professor of economics at Marist College and an expert on the local economy. Today's advanced manufacturers do a lot of their work in front of a computer terminal, programming machines for high-precision components. Sustainability is a byword, as manufacturers invest in reducing energy expenditure and wasted materials, with all of the expected benefits to the environment. The factory floor of the future is efficient, near sterile, and sophisticated, and operations in the Hudson Valley are no exception.
Although manufacturers in the region make a wide variety of different products, there's a common thread that ties them together. Like many other parts of the country, our manufacturers will never be able to compete with cheap labor overseas, and those that have survived have found niches in high-precision, high-value-added production, leveraging the region's intellectual capital for applications that require incredibly low tolerances and exacting specifications. Harold King is the head of the region's Council of Industry, a private advocacy group comprised of 160 stakeholders in the industry. He paraphrased a speech by Mike Molnar, the founder of the National Institute of Standards and Technology's Office of Advanced Manufacturing. "If you're still in business, you're in advanced manufacturing." King's point is that because of the unique challenges to manufacturers in the region, the ones that have survived did so through rapid adaptation to a shifting landscape.
But the biggest challenge to manufacturers in the Hudson Valley isn't competition from overseas, government regulation, or high taxes. It's simply finding the right people to fill jobs. "We're going to be in business forever if we have the staff," says Frank Falatyn at Fala Technologies. But a lack of skilled workers is what keeps him up at night. "We have no ready pool to pull from. No knowledge base of making things with your hands."
Bruce Phipps is the CEO of MPI Systems in Poughkeepsie. MPI is one of the global leaders in wax injection molding, frequently contracted by Rolls Royce and Pratt and Whitney for jet engine components. "The workforce in the Hudson Valley is holding us back," he says. In the past, says Falatyn, there was ready access to a quality workforce. "In my father's day, he used to hire high-school kids that worked under their cars," Falatyn says. "Nobody works under their cars anymore. It's all electronics." For decades, children and students were dissuaded from going into manufacturing because of the perception of it being dirty, dark, and dangerous. While that is no longer the case locally, many students simply aren't aware of the opportunities available to them through manufacturing. The average age of a worker in the industry is pushing 60, and Falatyn explains "There's a narrow window of five to ten years before our older staff retires. We need to transfer that knowledge base."
Investing in Human Capital
Frank Falatyn, Harold King, and many others are investing heavily in the education of tomorrow's manufacturing workforce. Through the Council of Industry, companies are working with educators throughout the Hudson Valley to train the next generation of workers. "We're not just supporting education because we're nice guys. We're doing it to survive," says Falatyn. One of the most successful programs is the Pathways in Technology Early High School and College program or P-TECH. It's a collaboration between local manufacturers and Ulster BOCES to train high school students in manufacturing, allowing them to graduate with an associate's degree. Now in its second year, the program is popular and has become a model for similar programs throughout the state. Though it's just begun and is relatively small at just over 50 students, it holds a lot of promise. "Summer vacation came and these kids wanted to keep coming to school," says Frank Falatyn. "We can't keep them away."
There's also the Certified Technician Program at SUNY Ulster and Dutchess Community College, an intensive course offering students the basic skills they need (such as operating and caring for milling machines and lathes) to become self-sufficient employees at local manufacturers. "Generally speaking, anyone who has come out of the program has a job if they want one," says King.
This year, the first enrollees of SUNY New Paltz's mechanical engineering program are graduating. Since 2014, the program has rapidly expanded and now includes 150 students, ready to meet the high demand for educated workers among local manufacturers. The program began as a direct response to the needs of industry for more qualified engineers, and many students work directly with local companies during the course of their college careers.
Broad Support
The economic benefits of advanced manufacturing are increasingly being recognized, and government is working with regional economic development agencies to bolster the industry. One of the nation's most useful programs to support small manufacturers is the network of manufacturing extension partnerships, or MEPs. MEPs receive support at the state and federal level to provide expertise in engineering and business practices to small-to-medium size manufacturers.
The Hudson Valley's MEP is the Manufacturing Technology and Enterprise Center, or MTEC. For over 20 years, MTEC has helped support local manufacturers with engineering expertise, best business practices, and collaboration with educational institutions. Recently, they worked with VistaLab, a laboratory equipment manufacturer, to streamline inventory management and implement green initiatives. MTEC maintains a close relationship with SUNY New Paltz and helps train engineers through an internship program. Executive Director Tom Phillips explains "for every dollar spent on MEPs, nine dollars return to the economy" through increased sales, job creation, and additional income tax. Everton Henriques, regional technology specialist at MTEC, explains "Manufacturing is still very strong in New York. It gets overshadowed by the financial market, where money is concentrated in the hands of the few. In manufacturing it reaches a broader base." In many ways, MEPs like MTEC are one of the key components to the health and vibrancy of small-to-medium manufacturers.
Roy Gumpel
Joseph Gilbert shows off his prosthetic "robo hand" that was 3D printed at SUNY New Paltz's Additive Manufacturing Center.
One of the most significant organizations in the region is the Hudson Valley Economic Development Corporation, or HVEDC, which has seen a large degree of success targeting industry sectors in "clusters" for economic advancement. HVEDC was instrumental, for instance, in supporting Regeneron through efforts in the regional biotech industry. Their latest focus is in 3D printing, implemented at the Additive Manufacturing Center at SUNY New Paltz. Additive manufacturing and 3D printing are mostly synonymous, and refer to technologies that enable small-scale rapid prototyping in a wide variety of applications. Larry Gotlieb, the head of the HVEDC, says, "On the day of the launch we had an event with about 200 people. Out of 200 people, maybe 195 had no clue what 3D printing was." Just a short time later, he says, "We have Ivy League colleges from across the country visiting to see if they can replicate it."
The key to the Additive Manufacturing Center's success has been its inclusivity. It was structured as a resource to manufacturers and makers throughout the Hudson Valley. "3D Printing is likely to be relevant to anybody who makes something. It provided the perfect venue to just meet a lot of businesses," says Dan Freedman, the dean of the science and engineering department at SUNY New Paltz, and head of the center. This summer, they're offering a five-day intensive course to members of the public looking to learn more about the technology's applications. Freedman has also already worked with a variety of local industries, from helping New Paltz-based chocolatier Lagusta's Luscious 3D-print molds for chocolate skulls to prototyping new products for lighting giant Zumtobel in Highland. The center also 3D-printed a prosthetic "robo-hand" for six-year-old Joseph Gilbert, born without fingers on his left hand. One of the most exciting projects is with a startup called Mediprint, which 3D prints models of organs from CAT scans and MRIs to better prepare doctors before surgery. Founder Brent Chanin says "in one complex maxillofacial surgery, there was a one-in-three chance of complications. By using 3D models, they've reduced it to one in 50."
While much of the focus in economic development is in supporting existing manufacturers, there are a handful of forward-thinking operations aimed at creating new ones. Perhaps the most important is the Orange County Accelerator, which has adopted an incubator model for small manufacturers while offering existing businesses consulting and expertise. Incubator models have seen success in heavily concentrated industrial areas elsewhere in the United States. Silicon Valley, for instance, is rife with them in the tech sector, and many are seeing success in the medical industry around MIT, Harvard, and Northeastern University in Boston. Vincent Cozzalino, the Accelerator's managing director, explains that a core part of the Accelerator's mission is to offer subsidized rent, expertise, and equipment to entrepreneurs and manufacturers with a solid business plan. Cozzalino says they've already made an impact. "We've only been at this about 16 months," he says. But in that time, "We've had one company graduate out and a start a factory in Dutchess County. We're totally full right now, and have a waiting list."
Larry Fryer, CEO of Fryer Machine Systems, has been in the business for 31 years. While others may be wary of increased competition, he welcomes the possibility of new businesses coming to the area. "There are so many things that small shops of three to four people can make. They benefit everybody. More jobs are created by small business than any other way of doing it." Since starting his company in the spare bedroom of a two-bedroom apartment, he's now making state-of-the-art milling equipment that other manufacturers are using to produce everything from guitars to bicycles and aerospace components. "Our business is good," he says. "We continue to grow every year."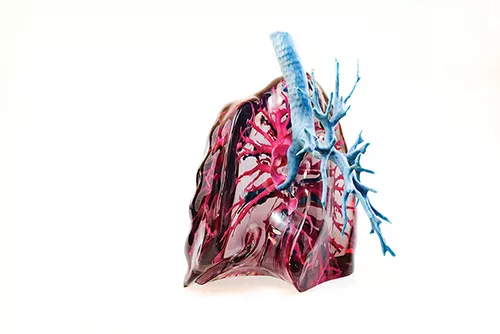 Roy Gumpel
A lung model created by Mediprint for physicians at Memorial Sloan Kettering Cancer Center.
Though the industry is often unpublicized, it's an important aspect of the economy. Nondescript warehouses throughout the Hudson Valley are hubs of innovation, talent, and next-generation technology, supporting workers with challenging but lucrative careers. The reach of Hudson Valley manufacturers extends into jet liners, automobiles, medicine, electronics, and other goods that drive the technology we depend on in the modern age. They just may not look like it from the outside. Mediprint's Brent Chanin says, "I am very optimistic about my company's success in the Hudson Valley. We all have the opportunity to be on the cutting edge."