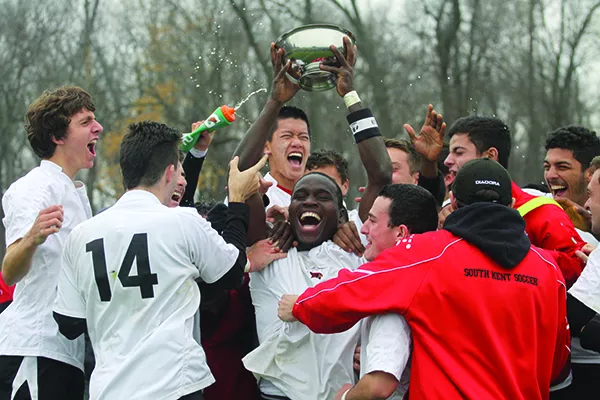 South Kent School's Prep Soccer team celebrating winning their sixth New England Championship.
The neurological connections between science and math and the arts are so evident that there is a push to reframe STEM (Science, Technology, Engineering and Mathematics) education as STEAM education; leaving out the "A," it has been realized, is a serious mistake. Even the No Child Left Behind laws recognize the arts as essential core curricula.
But what about other extras? They're often viewed as the gravy, not the roast; public schools often consider them a reward for academic performance, and they're too often considered expendable at budget time. But a growing body of research indicates that an enormous amount of all-important emotional education results when kids are engaged in extracurriculars of whatever sort they love best, whether their pursuits are artsy, athletic, or social. And among educators, that too is no secret.
"We use the term 'extra,' but we think of these activities as an integral part of the education we offer," says Bill Porter, director of admissions at the Harvey School near Katonah. "Talent shows up in the most unexpected ways. I used to teach history and coach baseball; I'd discover talent on the playing field and help the student bring that back into the classroom. Kids are multifaceted. Of course, education comes first—but if they're excited to get here for a play rehearsal or a UN trip, they're still showing up excited and receptive, and it carries over. I've seen it time and time again." Harvey actively recruits faculty who can "wear different hats," Porter says, and students are encouraged to start things they'd like to see happen, as well as having access to resources like an in-house TV studio and a newly built performing arts center that hosts both school and community events.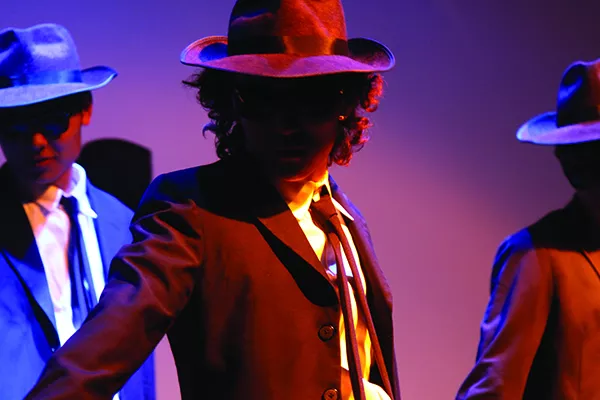 Chao Huang, class of 2014, leading his classmates in a dance he choreographed for South Kent School's Call to Explore Program.
At South Kent School in Connecticut, the goal is "personal transformation—finding the hero within and developing the courage and strength of character to set out on an individual Hero's Journey," explains Communications Coordinator Tom Javery. South Kent has an Innovation Center where students study sustainable farming, design, and community building. Sports are big, and so are arts, which are incorporated into the heroic journeying via the "Call to Explore." Clearly the heroes being polished here are neither static nor one-dimensional.
At Canterbury, a Catholic prep school in New Milford, many students get up early and start the day playing or singing. "We have a block of time in the morning set aside for the music program. There's an elite choral group, an orchestra, a chamber ensemble, a blues band, and a rock band," explains Sue Roberts, director of studies. "Studio art is part of the regular day schedule; theatre meets in the evenings. And athletics aren't extracurricular, they're co-curricular. Entering third-formers (ninth graders) take three full trimesters of sports. Older students can opt for a trimester of some other interest – journalism, robotics, whatever club or activity they prefer. We also do a lot of service trips. Students travel to Nicaraugua or Costa Rica and then come back with a global perspective that enriches their education and our whole campus culture."
Woodstock Day School students working on Battering Ram, the school's literary journal.
At Woodstock Day School, Upper School Director Matthew Essery explains, the "extras" are central. "It's more than enriching, it's necessary," he says. "Content is significant, but communication skills and the ability to work with others will get them ahead just as much as academic knowledge. So we dedicate a lot of time to electives. They're just as important as math, English, and science—and it's all integrated. Kids are intelligent in so many different ways. You can use art to teach science and music to teach math. The question isn't 'Are you smart?' but how you're smart. We encourage kids to use strong points as access points. We have a robust media arts program, and kids use those media to demonstrate their knowledge of chemistry or biology. And in their senior year, each student develops an extensive project, including a 20-page paper and a 30-minute presentation, on a topic of their own choice. "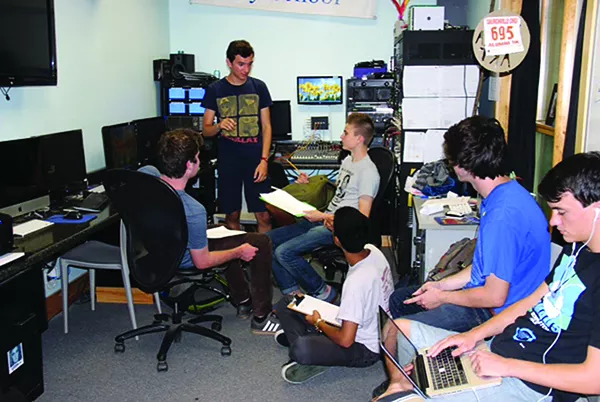 Woodstock Day School media arts production team planning meeting.
Montessori schools, child-centered by definition, have enrichment tactics at their disposal that flow from that model. "Our classrooms are mixed-age in a three-year cycle, so the older students teach the younger ones a lot," says Arietta Thorne, assistant director at Montgomery Montessori School. "There's a three-hour independent individual work period in the morning when they choose what they want to work on, and the environment is prepared so that no matter what they choose, they'll be learning and growing. A lot of it is very hands-on. They're guided to the extent that when they master one thing, we offer them an extension or a question as a prompt. If they ask us a question, rather than just answer it we encourage them to find their own solution through experimentation and independent research. During that time, they're allowed to do art if that's their choice, but there are times set aside for art and music throughout the week.
Montgomery Montessori School students at play during their three-hour independent individual work period in the morning.
"They're constantly inspired. They constantly inspire us. When children have the means available, they challenge themselves and develop awe-inspiring inner drive and pride."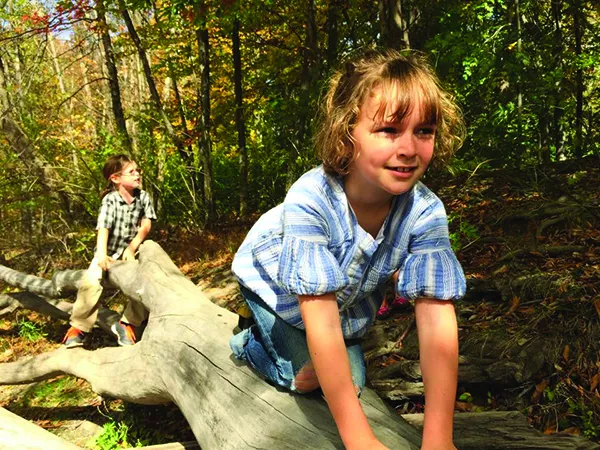 Montgomery Montessori School students at play during their three-hour independent individual work period in the morning.
The Waldorf approach developed by Rudolf Steiner is another that lends itself to a nearly seamless blend of academics and other pursuits. "When learning their alphabet, the children sculpt the letters out of beeswax; they paint and draw their letters before writing them. Times tables are taught as early as first grade through rhythm and song, jumping rope, and hand-clapping games; science begins in first grade with natural observations of phenomena outdoors," explains Waldorf educator Nina Personius, music director at Primrose Hill in Rhinebeck. "For every academic subject, the class teacher looks for relevant songs, poems, and games. This artistic way of teaching continues through the grades, and a teacher seeks never to abandon these methods in favor of dry recitations or rote memorization of information."
Montgomery Montessori School students at play during their three-hour independent individual work period in the morning.
Teens required to puzzle through Shakespearean English and memorize plot points for tests may be forgiven for finding the Bard a chore. Not so the students of Berkshire Waldorf High School, who've been immersed in a residency with the adults of Shakespeare & Company, studying the fun stuff like stage combat techniques. The residency will culminate in a Valentine's Day performance.
"We focus on trying to develop the whole student, intellectually, artistically, physically, and emotionally, and we do that with a very robust fine and practical arts curriculum. It might be 'extra' in another setting, but here it's embedded," says John Cronin, faculty chair at Hawthorne Valley Waldorf. "The whole high school gets together and sings twice a week; then there are extras they can take beyond that, like a capella or orchestra or jazz.
"It's fluid. We have a social action committee that used to be after school that's now part of regular classes. Our campus chapter of Amnesty International grew out of that. Students choose senior projects at the end of junior year, and many choose something related to service work. It varies. Some write books. One built a synthesizer. We had a student who went to Africa and worked in an AIDS orphanage, another who went to the slums of Mumbai."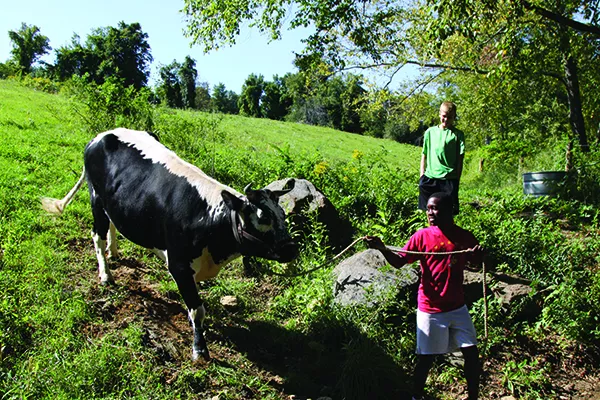 Sophomore Tyejae Burchall leads one of South Kent School's oxen out of its pen with the support of classmate Lucas Vanroboys.
"One of our biggest goals is that they be happy and enjoy school," says Thorne, "not because they fool around all day but because they become fascinated. You should hear the first graders talking about the desert biome! We want them to love learning and realize how fascinating finding the answer can be—and that you can always find an answer."
Facts may be teachable in a classroom setting, but it seems that emotional intelligence is best mastered on a playing field, around a game board, or while putting a literature mag together or a show on. "The root of the word 'educate' translates as 'to draw out,'" Porter muses. "If we can help them draw out whatever their true inner selves and talents may be, they'll have fine lives. That's where the thrill is."