Photo: Douglas Mason
Ricky Skaggs and Kentucky Thunder at FreshGrass 2018.
Although its name nods to the acoustic-based, "high lonesome sound" of bluegrass born in Appalachia, the FreshGrass Festival, which takes place September 20-22 at Mass MoCA in North Adams, Massachusetts, began branching out musically from traditional bluegrass almost as soon as its seeds were sown in 2011.
"The first year's festival came together pretty quickly, and we actually hadn't planned to make it a yearly event," says Olli Chanoff, the director of programming for the FreshGrass Foundation, which oversees the festival's planning (in the off-season Chanoff serves as Mass MoCA's associate curator of performance and film). "But it went so well that right away we decided to do it annually. And even though the original idea had just been 'Let's do a bluegrass festival,' we also decided early on to widen the scope of what a bluegrass festival could be." The core of FreshGrass's programming is still traditional bluegrass, but added to that are artists who take a more contemporary approach to bluegrass. "We've been bringing in more and more artists playing different forms of global roots music, to show the connections between those styles and bluegrass and other kinds of American roots music," Chanoff says.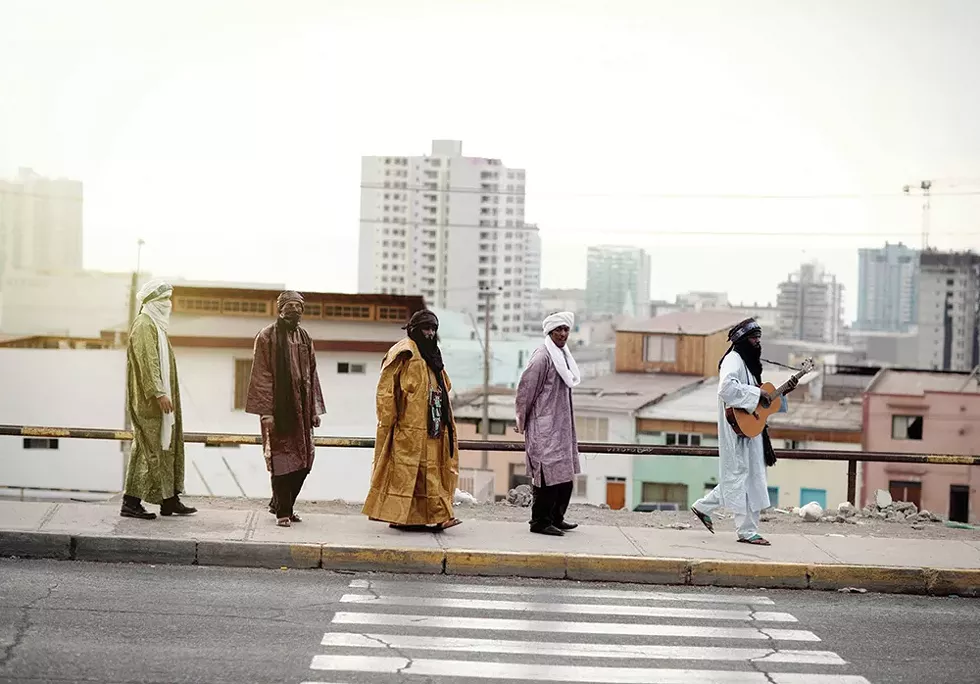 Although to casual listeners bluegrass music might appear to be the very picture of rigid, rural American tradition, it actually has a richly diverse, melting-pot backstory that makes a fine and fitting metaphor for the evolution of FreshGrass's own catholic approach. The genre, whose name derives from that of pioneers Bill Monroe and the Blue Grass Boys, was born of a fusion of blues, jazz, old-time country, Christian hymns, African American gospel, and Celtic folk; the latter's meandering penny whistle trills and serpentine fiddle lines are informed by the undulating, snake-charmer-y melodies of the Northwest African Moors who colonized Europe in the eighth and ninth centuries and eventually made their way to the British Isles. Reflective of this hidden history of bluegrass, the fare at FreshGrass can be strikingly varied: Peppering the lineups of past years have been such acts as Malian singer-songwriter Vieux Farka Toure (2015), Punjabi bhangra revisionists Red Barat (2017), Irish string band Altan, and Tunisian vocalist Emel Mathlouthi (both 2018).
For many, perhaps, the name that jumps out most on the bill this year is that of the Grammy Award-winning Malian band Tinariwen, whose hypnotic, electric guitar-centered, desert-blues sound serves as a living link to American folk music's African origins. Made up of nomadic Tuareg rebel musicians from the Sahara Desert who in the 1970s fled to Algeria to escape Mali's oppressive Traore regime, Tinariwen claim Led Zeppelin, Jimi Hendrix, Bob Marley, and Santana as influences alongside deep African musical traditions.
Another arguably unexpected attraction this time around at FreshGrass is gospel and R&B icon Mavis Staples. A crucial member of America's first family of soul, the legendary Staple Singers, the 80-year-old vocalist is an inductee of the Rock and Roll and Blues halls of fame, a multiple Grammy winner, and a Kennedy Center Honoree who has worked with Bob Dylan, George Jones, Ray Charles, and Wilco's Jeff Tweedy, among innumerable others. Her newest releases are 2019's Live in London, which includes songs by Tweedy, Bon Iver, Talking Heads, Curtis Mayfield, and Funkadelic; and We Get By, whose music was written and produced by Ben Harper.
Also amid the main acts at this season's event is Kalamazoo, Michigan-based Greensky Bluegrass, whose driving, jam-band sensibility belies the seemingly straightforward trad-branding of their own moniker. Formed in the fall of 2000 by guitarist and singer David Bruzza, mandolinist Paul Hoffman, and banjoist Michael Arlen Bont, the group expanded from a trio to a quintet with the additions of bassist Mike Devol and dobroist Anders Beck. Building on the progressive bluegrass style that arose in the late 1970s and early 1980s, Greensky's propulsive, rock-influenced sound flirts with going off the rails while always remaining right on track. In the studio, the band has been produced by Los Lobos saxophonist Steve Berlin and Jack White's bassist, Dominic John Davis.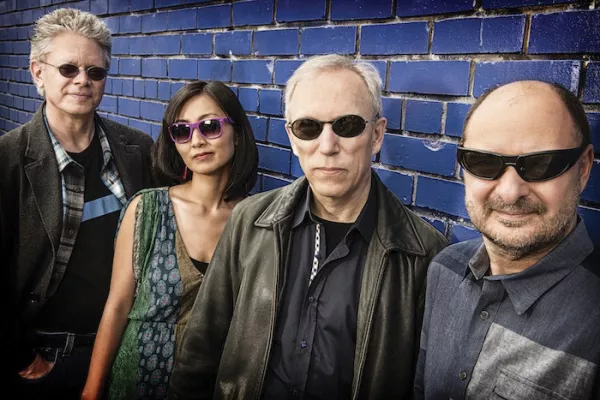 An especially intriguing entry this year is the collaboration between Calexico and Iron & Wine. Calexico, the desert-noir duo of multi-instrumentalists Joey Burns and John Convertino, evokes the wide-open vistas of their home state of Arizona, drawing on Mexican mariachi music, spaghetti western soundtracks, and jazz, surf, and Latin styles. The pair has worked with Neko Case, Lisa Germano, Richard Buckner, and Victoria Williams, and, more recently, Iron & Wine for the new album Years to Burn (a collaborative EP, In the Reins, appeared in 2005). Iron & Wine is the DBA of South Carolina singer-songwriter Sam Beam, whose heartfelt indie folk has elicited undying critical praise and continues to crop up in countless TV commercials and movie backgrounds (see the 2004 smash Garden State).
Leftover Salmon are FreshGrass faves, having played the fest twice prior to this year (in 2015 they delivered a storming set with Little Feat's Bill Payne as a guest member). The Colorado jam-grass juggernaut, which has been burning up stages since 1989 (and briefly included banjo star Noam Pikelny), uses, yes, bluegrass as a jumping-off point. But it also liberally stirs country, rock, and Cajun/zydeco elements into its freewheeling fusion. The group's current tour celebrates their third decade together, and their lengthy history is the subject of a new book, Leftover Salmon: Thirty Years of Festival!
Calexico and Iron & Wine.
Singer-songwriter Andrew Bird's art further embodies FreshGrass's increasingly open-minded programming. Bird's background is in folk and jazz: He performed with retro-swingers Squirrel Nut Zippers when they scored their 1997 hit, "Hell," before forming the similarly inclined Bowl of Fire. With his 2005 solo breakthrough Andrew Bird and the Mysterious Production of Eggs, Bird began his fascinating flight into literate, melodic, and sonically adventurous folk rock. His newest album is the cheekily titled My Finest Work Yet.
FreshGrass 2019's further offerings include returning favorites Alison Brown, the Steep Canyon Rangers, the Travelin' McCourys, the Gibson Brothers, Sam Amidon, and Tony Trishcka and Bruce Molsky; overdue bookings like Amy Helm, the Mammals, and Johnny Irion; and added ethnic spice from Swedish folk trio Vasen, Mogolian outfit Hanggai, and Latin Grammy winners Flor de Toloache, who are touted as "New York City's first all-female mariachi band." Among the event's signature recurring components are the awards the organizers and festival cosponsors No Depression magazine give each year to selected emerging bands and individual musicians; its FreshScores commissions, for which chosen performers receive grants to write and play music for a silent film (the elected artists this time are the Mammals and FreshGrass 2019 artist-in-residence Aoife O'Donovan); and its flagship Composition Commission, for which the overseeing committee invites an artist to create and perform "roughly an album's worth of music that somehow pushes the boundaries of roots music." (This year's commission has been awarded to the world-renowned Kronos Quartet for Music for Change: Pete Seeger @ 100, a multi-artist celebration of the legacy of Pete Seeger).
Adding to the fun of FreshGrass is a wide range of musical workshops conducted by several of the performers; on-site demonstrations by skilled luthiers; diverse and savory food, with healthy options; nearby camping; and no shortage of family and kids' activities. Then, of course, there's the major bonus of the music festival happening right on the grounds of one of the world's leading museums of contemporary art—with free admission for all FreshGrass ticketholders.
"With the museum buildings right there all around you on the campus, it's great to be able to just walk inside one of the galleries and see the art whenever you feel like you need a break between bands," says Chanoff. "At Mass MoCA we have performing arts programs all year, and a big part of our ethos is to give music and the other performing arts a priority alongside the visual arts. FreshGrass is the culmination of that ethos. I always tell people, 'Come for the music—but don't miss the art!'"
FreshGrass 2019 will take place at Mass MoCA in North Adams, Massachusetts, September 20-22. Freshgrass.com.