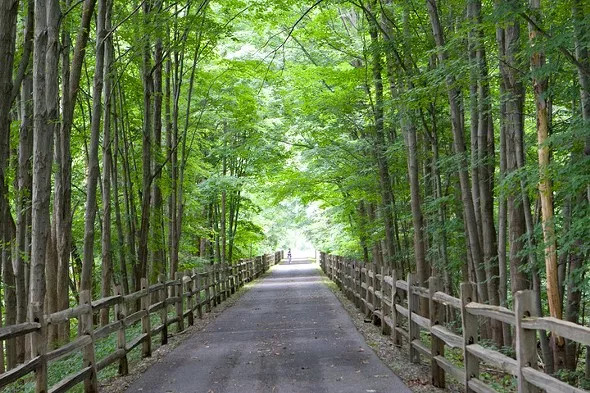 With the Hudson Valley's industrial history, the region is a prime breeding ground for adaptive reuse projects—factories-turned-artist lofts, warehouses-turned-community spaces, brickyards turned concert venues, and the like. But one of the coolest and most accessible facets of our industrial legacy is the region's network of rail trails.
These recreational byways reclaim the land once cleared for railways creating public spaces perfect for great hiking, biking, dog-walking, cross-country skiing, and snowshoeing adventures. The terrain is easy, much of it fully accessible, and the views are often glorious. And unlike a venture into the deep woods, you can often plan a route that takes you to fine food, beverage, entertainment, and retail (yes, they probably will hold that gorgeous piece for you until you can drive back).
But rail trails don't just happen. The Walkway Over the Hudson was once just a gleam in the eye of a community organizer. Even creating trails that stay on solid ground requires a lot of negotiating, permitting, budgeting, and maintenance, much of the grunt work carried out by volunteers. This was especially true in the late '80s and early '90s, when the concept was in its infancy.
The benefits, from present-day community health to keeping future transit options open via railbanking, are so clear that our rail trail system has grown by leaps and bounds. Federal Highway Administration funds are available to local governments via block grants under the Fixing America's Surface Transportation Act of 2015, administered by the New York State Department of Transportation, and trail advocates have taken the opportunity to plan more miles of multi-use, non-motorized fun.
Planned Rail Trail Expansions
Harlem Valley Rail Trail
The Harlem Valley Rail Trail starts in Wassaic and offers a total of 15 paved miles through gorgeous Eastern Dutchess and Columbia Counties; towns to explore include Amenia, Millerton and Copake. Highlights include fine antiques at Blueberry Hill Galleries and the Millerton Antique Center, books and music at Oblong, a plethora of refreshments, and a state park with rustic camping.
Currently, the trail is in two sections; with a gap between Millerton and Copake that requires navigating eight miles of country roads. But a connection is in progress. A $3.5. million grant received in 2016 from the Federal Highway Administration and the New York State Department of Transportation is fueling the construction of that stretch of trail, creating a 28-mile connector from Wassaic to Hillsdale in Columbia County. Organizers hope to ultimately finish the route out to Chatham, north of Hudson. The 18 miles north of Hillsdale are in various stages of development.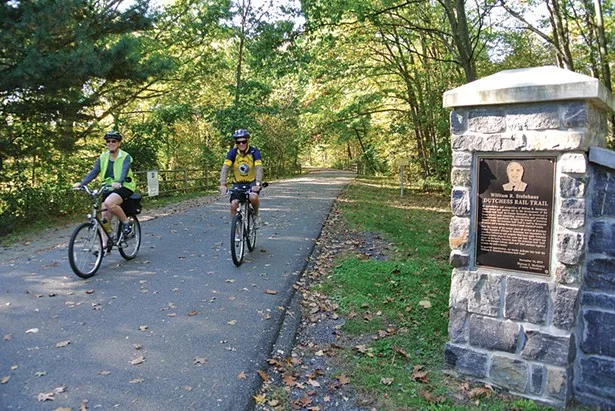 John Garay
Marsha and Fred Rutz at Hopewell Junction Depot Rail Trail.
Kingston Rail Trail
In Ulster County, the Kingston Rail Trail will connect the county seat to the O&W Rail Trail in Hurley, which runs 12 miles south to Marbletown, and from there, the Wallkill Valley rail trail runs east through Rosendale, New Paltz, and Gardiner. The Kingston connection is a paved 1.8 mile stretch being built by Ulster County with federal funds.
The county has received design approval from the New York State DOT and is preparing final plans to go to bid, while working to acquire three permanent easements needed for the project. Construction is scheduled to start in mid-2019, with completion by the end of 2019. The long-range dream is an uninterrupted 35-mile trail from Kingston to Ellenville, rich in both railroad and D&H Canal history.
Heritage Trail
In Orange County, the same consulting and design firm (HVEA Engineers) is working with the county's planning department and Department of Parks, Recreation and Conservation on the Heritage Trail Extension, which would connect Middletown and Goshen via a 10-mile link, The county is ponying up 20 percent of the $2.9 million involved, with the rest coming from the FHA and state DOT. Permissions are still being finalized but the project will double the length of the existing Heritage Trail, which runs from the Village of Goshen south to Airplane Park in Monroe.
Blazing a Trail for the Future
All told, New York State currently has 110 rail trails totaling 1,152 miles, with another 683 miles of railbed identified as "potential." The plan, laid out by Governor Andrew Cuomo in 2017 and funded to the tune of $200 million, includes joining the north-south Hudson River Valley Greenway with the east-west Erie Canalway, forming a 750-mile Empire State Trail that would be the largest multi-use non-motorized transit option in the US, connecting communities across 27 counties.
Rail trails, both current and future, will play a major role in the plan's success. Ambitious? Yep. Also healthy, sustainable and lots of fun. So get out on a rail trail, and you'll understand why the expansion plans just keep...chugging along.