Lisa Winika and Suprina, The Kontomble
"We are the forest" at Queen City 15 Gallery
Lisa Winika, a self-taught outsider artist, teams up with the sculptor Suprina for a co-created exhibit at
Queen City 15
in Poughkeepsie. Winika and Suprina create a world that is at once magical, romantic, and catastrophic, investigating the idea of global portraiture—the psychological and physical state of humanity on the planet using collaborative installation. As Suprina notes of her work: "We are beautiful, horrid, tragic, and profoundly funny." April 2-24. Opening reception Saturday, April 3, 4-6pm.
Will Squibb at D'arcy Simpson Art Works
Catskill-based artist Will Squibb's recent body of work at
D'Arcy Simpson Art Works
in Hudson, "UNGUN," sparks conversation about the American cultural fascination with guns, and their proliferation in action movies. His sculptures of deformed guns range from malformed, realistic Glock replicas, to contorted AR-15 guns, to almost unrecognizable organically molten Colt Revolvers. "The particular gun models are plucked from specific action movies from the '80s and '90s, as a way to consider the plausibility of characters owning the particular firearms, given the reductive geopolitics of the films." The sculptures are named after action movies from that era––which Squibb grew up watching as a young boy––with titles like
Shoot to Kill
,
A Better Tomorrow
, and
Invasion USA
. Through December 31.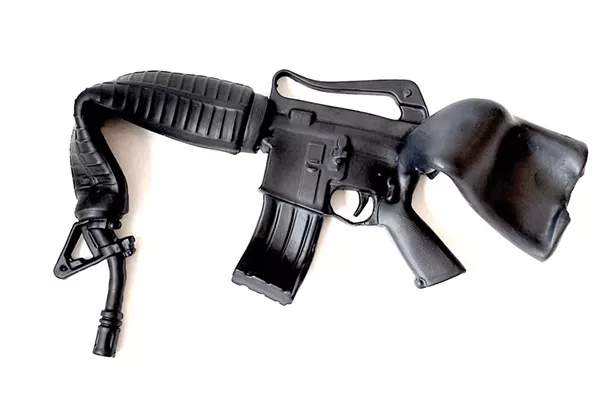 "Bruce Cahn: Discovered" at Lockwood Gallery
This survey of Cahn (1942-2020) at the
Lockwood Gallery
will bring together over 50 multidisciplinary works—including marble sculptures, watercolors, oil paintings, photographs, and ceramics—that showcase the vast depths of the artist's complex and mysterious oeuvre. A protege of Harvey Fite (Opus 40), Cahn was a prolific and reclusive creator of a diverse range of distinctive images and sculptural objects. His practice was both obsessive and spiritual, working tirelessly, day-after-day, in private, to perfect each handmade visual art discipline—a goal he believed would prepare him for his next life. Once he'd become an expert in one medium, he would turn to another–always learning, always growing. Through April 11.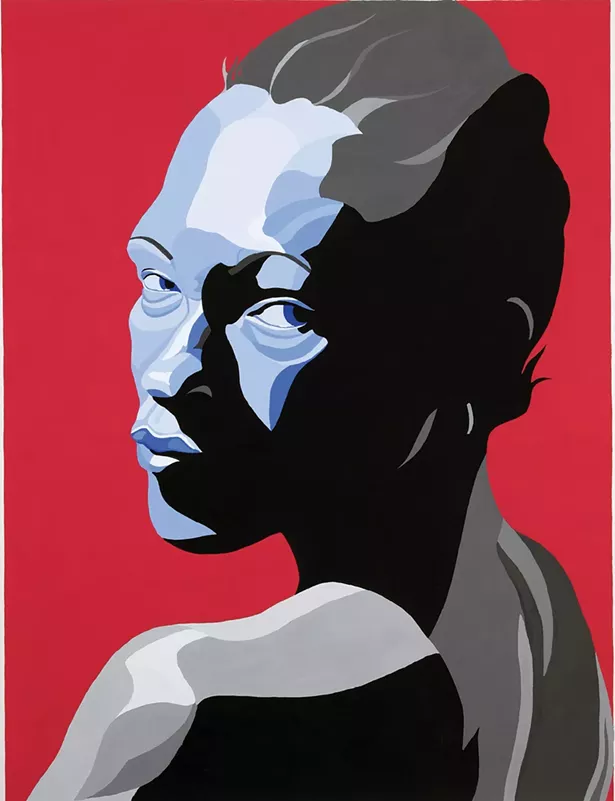 Bruce Cahn, Untitled (Portrait I Red)
Seven Sisters At Basilica Hudson
Erika DeVries's12-foot-tall neon sculpture, which calls for collective healing, will be on display on
Basilica Hudson's
west entrance through the end of the month. DeVries' works, rendered in neon, are handwritten transcriptions that crystallize the moments when language and meaning coalesce. She is cofounder of
Lite Brite Neon
studio in Kingston. Visitors are encouraged to view the work in the evening and to bring a set of headphones to listen to a guided meditation on site or after viewing the piece. Through April 30.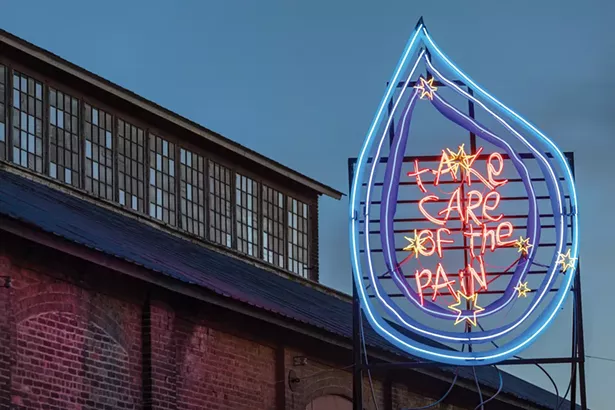 Erika DeVries, Seven Sisters