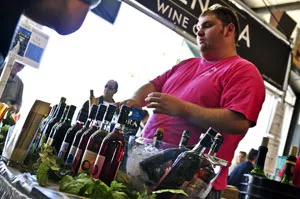 Hudson Valley Wine and Food Festival.
Solas An Lae American Irish Dance Show: "Soul"
For St. Patrick's Day weekend, this contemporary Irish-American Dance troupe performs three shows (March 16-18) at the Center for Performing Arts in Rhinebeck. Solasanlae.com.
Taste of Rhinebeck
This April 17 event benefits Northern Dutchess Hospital. Take a walking tour of all the restaurants in the village, sample the food and the ambiance, all for a good cause. (845) 871-3505.
Apple Blossom Day
Inspired by the heritage of all the apple farms in the region, Apple Blossom Day (May 12) is a much anticipated annual celebration in the village of Red Hook. Live entertainment, food, and vendors line the streets as people reconnect after the long winter and officially welcome spring.
Old Rhinebeck Aerodrome
Antique aviation is alive and well and living in Rhinebeck. Come get your fill of loop de loops and simulated World War I dog fights. Adventurous spirits can catch a ride in a biplane. Opening day is June 9. Oldrhinebeck.org.
Fourth of July
Each village has a parade to celebrate Independence Day. Fireworks are accompanied by the Hudson Valley Philharmonic at the Dutchess County Fairgrounds.
Barn Dance at the Rokeby Estate
The Ox Barn at the Rokeby Estate is being refurbished for this barn dance in honor of the Red Hook Bicentennial on August 4. Molly Mason & Jay Unger and their family band are slated to perform. For more information on this and other Bicentennial events: Redhook200.org.
Dutchess County Fair
At the Dutchess County Fairgrounds August 21 through 26, the second biggest fair in New York: 4-H Club milkshakes, pig races, carnival games and rides, musical performers, livestock, and more. If you time it right you might even see a calf being born. Dutchessfair.com.
Open Studio Tour
Peek behind the scenes when over 20 local artists open their studio doors to the public Labor Day Weekend. It's an opportunity to watch artists at work and to buy pieces from them directly. You might even get a hands-on demonstration.
Hudson Valley Wine and Food Festival
A great opportunity to eat gourmet food and sample wines from across New York on September 8 and 9 at the Dutchess County Fairgrounds. Hudsonvalleywinefest.com.
Hardscrabble Day
Hardscrabble means meager or barren. And while the Hudson Valley is anything but barren, this festival honors the people who work hard to make a living here. Celebrate the harvest with food, shopping, and entertainment on September 22 in Red Hook Village. Hardscrabbleday.org.
Tivoli Street Painting Festival
The village of Tivoli turns out to decorate its Main Street on October 6 with fanciful creations painted by professional and amateur artists. There's also live music and plenty of food. Tivoliny.org.
Halloween
Weekends in October visit Kesicke Farm on Middle Road in Red Hook for a giant corn maze, hay rides, pumpkin picking and cider drinking. It's the epitome of Fall in the Hudson Valley. The kids will go crazy in the huge sandbox filled with corn kernels.
Discovery Festival
At Rhinebeck High School on October 27, a celebration of science-based events and hands-on activities that appeal to children from K-12. Adults, too. Sponsored by the Rhinebeck Science Foundation. Open to the public. Rhinebecksciencefoundation.org.
Sinterklaas Festival
On November 24, Sinterklaas arrives in Rhinebeck and makes his way up to Red Hook for a celebration around the hearth, honoring the rich agricultural tradition of the region. Then Rhinebeck turns magical on December 1 for all day and into the night merrymaking culminating in a parade with larger than life puppets, grumpuses, music, and dancing. Sinterklaasrhinebeck.com.