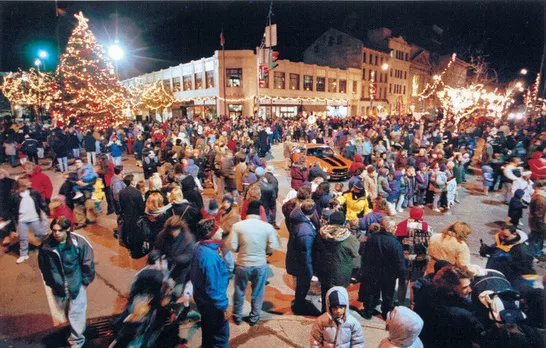 Poughkeepsie's Celebration of Lights is on November 30th this year.
Celebration of Lights

Poughkeepsie's annual parade, tree lighting, and fireworks takes place on November 30th this year. The whole community participates in the event including City of Poughkeepsie Mayor John Tkazyik, the Amerscott Highland Pipers, the Poughkeepsie High School Jazz Ensemble and Middle School Choir, members of the Hudson Valley Philharmonic, and, of course, Santa. The parade and tree lighting take place downtown and the fireworks over the waterfront are one of the only winter displays in the area. A screening of
Pee Wee's Big Adventure
will be held at the Bardavon after the parade and fireworks.
Bardavon.org
A Taste of Little Italy
Friends of Little Italy will host its 3rd annual Italian festival on October 7 at Poughkeepsie's Mount Carmel Place. Tenor Christopher Macchio headlines the performances which also include the Hit Squad, '50s and '60s doo-wop group Cherished Memories, and Gina Marie'z Academy of Performing Arts, LLC. A bocce court will be set up in the park and food will be provided by local Italian eateries including Amici's Restaurant, Cafe Bocca, Coppola's Bistro, and La Deliziosa Pastry Shoppe. Calling all sweet tooths: Enter the cannoli eating contest at your own risk.
Facebook.com/italian845
Historic Graveyard Tours
Historic graveyard tours at President Franklin D. Roosevelt's 200-year-old St. James' Episcopal Church in Hyde Park, are held on Saturday evenings from September 15 through November 3. Professional narrators and actors in period costumes portray the noteworthy interred including Nathaniel Pendleton, a key figure at Alexander Hamilton's duel with Aaron Burr, FDR's mother, Sara Delano Roosevelt, and Morgan Lewis, third governor of New York. Tours are one-hour long, rain or shine, and there are five tours per night. All proceeds go to maintaining the historic property. Reservations only.
Stjameshistoricgraveyardtours.com
Pleasant Valley Rotary Club Wiffle Ball Tournament
Each year, the Pleasant Valley Rotary Club hosts a Wiffle ball tournament to raise funds for their charitable causes, including Rotaplast, a nonprofit humanitarian organization providing free reconstructive operations and treatments for children in need worldwide, and All Ears Cambodia, providing support for people who suffer from loss of hearing in the war-torn country. This June, they celebrated their 7th year of the tournament at Cady Field behind the Town Hall. Players may register as singles or teams—four people per team—for $25 per person, which includes a T-shirt. Trophies, a 50/50 raffle, and old-fashioned fun for a good cause.
Rotary7210.org/pleasantvalley
The Wappingers Creek Water Derby
The annual eight-mile canoe and kayak race is held on the Wappingers Creek between Pleasant Valley and the Town of Poughkeepsie. The Aquatic Explorers Scuba Club, a nonprofit organization, sponsors the event. Club volunteers organize the race, remove debris from the creek, act as safety divers along the course, and register hundreds of paddlers. An average of 170 to 200 boats with paddlers from all over the Northeast participate annually, as well as the hundreds of spectators who line the creek's shores. The Aquatic Explorers collaborate with the Wappingers Creek Watershed Committee, an organization dedicated to preserving the creek, and Marist College, who conducts Zebra Mussel studies along the Hudson River.
Aquaticexplorers.org