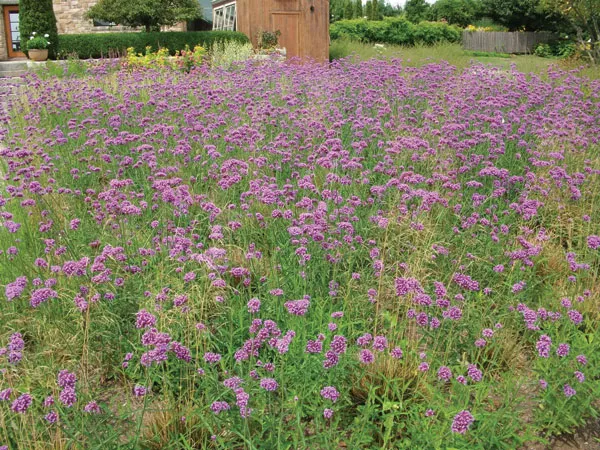 Tall verbena (Verbena bonariensis) reseeds beautifully.
Vegetable Freebies
My friend Bill likes to say that, for both people and plants, "Volunteers are happiest." Volunteer plants (aka self-sowers/reseeders/self-seeders) grow from seed that was deposited by critters or wind or that simply dropped to the earth from previous years' crops. If a seedling finds purchase, it means it found its spot favorable in terms of soil fertility, soil type, drainage, sun exposure, etc.
I have dozens of volunteer tomato plants in my vegetable and cut flower plot in the community garden this year. The volunteers popped up both conveniently in corners and inconveniently in the middle of paths. I decided to keep them all but just prune back those stems that were aggressively competing with my planted crops for space. I didn't bother to stake my volunteer tomatoes or water or fertilize them, as I wanted to see how the fruit tasted when the plants were truly left to their own devices.
If I'd decided to cull out the volunteer plants, as many of my community garden neighbors do, I'd be doing what's called "roguing." This year I resisted the urge to rogue, preferring to wait and watch like a good citizen scientist, even though I delight in the sound of "Honey, I'm off to do some roguing."
Most tomatoes are hybrids, which are crosses between two promising parents made by nature or more commonly, by human (plant breeder) intervention. When hybrids reseed, the new seedling plants may not "come true,"—i.e., they may not have the characteristics of both of their parents, the blend of which made the hybrid so marketable in the first place.
In my garden, the volunteer tomatoes have been by and large tasty (good flavor being the legacy of one parent more than the other), but the fruits have been smaller than you would normally get. So the volunteers haven't expressed the larger size gene, but they've still expressed the tasty gene. (By the way, it wouldn't behoove me to save the seed from hybrid volunteers, because successive generations are going to be increasingly unreliable and unpredictable in their characteristics. Mendel was all over that.)
So collecting seeds from hybrid volunteers is a dicey proposition. However, unlike hybrids like the fantastic orange Sungold cherry tomatoes that I grow every year, heirloom tomatoes like the wonderful Yellow Mortgage Lifter do come true from seed, which means that you can save seed and expect the new generation of seedlings to have predictable traits.
Besides tomatoes, other vegetables that readily self-seed/volunteer include lettuce, winter squash, pumpkins, and various greens. I keep these volunteers if a) I have the space to run a fun experiment that may or may not be tasty in outcome and b) if I think their chosen locale is going to meet their needs (e.g., for space) all the way to maturity. My friend Jamie's reseeding butternut squash was incredibly tasty, but another friend's volunteer butternut was nasty. It's a genetic crapshoot, and butternut squash vines take up a lot of room (unless you train it up a vertical support system), so your willingness to experiment may depend on how much garden space you can part with.
A volunteer spider flower/cleome.
Volunteer tomato plants are unpredictable in the size and flavor of their fruits.
Free Flowers

Reseeding/volunteering annual flowers can be something that garden designers like Liz Elkin of Bloom Landscape Design and Fine Gardening rely on to meaningfully fill space each year. She likes tall verbena with its lavender-purple flowers and counts on its mass reseeding. (On one of the Garden Conservancy Open Days tours, I saw a 25-by-30-foot garden, surrounded by hardscape, that was simply reseeded tall verbena, a sea of purple borne aloft study three-foot stems.) Elkin also counts on California poppies, with their cheerful orange flowers on stems above feathery foliage, to freely volunteer/self-sow as well.