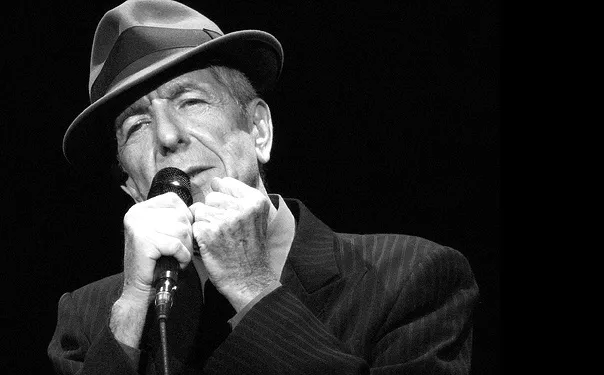 You let me sing, you lifted me up, you gave my soul a beam to travel on. You folded your distance back into my heart. You drew the tears back to my eyes. You hid me in the mountain of your word. You gave the injury a tongue to heal itself. You covered my head with my teacher's care, you bound my arm with my grandfather's strength. O Beloved speaking, O comfort whispering in the terror, unspeakable explanation of the smoke and cruelty, undo the self-conspiracy, let me dare the boldness of joy.
—Leonard Cohen, "19th Psalm," Book of Mercy
Esteemed Reader of Our Magazine:
I had the privilege of seeing Leonard Cohen and his band perform a few years ago, when he was almost 80. Shortly into the concert, Leonard was on his knees, delivering the lines sacramentally, as though he were a priest or rabbi (in Hebrew "cohen" means priest), and I began to weep. It was then that I realized the event wasn't actually a concert. It was a ceremony of a high order; a three-hour invocation.
I wept almost continuously through the beautiful ordeal of the concert. I didn't know where the tears came from. They seemed to arise from a mystery that the music tapped at the center of my heart, eliciting the delicate juxtaposition of matter and spirit, ignorance and illumination, fear and openness together.
I heard the news of Leonard Cohen's death with an already tender heart on the evening after the election. Only that day I had begun to listen to his new album, and its title song, "You Want It Darker," in which he seemed to name the events of the day, and to announce his readiness to simultaneously leave and face the reality of this world.
If you are the dealer, I'm out of the game. If you are the healer, it means I'm broken and lame. If thine is the glory, then mine must be the shame. You want it darker. We kill the flame. Magnified, sanctified, be thy holy name. Vilified, crucified in the human frame. A million candles burning for the help that never came. You want it darker. Hineni, hineni, I'm ready, my Lord.
The Hebrew word hineni means "here I am," which is what Abraham says when he's called upon to sacrifice his son. It harkens to Hamlet preparing to go into what will be his final ordeal: "the readiness is all... Let be."
Leonard Cohen declares that we want it darker, and it seems clear that whether or not we think we want more darkness, more is necessary to rouse us from our collective slumber, our comfort with things as they are. We need a stronger shock, a deeper bite from the fangs of ignorance to help us remember why we are here.
In his way of weaving tragedy and hope, he points to the tenderness and humility that arises from heartbreak; the fertile remorse we can know in seeing ourselves as we are, and the outcome of our inattention.
There's a lover in the story, but the story's still the same. There's a lullaby for suffering, and a paradox to blame. But it's written in the scripture, and it's not some idle claim.You want it darker. We kill the flame.
When I say Leonard Cohen's work is objective, it is in the spirit of the Greek philosopher Protagoras, who said "Man is the measure of all things." In this sense it is our own subjective experience, taken in a disposition of impartiality, which reveals truth beyond the seeming borders of that experience. It is like the dross spread through with gold that can be separated in the crucible of clear seeing. Leonard Cohen did this alchemy, continuously and publicly, for the benefit of all who would ponder and feel his meaning.
Leonard Cohen bore witness to the unfolding spectrum of joy and suffering, pleasure and pain on the plane of life. At the same time, he invited us to join his striving to reach beyond this plane, reaching, as he did, for the sublime and divine. He showed that it is only in a thorough grounding in humanness, which is to say, humility, that we can strive for something more rarefied, refined, and even spiritual.
Leonard Cohen was something between an artist and a prophet, giving a poetic user's manual for an incarnation in human form. The body of his work, prepared tirelessly for over 50 years, is a record of a soul, striving through all the phases of a life, to become more fully human.
Every heart, every heart to love will come but like a refugee. Ring the bells that still can ring. Forget your perfect offering. There is a crack, a crack in everything. That's how the light gets in. ("Anthem," from The Future)
Thank you, Leonard, and God bless.