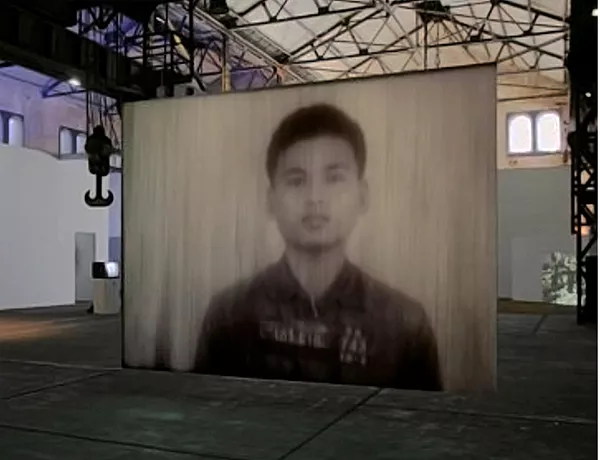 Still from Alice Miceli's single-channel video-projection "88 from 14,000".
Ticket Giveaway:
Mahler Symphony, Bard, April 27
Enter to win two tickets to a performance of Gustav Mahler's philosophical Symphony No. 2. Conducted by Leon Botstein, performers include soprano Heather Buck, mezzo-soprano Jamie Van Eyck, and members of the American Symphony Orchestra, Bard College Conservatory Orchestra, and Longy Conservatory Orchestra.
Episode Six: I'll See You In Hades
A production of "Eurydice", a hike at Onteora Lake, and the 2nd Annual Red Hook Read Local! Literary Festival are just a few things covered in this week's podcast.
Update Required
To play the media you will need to either update your browser to a recent version or update your
Flash plugin
.
THURSDAY 4/11-SATURDAY 4/13
"Eurydice" 

Rather than condemning Eurydice to the Underworld without her true love, Sara Ruhl's playful but poignant retelling of the Orpheus myth happily reunites the nymph with her father. Directed by alumna lanthe Demos, the student production explores familial and romantic love and loss at Vassar's Powerhouse Theater.
FRIDAY 4/12

John Medeski
The keyboardist, composer, and veteran of the '90s avant-garde jazz scene released his first solo piano project, A Different Time—containing mostly his own compositions and improvisations—on April 9. Medeski plays from his newest release at the Kleinert/James Center for the Arts in Woodstock.
FRIDAY 4/12

Sō Percussion and Students Concert

The found-object, collaborative percussion quartet are co-directors of the Bard College Conservatory of Music Percussion Program. Joining their students for a spring concert, the ensemble brings their tinny, experimental sound to Bard's Richard B. Fisher Center for the Performing Arts.


FRIDAY 4/12- SUNDAY 4/14

Rock 'n' Roll Resort v3: Tiny Rager


The three-day, music-multimedia hybrid festival returns for its third year at Hudson Valley Resort and Spa in Kerhonkson. The indoor event boasts more than 25 bands, including the funk-jazz trio Soulive, as well as sets by several leading DJ's, a golf tournament, and a celebrity poker competition.


FRIDAY 4/12-SUNDAY 4/14

Read Local! Red Hook Literary Festival

The three-day event held throughout Red Hook celebrates regional arts and literature with readings, panels, and workshops by local authors. Saturday's special reading features Oscar-nominated actor David Straithairn, Hairspray's Jason Downs, and Racing Daylight's Nicole Quinn reading Hudson Valley authors.
SATURDAY 4/13
Bluestone Forest/Onteora Lake Hike
The John Burroughs Natural History Society leads a two-to-three mile open discovery walk in and around abandoned bluestone quarries on the Bluestone Forest/Onteora Lake DEC property, starting in Kingston. Hikers can also see pool-breeding salamanders if there are intermittent woodland pools.
SATURDAY 4/13
"The Secret Language of Flowers": Photography of Kelly Merchant
Merchant's ethereal, intimate photography exhibition opens at Chatham's Joyce Goldstein Gallery. Featuring men and women clutching, wearing, and surrounded by flora, her negative-film photographs balance bright colors and soft, blurry, dream-like compositions.
SATURDAY 4/13-SUNDAY 4/14

"88 from 14,000"
Behind a veil of falling sand, Alice Miceli's single-channel video-production shows mugshots of 88 Cambodian prisoners, who were imprisoned and executed during the Khmer Rouge regime. Presented by the Women's Studio Workshop, the film runs on a loop at Rosendale's Cottekill C H R C H Project Space.
TUESDAY 4/16

Ambassador Dennis Ross
SUNY New Paltz's Distinguished Speaker Series hosts Ambassador Dennis Ross, who had a leading role in shaping US involvement in the Middle East peace process for two decades. Moderated by NPR Middle East correspondent and Ottaway Fellow Deborah Amos, the talk takes place in Lecture Center 100.