This month at Surprenant Art and Design, "A Snake That Sheds Its Skin Is Still a Snake," a two-man show featuring new work by Steven Strauss and Phil Hennion. The exhibition intertwines three strands: geometric paintings by Hennion, "Memento Mori"; photographs by Strauss, "Rampage"; and an eight-minute digital video, Hymyth, that is a collaboration between the two artists. The images above, selected from Strauss's "Rampage" series, examine the decomposing line between artist and amateur in the age of digital photography, and question the validity of living our lives out loud online, posting the unvarnished, intimate details of our existence, as if we were all actors in one global reality show. "We impulsively and compulsively add to [the Internet] hoping to stake a claim and leave an enviable illusion," Strauss says. "Striking any pose to attract a voyeur, people and places meld to create a glossy new world of desperate exhibitionism."
"A Snake That Sheds Its Skin Is Still a Snake" will be exhibited from July 3 through August 3 at Surprenant Art and Deisgn, 324 Wall Street, Kingston. An opening reception will be held on Saturday, July 3 from 5 to 7 pm. www.gallerysurprenant.com.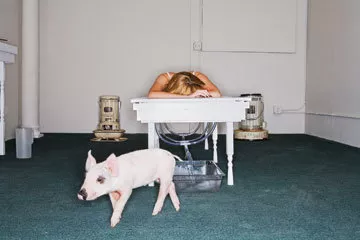 Stills from the video "Hymyth" by Steven Strauss and Phil Hennion. 2010.