Welcome to October. Harvest time is upon us once again. So enjoy this harvest of entertaining events.
Todd Rundgren in Western Connecticut | October 4-5
Recent Rock and Roll Hall of Fame inductee Todd Rundgren's ties to the Hudson Valley are strong and well documented: For years, the legendary musician and producer made his home in the Woodstock area, where he recorded so much of his own influential, hit music and worked with such acts as The Band, XTC, Meat Loaf, and the New York Dolls. Rundgren returns to the region on October 4 and 5 at 8pm, when he performs at the
Ridgefield Playhouse
in Ridgefield, Connecticut. Tickets are $90.
O+ Festival Kicks Off in Kingston | October 8-10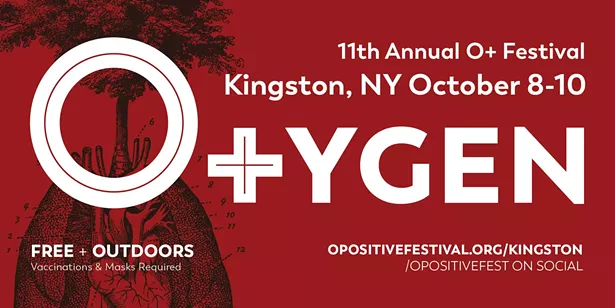 The
O+ Festival
makes its 11th return to Kingston this week, taking over the town with concerts and other performances, artwork, and events that connect participating artists and musicians with vital healthcare, mental healthcare, dentistry, and wellness services. The musical headliners this year are indie chamber pop giants the Magnetic Fields; other acts include Proper, Teenage Halloween, Pedazo de Carne con Ojo, Ceschi, Tierra del Fuego, Shana Falana, Breanna Barbara, Toebow, Bobby Chaniel, Jelly Kelly, SSuperDirrtyDom, and more. Participating mural, performance, interactive, installation and fiber artists include Marilyn Arsem, Paula Josa-Jones, Ann Lewis, Brian Kaspr, Marielena Ferrer, David Najib Kasir. Also promised is a screening of the documentary Street Heroines. See website for schedule, passes, and more.
"Art Reborn" Exhibit in New City | October 8-10
True to its title, "
Art Reborn
," an outdoor sculpture exhibition that will take place in New City on October 8, 9, and 10, gives new life to castoff materials. The show enlisted more artists from across the New York/New Jersey/Connecticut tri-state area to create dazzling new works by decorating 100 individual mannequins rescued from stores that have closed due to the pandemic. In celebration of display, the organizers are sponsoring dance performances, tours of the Pelham Art Center and Nyack Art Collective, lectures, and fashion shows. See website for events schedule and more information.
Chris Brokaw Rock Band at Tubby's | October 8-10
Known for his membership in the influential indie bands Come and Codeine, Boston musician Chris Brokaw has been a familiar presence on the stage of
Tubby's
, appearing at the Kingston nightspot in the past as a solo artist and in duos with his Come bandmate Thalia Zedek and his fellow guitarist Bill Nace. On October 8 at 8pm, he's back again, this time with his newish Chris Brokaw Rock Band. Sharing the bill will be Sightings guitarist Mark Morgan and a reading by author Mimi Lipson. Tickets are $12.
Sandra Koponen Art Show in Hudson | through October 31
Painter Sandra Koponen's "Officials of Torture" series of large abstract oil portraits, which is currently on view at
Time and Space Limited (TSL)
Gallery in Hudson, depicts those in the George W. Bush administration who were responsible for devising, legitimizing, applying, and covering up torture methods used at Guantanamo Bay and Abu Ghraib prisons and US-backed black sites around the world. The series is up through October 31. Proof of vaccination for admission is required. See website for gallery hours.
Hudson Valley Farm and Flea in Monroe | October 9
The
Hudson Valley Farm and Flea
market at Museum Village in Monroe, spotlights selected Hudson Valley makers, artisans, designers, and vintage collectors, and takes place on October 9 from 10am to 4pm. Adding to the unique mix of vendors is locally crafted food and an appearance by the Riverside Theatre Arts Academy's cast of performers. Tickets are $5 and can be purchased through the museum's website.
Eva Sita Brings Storytelling to Peekskill | October 9
At a young age, hip hop singer-songwriter and producer Eva Sita moved in 2004 as a refugee from her native West Africa to France, where she began producing beats, before going on to become the first female Ivorian student at Boston's Berklee College of Music. On October 9 at 8pm, Sita's "Motherland," a storytelling show that encompasses a journey from Africa through France, the US, and Latin America through music, languages, and more, comes to the
Paramount Hudson Valley Theater
on October 9 at 8pm. Comedian Leighann Lord opens. Tickets are $20 and $30.
Fall Antiques Fair Comes to Rhinebeck | October 9-10


On October 9 and 10 from 11am to 4pm, Barn Star Productions will once again present the annual Antiques at Rhinebeck fall show at the
Dutchess County Fairgrounds
in Rhinebeck. For the event, favorite past dealers and new exhibitors will offer items from the fields of fine art, folk art, decorative art, textiles, samplers, weathervanes, English furniture, country furniture, formal furniture, quilts, trade signs, antique and estate jewelry, painted furniture, pottery, silver, garden architectural pieces, and more. Admission is $10. No pets, please.
To find out about more upcoming events in the Hudson Valley, subscribe to our weekly newsletter Eat. Play. Stay.