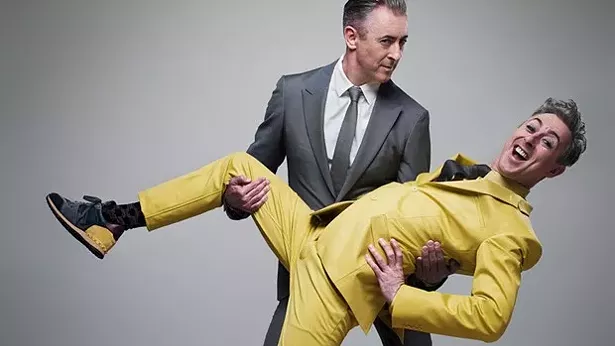 L t R: Alan Cumming, Alan Cumming
Alan Cumming at the Bardavon | October 25
On October 25 at 8pm, iconic Scottish actor, singer, writer, and filmmaker Alan Cumming joins WAMC/Northeast Public Radio's "The Roundtable" host Joe Donohue at the
Bardavon Theater
in Poughkeepsie for a conversation and audience Q&A session. The event will find Cumming discussing his new book,
Baggage
, which chronicles, says the star, "my life in Hollywood and how I recovered from a nervous breakdown at 28. It is also about marriage(s): starting with the break-up of my first (to a woman) and ending with the ascension to my second (to a man), with many kissed toads in between!" Tickets are $35 and $45.
Postmodern Jukebox Swings into Troy | October 28
Famed for their reworkings of modern popular songs into a pre-World War II jazz-swing format, Postmodern Jukebox was formed by New York pianist and arranger Scott Bradlee in 2011. The orchestra's versions of tunes by artists ranging from Lady Gaga to the White Stripes, Katy Perry, Radiohead, Outkast, and the Strokes made them a hit on YouTube in short order, winning them fervent fandom from the likes of Neil Gaiman, among others. Here, the outfit's Grand Reopening Tour takes them to the suitably opulent setting of
Troy Savings Bank Music Hall
on October 28 at 7:30pm. (Chris Thile picks October 16; Ben Folds bops by October 17.) Tickets are $29.50-$54.50.
Daddy Long Legs Rock Woodstock | October 29
Everyone's favorite blues punk killers, Daddy Long Legs, once again make their annual late-October pilgrimage to
Colony
in Woodstock on October 29 at 7pm for another frightfully fun night of hollerin', harp-wailin', Halloween-season hellaciousness. Still riding high on the release of their third album, 2020's
Lowdown Ways
, the Brooklyn trio of Brian Hurd (vocals, harmonica, guitar), Murat Aturk (slide guitar), and Josh Styles (drums, maraca) was recently spotted in our neck of the woods recording that disc's forthcoming followup, and their bluesy blend of Son House, the Sonics, Dr. Feelgood, Howlin' Wolf, the MC5, Little Richard, et al. always sees their local gigs blowing away Americana lovers as well as garage punkers. With the Trash Bags. (Sam Amidon strums October 15; the Feelies fall back November 5.) Tickets are $20 and $25.
Wassaic Project Haunted Hamlet and Monster's Ball | October 30
The ingeniously creative and community-minded folks at the
Wassaic Project
are back with another artistic family fright fest. Last year, they staged a haunted parade with artist-designed floats and tons of free candy. This year, they're producing Haunted Hamlet, featuring seven PG-rated art installations/trick-or-treating stations around the grounds on October 30 from 3 to 7pm. There's also a giant plinko game, a mutant forest, and a Halloween-themed "Let's Make a Deal" game led by a zombie game show host. It's followed by the Monster's Ball at the Lantern with live music, DJ sets by Taraka, and a costume contest. (Monster's Ball tickets are $20 and must be purchased in advance, and all attendees must wear a costume.)
Newburgh Literary Festival at the Ritz Theater |
October 30–31
Following a yearlong hiatus due to COVID-19,
Safe Harbors of the Hudson
will be hosting its second annual Newburgh Literary Festival. The weekend-long event will feature an in-conversation event with Joe Donahue, the award-winning host of WAMC/Northeast Public Radio's "The Roundtable." Eight nationally acclaimed writers from around the Hudson Valley will engage in paired readings and moderated conversations, including Pulitzer Prize finalist Evie Shockley and Erica Hunt, author of
Jump the Clock: New and Selected Poems
. Attendees can check out a local authors' book sale and participate in a series of writing workshops. Learn about writing contemporary horror from David Surface, playwriting and dramaturgy from Shane Bly Killoran, and graphic novels from Drew Morrison.
Sculpture Show on View at Tilly Foster Farm |
through October 31

Collaborative Concepts
' 16th annual "Farm Projects" sculpture show features work from 40 regional artists temporarily installed across the 200 acres of rolling fields at
Tilly Foster Farm
in Brewster now through October 31. Participating artists include Naomi Teppich, Philippe Halaburda, Herman Roggeman, and Kaete Brittin Shaw. See website for viewing hours.
Rocky Horror Picture Show in Peekskill | October 30
On October 30 at 9pm, come experience
The Rocky Horror Picture Show
the way it was meant to be: In a beautiful, historic venue like the
Paramount Hudson Valley Theater
in Peekskill, with live a shadow-cast performance by the Apoca-Lips troupe. In this cult classic, sweethearts Brad (Barry Bostwick) and Janet (Susan Sarandon), stuck with a flat tire during a storm, discover the eerie mansion of Dr. Frank-N-Furter (Tim Curry), a transvestite scientist. As their innocence is lost, Brad and Janet meet a houseful of wild characters, including a rocking biker (Meat Loaf) and a creepy butler (Richard O'Brien) during a series of elaborate dances and rock songs. Tickets are $10.
"Fragments of Time and Space" in Hudson |
through October 31
The exhibit "Fragments of Time and Space" at
Carrie Haddad Gallery
in Hudson brings together four regional painters—Anthony Finta, Ginny Fox, Carl Grauer, and Joseph Maresca—and pairs their work with abstract wall structures by Dai Ban. A show standout is Grauer's
Coniferous Sky
, a five-foot-tall painting documenting a pine tree between November 2020 and March 2021. The trunk and its branches stand unchanged, dominating a sky that has been segmented to track shifting clouds and changing light. See website for gallery hours.
To find out about more upcoming events in the Hudson Valley, subscribe to our weekly newsletter Eat. Play. Stay.