Time to treat yourself, food and drink lovers. Butterfield Restaurant at Hasbrouck House is hosting its first five-course dinner of the summer. The farm-to-table eatery has been recognized for its commitment to locally-grown produce and ingredients. Now, you can taste a bit of everything they have to offer—all on the quaint grounds of the 18th-century stone mansion-turned-dining hall in Stone Ridge.
On July 1, the restaurant will serve a five-course dinner prepared by Butterfield chef Aaron Abramson with wine pairings selected by renowned winemaker André Hueston Mack from his own line, Maison Noir Wines. "Guests can expect some education by a trained sommelier-turned-winemaker, as well as some really good food sourced from farms in the surrounding area—big shout out to the Rondout Valley!" says Butterfield general manager Sasha Miranda.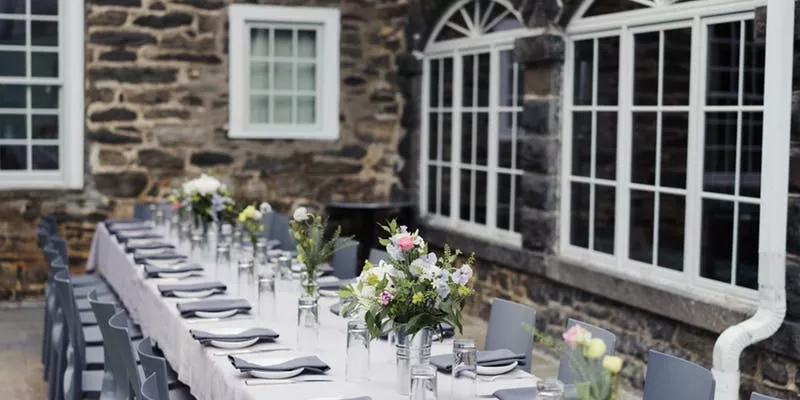 Butterfield's bluestone patio
Abramson has over 15 years of experience cooking for restaurants in the US and Europe. He's dedicated to working with local farmers to find the best ingredients. Mack will join him and guide guests through the evening's wine tastings. "Our chef is from the Pacific Northwest, and he loves wines from Oregon and Washington State, so I am always looking for wines from there to add to our wine list," Miranda says. "I really enjoyed André's wine 'Love Drunk,' a rosé, and that's how this all began."
On the night's menu is summer squash tartine with a house made ricotta, spring peas in a rhubarb and mint broth, duck with mulberry and turnips, braised lamb with Wild Hive polenta, and a dessert of strawberries and elderflower. Depending on the weather, guests will either dine at the long table at the outdoor, bluestone patio or in Butterfield's main dining hall.
Tickets for the five-course dinner and wine at Butterfield are $105 per person, excluding tax and tip. The dinner begins promptly at 6pm. Get your tickets now.