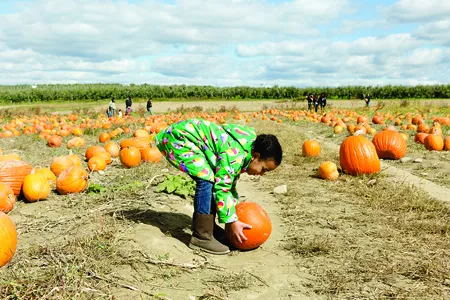 Eva Deitch
Picking pumpkins at Fishkill Farms
Just north of I-84 and just east of the Hudson lie the two largest watersheds in Dutchess County, those of Fishkill Creek and Wappinger Creek. It's a corner of the Hudson Valley, like Kingston and Poughkeepsie, that was home to a massive IBM plant for decades. IBM brought thousands of living-wage jobs and encouraged folks to get involved in civic affairs; having no city to play in, East Fishkill's IBMers and their neighbors poured their love into enhancing village and suburban life.
It's always been high-energy territory. The Continental Army sited a massive supply depot in Fishkill. The mill in Wappingers Falls was the largest printworks in the country in the latter half of the 19th century. Hopewell Junction was the place where three major railroads came together.
Nowadays, there's a blend of quaint and distinctly up-to-the-minute here. Neighbors romp and listen to band concerts in the pretty parks, come together around everything from cheering for the kids and helping the burdened to community yard sales, festivals, and parades. They avidly support topnotch community theater in Wappingers Falls, where the County Players are offering "Of Mice and Men" this month; sustainable agriculture at Fishkill Farms, where you can purchase local eats year-round at the Farm Store; and a triple handful of varied fine cuisines.
It's a great place for a shopping day. If you need to comparison shop for almost anything, Route 9 between Fishkill and Wappingers Falls is your mecca; big-box places alternate with indie offerings that survive here because they do their unique thing well. Flea market fans will find happy hunting at the Dutchess Marketplace, a repurposed mall with 100,000 square feet of indoor vendor space and an outdoor market every weekend through December. Created with Love Boutique in Wappingers Falls brings together fine crafters under one roof.
It's a great place to play. There's Bowdoin Park on the banks of the Hudson, with its award-winning handicapped-accessible playground. There's the Dutchess Rail Trail, a paved and tree-lined 13 miles with Hopewell Junction's restored depot on one end and the Walkway Over the Hudson at the other; trail fans rave about its thoughtful construction and pleasant views. Need wheels for the trail? Visit Wheel and Heel in Wappingers. Phil and Debbie are former teachers who have been promoting cycling in the HV since the 1980s, and they have state-of-the-art equipment that'll help you find a bike that fits you to perfection. When summer comes again, so will the 2016 season of Splash Down Beach, "America's Biggest Little Water Park," located right here in Fishkill.
And it's a great place to watch others play. Dutchess Stadium in Wappingers has long been the home of the Hudson Valley Renegades baseball team; this fall, for the first time, they're bringing us minor league football. Collegiate talent from NFL pre-season camps will be giving it their best, on new state-of-the-art turf.
It's a great place for history buffs: the Grinnell Library in Wappingers Falls is the sixth oldest in the US, and within it you'll find special collections including a unique display of bird taxidermy (ever see an actual passenger pigeon?) and the John R. Ferris Civil War collection, all in a funky 1887 building that's a quirky mix of British and Swiss architecture. The Van Wyck Homestead in Fishkill, used as officers' quarters during the Revolution, has been lovingly renovated, as has Hopewell Junction's historic train depot, now a railway museum featuring a diorama of the depot in its glory days with working lights that visitors can operate.
All of this will undoubtedly make you hungry, and you'll find you're in good hands. In Wappingers, those in the know head to Ground Hog Coffee for blueberry pancakes, French toast, or peanut butter muffins with their ambrosial cuppa, and the new location of Mexicali Blue for healthy, fresh-made Southwestern and Californian. In Fishkill, check out Leo's, a Hudson Valley based chain offering top-notch classical Old World Italian, or Il Barilotto Enoteca for an updated take in a casual-chic atmosphere. The newly opened Dutchess Biercafe offers New American with a Belgian twist and fine craft brews. And that's just a sampling; this is Culinary Institute turf, and you could probably eat somewhere fine and different every week for a year.
It's still a great place for high-tech industry. IBM stuck around into the third millennium, and sold their East Fishkill semiconductor plant to GlobalFoundries, retaining most of those living-wage jobs for smart folks. The future, for these sweet towns where tradition gets enhanced rather than obliterated, is looking bright—stay tuned.