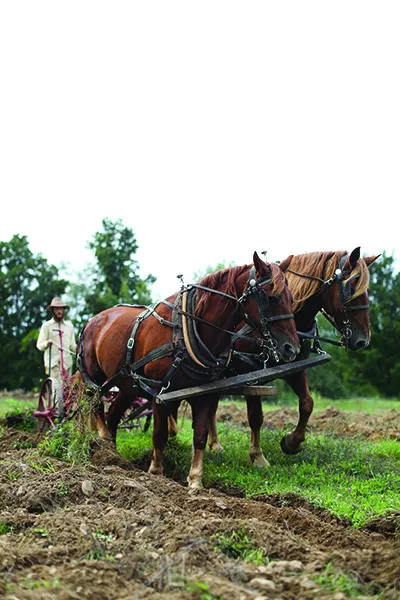 Turnquist Photography
Anthony Mecca of Great Song Farm in Milan
On an April afternoon, 50 business leaders, farmers, and local and state officials gather in a small barn at 5 Spoke Creamery in Goshen. Outside, 270 feet of solar panels glint blue in the afternoon sun.
"I hope this is a model for the rest of the Hudson Valley and New York State," State Assembly Member James Skoufis says. New York State's first commercial Property Assessed Clean Energy (PACE) financing helped fund those winking blue plates in the field by the creamery.
PACE financing is organized by Energize NY Finance, the state's new funding program for renewable energy and energy-efficient technologies on existing commercial buildings. The financing is based on the project's potential energy savings. The loans are repaid through annual tax charges on the property, not unlike other utilities like electricity or water. If the property is sold, the loan automatically transfers to the new owners.
At the beginning of the presentation, an introductory video is projected on a drop-down screen. A friendly faced Alan Glustoff, the owner of 5 Spoke Creamery, a dairy farm that specializes in cave-aged cheeses, is shown explaining the benefits of the solar-enabling loan while tending to his cows. He says that the solar array provides "more than enough power to meet 100 percent of needs and then some," while decreasing his creamery's environmental impact.
Heather Flournoy
5 Spoke Creamery in Goshen
An Alternative World
In 2013, the United States Environmental Protection Agency reported that electricity made up 31 percent of domestic greenhouse gas emissions. That same report stated that agricultural methane emissions contributed 14 percent globally, not including the electricity or transportation required to run the facilities.
As these gases rise into the atmosphere and block the sun's rays from escaping back into space, global temperature rises, ice caps melt, and severe weather wreaks havoc. By switching to renewable energy, the level of agricultural greenhouse gas emissions can be significantly decreased.
A recent report by the Environment New York Research & Policy Center found that New York has the potential to produce 11 times as much electricity from solar power as the state consumes annually.
In a 2003 presentation, David Wooley, director of Windpower NY, said that New York's wind energy potential, particularly around the farmlands in the Central and Western regions, is greater than that of California.
By switching to renewable energy sources, Hudson Valley farmers can not only minimize the amount of greenhouse gases emitted, but also save on costs. With financing programs like PACE in place, alternative energy sources are more feasible than ever before.
An Inventor Plants a Seed
When Ron Khosla and his wife, Kate, started Huguenot Street Farm on a 77-acre plot in New Paltz, he made her a promise. He would farm with her for two years, and then he would go back to the high-tech world, where he was the founder of several Internet-based tech start-ups. "But I couldn't leave!" Khosla says, laughter bubbling up. "There was so much innovation in farming. It was more fun than anything I was doing in the ether, in the fake world, in the virtual world."
His first agricultural adaptation was a solar-powered tractor constructed using a cultivating model from the `50s. "I just wanted more power, better torque curves, and no repair bills," he says. Instead of profiting from his solar-electric tractor schematics, he posted them for free online so anyone could build them. He estimates that there are now "hundreds and hundreds and hundreds" of tractors based on his design in use across the country.
Next came a do-it-yourself heating system for the greenhouse. The design cut their heating bills by 90 percent—which means, in Khosla's terms, the materials paid for themselves within the first season—and then he and Kate got a free vacation in Jamaica every year after.
They looked into solar panels next, but quickly realized that despite the grants and subsidies available, the quotes the solar installers gave them were astronomical compared to those listed online. So, as per his style, Khosla took matters into his own hands. They bought a truckload of solar panels and gathered a group of people to help construct them.
Their electricity bills were chopped in half, due in part to Khosla's fourth and officially patented invention: the CoolBot. The CoolBot is essentially a hacked air conditioner whose lowest setting is overridden, allowing it to pump frozen air into a tightly insulated space as an alternative to commercial walk-in coolers. While the CoolBot may not cool down as quickly as commercial coolers, it uses half the electricity. They've been sold to approximately 22,000 customers, the majority of whom are farmers.
The Renewable Hudson Valley
Most people picture towering turbines, plains of solar panels, and revolving water mills when they think of renewable energy, but Khosla says it can be more subtle: tracing the links in a chain of events.
The farmer's mentality revolves around the world of potential and active energy, waiting for crops to blossom, seasons to change, and energy to transfer from one form to the next. Mark Stonehill of Full Circus Farm describes their system as follows: "We use the sun to grow grass, use the grass as fuel for our draft horses, and leave our tractor sitting in the barn."
He and his co-owner/partner, Miriam, use two draft horses to plow, cultivate, and harrow their crops. On warmer days, the horses are hooked up to a wagon to move things around the farm; in the winter, they drag a sled.
In Gardiner, Jay Armour of Four Winds Farm uses strategic planting, straw insulation, and underground root cellars combined with a 13-killowatt solar grid system in consideration of both the land and the owners' wallets. "First off, we don't plow or till our soil, which means reduced tractor use, which means reduced fuel consumption and an ability to grow more crops in a concentrated space," Armour explains. "By not plowing our land, we have seen an increase of organic matter. This increases the soil's ability to stay moist longer, reducing irrigation needs. Moving water requires energy, and less water moved means less energy."
Of the 24-acre farm, only four acres are used to grow vegetables. The other 20 acres are used to raise beef and, subsequently, to generate fertilizer to heat the greenhouse. On the cooler, cloudy days that lack enough sunlight to steam up the fertilizer, they use a small wood-burning stove. They also limit their distribution to a 50-mile radius to reduce transportation costs.
While Katchkie Farm in Kinderhook doesn't have a wind turbine or solar array, they do have a popular New York City-based catering company with large volumes of recycled cooking oil. "It was kind of a no-brainer. We had this oil and we have these greenhouses, so why not?" Bob Walker, Katchkie's farm manager, says. Every winter, Walker makes the drive down to New York City and returns with four or five 55-gallon drums full of liquid gold. The oil produces enough energy using a radiant heat system to save about $150 to $2,000 per greenhouse annually on heating costs. With three greenhouses and a 900-square-foot workshop, that's more than pocket change. Walker says they're considering installing solar panels to further cut costs.
Like Full Circus, Great Song Farm also employs draft horses, and is looking into installing geothermal heating systems and solar panels in the future. The manager of the Red Hook farm, Anthony Mecca, was always interested in finding a tractor alternative, especially after working on other tractor-powered farms. "The main part of it is connection to the soil," he explains, comparing the feel of his bare feet in the soil following the horses between the rows of vegetables to the loud, steady thrum of boiling exhaust. "That's one of the main reasons that we do it. The other is definitely the energy conservation part of it. We don't have to use fossil fuels."
The Future of Farming
In his State of the Union address, President Barack Obama said that, every three weeks, the United States brings as much solar power online as it did in all of 2008—that we're officially number one in wind power. He emphasized the dangers of global warming and its immediate risks to national security. "That's why, over the past six years, we've done more than ever before to combat climate change, from the way we produce energy, to the way we use it," he said. "The United States will double the pace at which we cut carbon pollution, and China committed, for the first time, to limiting their emissions."
Three months later, at the creamery in Goshen, 50 business leaders and farmers applauded as Glustoff made the closing remarks, thanking Energize NY, their partners, and his wife. Like the nationwide agricultural industry, this presentation began and ended with the farmers.
The audience trickled out of the barn, stopping to sample cubes of 5 Spoke Creamery cheese. The featured speakers gathered in front of the solar array for a photo, holding their papers close so they wouldn't blow away in the windy pasture. Though a few lingered after the flashes faded to examine the panels and a couple strolled to their cars, most of the audience turned to one another, shaking hands and making moves, eager to learn the details of how they could install an array of their own.