Ellen Shapiro is worried.
A co-owner of Woodstock's Golden Notebook bookstore, she reports that sales are "fair to middling." A sadness in her voice, though, suggests things may be worse than that. The shop, a long-time Woodstock institution, has fallen on hard times after having steadily increasing sales for its first 25 years.
The Golden Notebook isn't alone, as independent booksellers everywhere face a devastating triple whammy. First up: severe competition from corporate chains. Big-box bookstores like Barnes & Noble and Borders offer one-stop, discount-pricing convenience. Less notoriously, mass-market retailers like Wal-Mart and Costco have also jumped into the business and claimed a sizable percentage of book sales.
Second, there is the meteoric rise of the Internet with all that implies: transformed information-consumption habits, massive "let your mouse do the clicking" hard-copy book purchases through Amazon.com and, most recently, the emergence of the Kindle, Amazon's potentially revolutionary e-book reader.
The capper is the so-called recession, which may actually be a depression. Carol Scalzo, community relations manager at Barnes & Noble, says, "People are being more cautious with their discretionary income these days. Where they would have bought a hardback, now they're waiting for the paperbook to come out, and they're buying two or three titles instead of four or five." If things are bad for Barnes & Noble, they're worse for independent booksellers, where price points are often higher.
The result is predictable. Glub, glub, and all too often, glub, as locally owned bookstores go down for the third time. Membership in the American Booksellers Association (ABA), which represents independent booksellers, declined by about 10 percent—or roughly 150 bookstores—last year. Much of this attrition occurred because stores went out of business. It's not quite plague season out there, but things aren't blossoming, either, not by a long shot.
Meg Z. Smith, the ABA's chief marketing officer, rejects the notion that independent bookstores are an endangered species. "Stores that are deeply embedded in their communities often continue to do well," she reports. Also: "People are still entering the business. Last year, 64 new independent bookstores opened, and over 100 new stores opened in each of the three years before that."
Heartening though this is, opening bookstores now may represent love's triumph over logic. People become booksellers because they're passionate about books, not because they're looking to leverage their Harvard MBA. "People don't do this for the money," says Suzanna Hermans, a co-owner with her father of Oblong Books & Music in Rhinebeck and Millerton. "We're getting by, have great customers, and love what we do. What more can one ask for?"
It's a great take on life—and one, moreover, that captures the essential wisdom that underlies localism: do well enough financially, and celebrate the true wealth that comes from a life rich in love and community. You need to keep the doors open to lead this life, though, and many bookstore owners aren't doing that.
Diversification is one way to buck the tide. "Many owners are expanding their inventories to include higher-margin items such as stuffed animals and stationery," says the ABA's Meg Smith. "Others are opening coffeehouses or selling used books."
This is not the approach that Carmichael's, which is Louisville, Kentucky's leading independent bookstore, opted for. "We've stayed true to our core business, which is selling books," says owner Carol Besse. Her strategy has worked: Sales have tripled over the past 10 years, and Carmichael's was recently named 2009 Bookstore of the Year by the industry flagship publication Publisher's Weekly.
"We love books," says Besse, echoing Oblong's Suzanna Hermans, "and so do our customers. They come to us because they want to talk to someone knowlegeable about books, browse the aisles, and handle the merchandise." One key to success, according to Besse: "We have lots of local visibility. Whenever an author is in town, we're out there selling books."
So: Is it best to diversify or stick to one's book-knitting? Opinion seems to vary on this question, and on other matters too. For instance, while it's clear that community support is essential, local booksellers disagree on what kind of communities are likeliest to be supportive. For Suzanna Hermans, disposable income is an important differentiator. "We're fortunate to be in the Hudson Valley, a relatively affluent area that's been less hardhit by the recession than elsewhere. Many people come to Millerton and Rhinebeck for the local shopping experience."
Brian Donoghue, owner of the Inquiring Mind Bookstore with storefronts in Saugerties and New Paltz, sees things differently. "In Saugerties, sales started declining the same day Barnes & Noble opened in Kingston," he says. "In part, this may be because Saugerties is a part-time residence for many people. Where there's more of a year-round community, the commitment appears to be greater."
This diversity of viewpoints suggests that some guesswork may be going on here. One gets the sense that independent booksellers are tossing explanations—and strategies—against the wall, and going with what sticks.
Still, there are some underlying verities.
First: Without robust community support, death is as close to assured as, well, taxes. This puts the onus on independent booksellers to earn and strengthen that community support.
Local owners understand this. In Woodstock, the Golden Notebook has launched a nonprofit fundraiser program. It will stay open any Monday night and donate 20 percent of sales to a local nonprofit. Meanwhile, over in Saugerties, the Inquiring Mind is operating a coffeehouse. "It's a real community center, and it's gotten a good response," says Brian Donoghue. "We're hopeful it will enable us to survive." Donoghue also owns a company, Mental Health Resources, that helps people and their families cope with mental health challenges. "Sometimes we recommend books and they come into the store to buy them," he says. "We're providing a service to the community, and it provides some business benefits as well."

Second: If the only way to have a shot at surviving is by tossing stuff against the wall, start slinging. In addition to hosting regular fundraisers, the Golden Notebook recently started buying and selling used books, and also hosted its first-ever school book fair. Owner Ellen Shapiro regularly appears on WAMC's "Roundtable," talking about books. A group of friends has formed a "Save Our Bookstore" committee to brainstorm other strategies.
Other bookstores are responding similarly. Spotty Dog Books & Ale in Hudson has a working bar, featuring local brews, and an art supplies section. Baby Grand Books in Warwick has a thriving jazz and cabaret series, and just launched a College of Poetry led by local poets William Seaton and Robert Milby.
Steps like these are increasingly necessary. "I'm a book lover, an avid reader, and a very knowledgeable bookseller," says Shapiro. Until recently, these qualities were enough to make her a "relatively successful businessperson." But not now.
At the end of the day, if stores like the Golden Notebook are to survive, community members need to do more than open their hearts. They need to open their wallets. This can be difficult during times like these when wallets are skinny and every dollar counts.
Few people would question that local bookstores merit our support, and not just because their owners are our neighbors. Locally owned bookstores are community hubs—and fun ones, too, with idiosyncratic and often charming personalities. The Oblong Books store in Millerton provides a good example. "It's become something of a destination," says Suzanna Hermans. "People come from Massachusetts and western Connecticut. They like the store for its quirkiness and the creakiness of its floors."
Independent bookstores are also, in the elegant formulation of the ABA's Meg Smith, "curators of the culture." They are honeybees—local pollinators of wisdom and learning. If we lose them, as with the honeybees, something precious and important will depart from our lives.
What makes the difference between wishing our local bookstores well and actually taking steps to sustain them? Here, there seems to be consensus: It's all about education. More specifically, people need to be cognizant of the economic, social and cultural benefits of supporting not just independent bookstores, but locally-owned businesses generally. "If you want communities to remain viable and interesting, you need to support your local merchants," says Brian Donoghue. "Otherwise the world will become virtual, and that will be a change for the worse."
Meg Smith, the ABA's resident optimist-in-chief, believes that the burgeoning localism movement is already helping independent booksellers. "Many bookstores are deeply involved in local independent business alliances," she reports. "We're seeing a shift in awareness among consumers about buying local. They are much more mindful about where they're spending their money. The economic arguments for buying local are really taking root."
The ABA has a well-received program called IndieBound, which promotes shopping locally. Still, timing is everything, and for many independent booksellers, the hour is getting late. The Grim Reaper has already made one bookstore stop to the mid-Hudson Valley, back in 2006 when New Paltz's Ariel Books closed down. Are further visits in the offing? Quite possibly, if current trends are any indicator.
Which brings us to our final question. Who will ultimately determine whether or not the Reaper does a drive-by? The community, that's who. Look in the mirror and you'll have your answer.
David Morris Cunningham
Ellen Shapiro of the Golden Notebook in Woodstock.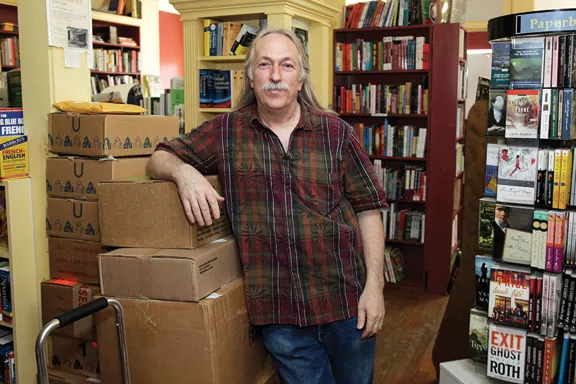 David Morris Cunningham
Dick Hermans of Oblong Books in Rhinebeck.