The grand opening of Emporium Square on August 1.
For years, the enormous warehouse building at 128 Dolson Avenue in Middletown housed a weekend indoor flea market. But lifelong Middletown residents will perhaps remember it better as Playtogs department store, which occupied the space for 35 years, from 1959 to 1994. In 2018, LGP Capital of Middletown purchased the 200,000-square-foot strip mall that housed the flea market. And last winter the market's final tenant Orlando Lallave, owner of Fusion Eyewear, made the enormous decision to rent the 50,000-square-foot space from the new owners and renovate it himself.
2020 Vision
Orlando's grand vision for the space? An elevated twist on the indoor market featuring the work of local artisans, makers, and food vendors.





"He wanted to keep his business location and renovate the entire space," says Lallave's business partner and Chief Marketing Officer Barbara Martinez. "He knew there was a need for a market in Orange County that really catered to local businesses. There are so many gems throughout the Hudson Valley that he wanted to bring under one roof." Lallave, who is originally from Brooklyn took inspiration from the city's many indoor marketplaces. Thus, Emporium Square Artisan Market was born.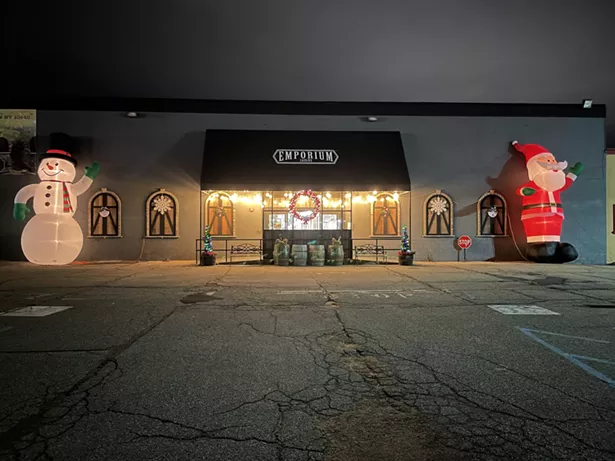 "He reached out to me in May, and said, 'I've been working on this project. I need to get to the next step of filling it with merchants," says the well-connected Martinez, who formerly ran the Goshen Chamber of Commerce and whose Facebook Live "Where in the Hudson Valley is Barbara Martinez?" profiles local businesses. "As a chamber executive, I recognized that a lot of small businesses had to close their doors because of the pandemic," she says. "As an executive my hands were tied. But while I was on furlough, we partnered up and I started reaching out to small businesses that wanted to get their foot in the door but didn't know if it was possible to do something like this without the crippling cost of brick and mortar."

Lowering the Barriers to Entry
Accessibility is at the core of Emporium Square. Sharing costs and space, without the traditional overhead of an individual storefront, removes the barriers to entry for a lot of fledgling businesses. "The goal is to be a brick-and-mortar location for young people who want to start a business but don't know how or don't believe they can afford it," Martinez says. "Or for local businesses who may have had to close their doors, a second chance. It's a way for a lot of great local businesses, artisan shops, makers, crafters, and even artists to have a home. It's like Sugar Loaf, but inside."
Adding to accessibility, the rent is month-to-mont: a flat fee of $300 for a 10-foot-by-10-foot shop, which includes electricity, heat, and wifi. Invested merchants have added their own flooring, painted the walls, and decorated. "It's really easy, low-risk," Martinez says. "It really gives entrepreneurs an opportunity to try and see if it' something they want to do. We've had people leave to get a brick-and-mortar. We had one merchant started with a single 10x10 booth, and no expanded to a double, in one month.
The renovation got rid of the flea market stalls and replaced them with modular pop-up units that truly feel like a shop. Each Emporium tenant outfits their own boutique with decor and merchandise. "When it was a flea market, it was poorly lit. Everything was all over the place," Martinez says. "Almost like the Island of Misfit Shops. It was not the quality of shopping Orlando wanted to offer."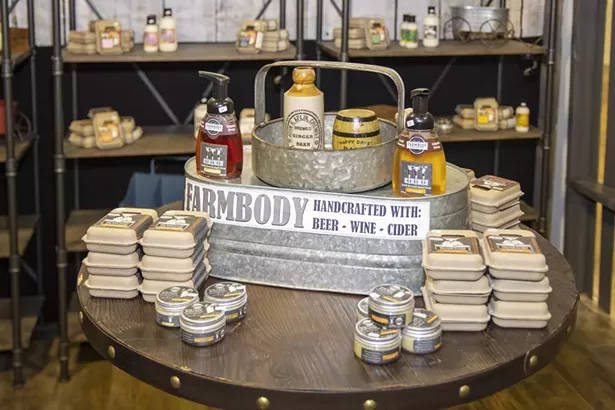 With accents of brick, burnt wood, and wine barrels for grazing, the reinvisioned Emporium Square has rustic, rural charm. Lallave added crown molding, soft lighting, lettering on all the shops. Even the food court got a kitchen upgrade. "People have just been amazed by the transformation of the location," Martinez says. "When they walk in thinking it's still a flea market they are blown away by the types of merchants. We have totally embraced the artist community."

Shops on Shops
The artisan market had its grand opening on August 1. Now there are over 50 merchants, and the Emporium is almost at capacity. The other 40% of the square footage Lallave rented has not yet been developed, as the roof needs to be repaired.
Some of the merchants include Stony Woods Gallery artist group, which closed its shop in Beacon; FarmBody, which makes CBD oils and handcrafted body care products, Cakey Candles; ARCC Crystals, which sells crystals, oils, and other things to support holistic healing; Ruff Inspirations, which sells all things graphic from decals and home decor to t-shirts and face masks; Le Blanc Smiles, which does tooth whitening and microblading; KeddiesV vegan food stall; something called Pink Taco Yoni VSteam; and many more. See the full list of 50-plus merchants.

Emporium Square is an uplifting story of triumph of the little guys over the big box stores. It is small businesses' reclamation of strip mall America. A springboard and a melding pot. Like their wares, Emporium's peddlers are diverse. "We're like UNICEF here," Martinez says with a laugh. "We have a little bit of everybody. Black-owned businesses, Latin-owned businesses, women-owned businesses, vendors from Pakistan, Afghanistan, China, Mexico, Puerto Rico."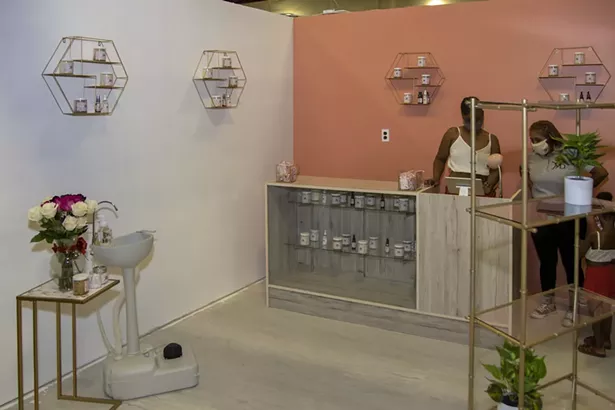 These days, the indoor market is abuzz with holiday shoppers buying gifts. If you haven't been yet, pop in when the market is open Saturdays and Sundays, 9am-6pm, and support local business.
Emporium Square Artisan Market
128 Dolson Avenue, Middletown
(845) 636-9091